All News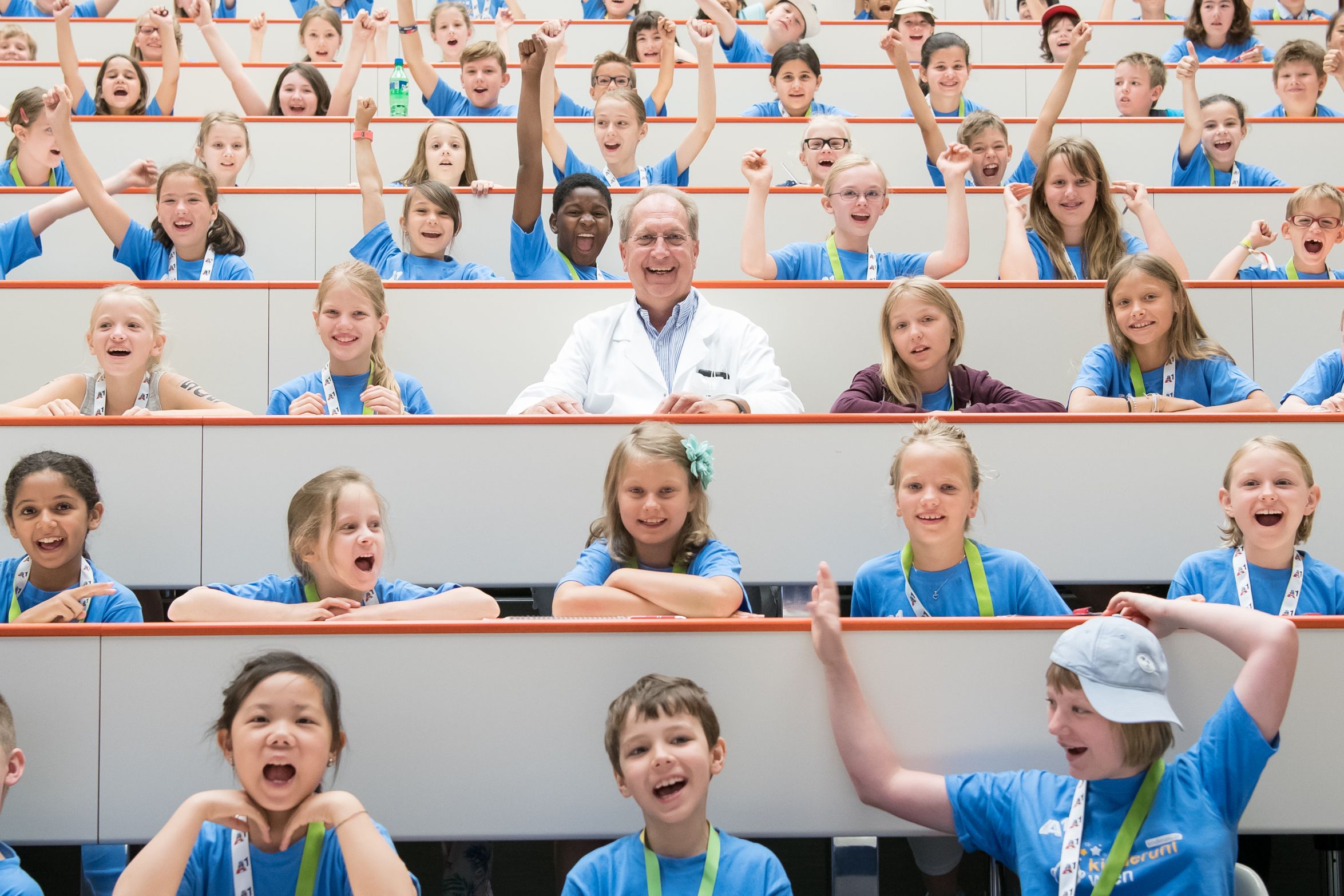 (Vienna, 16 July 2018) For one week, children will once again take over at the Medical University of Vienna. Today, MedUni Vienna's Vice Rector for Clinical Matters, Oswald Wagner, opened KinderuniMedizin [Children's University - Medicine], which is being held for the 16th time this year, with 105 classes offering a total of 6,300 student places all centred around the theme of "Health Detectives – On the trail of rare diseases".
"When someone is suffering from a rare disease, it is a particular challenge to identify the genetic causes and possible treatment options," said Vice Rector Wagner, "KinderUniMedizin puts that over in a very exciting way, because we want to awaken the children's interest in science and medicine early on".

The future of medicine lies in personalised, or so-called precision, medicine. This involves treating patients in a targeted way that takes account of their individual genetic characteristics.

Even in the kick-off lecture, the children learnt exciting things about rare diseases and what it is like to grow up with such an illness. Julia Vodopiutz from MedUni Vienna's Department of Pediatrics and Adolescent Medicine gave the lecture entitled "6 fingers and 7 toes, is there really such a thing?". Six fingers, unusually small, unusually large, teeth right from birth, rapid ageing, disparate eye colours and even a white lock of hair – rare diseases have rare symptoms.

In other classes, the children can be health detectives and carry out joint detective work to track down particular symptoms and discover the disease gene. However, this is just the start of the puzzle: how does the disease develop?

Interesting insights: What do I look like inside?
And many other interesting topics are covered by this year's KinderuniMedizin. An introduction into the fascinating world of the body. How do we digest our food and what does this look like in our insides? By means of pictures and short films, the children take a journey inside the body and get to know the individual organs. And they learn all about the links between digestion and diseases. And they see how the invisible is made visible: one workshop visits the Radiology Department and the children learn how medical images are taken. They are shown the impressive equipment that is used.

Other exciting seminar, workshop and lecture topics range from "Even your hands can save lives", "Cell City – what goes on in our cells?", "Smart plaster" through to "What's in your noggin?". This year's KinderuniVienna encompasses 7 venues with more than 416 classes and around 4,200 participating children, aged between 7 and 12. KinderuniVienna ends on 21 July with the graduation ceremony in the University of Vienna's Audimax auditorium.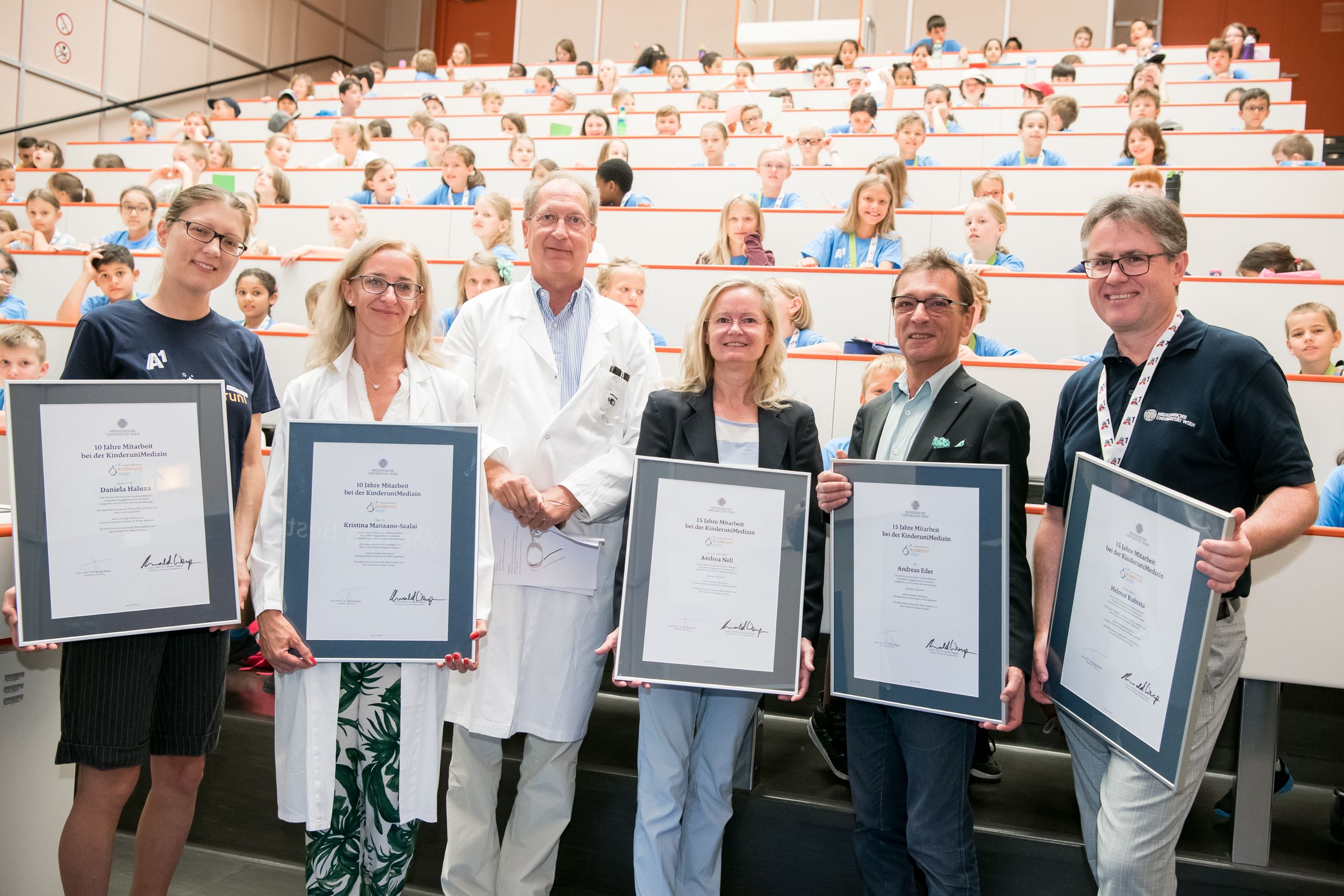 Recognition for 15 and 10 years of teaching
Also, seven teachers, who have been teaching at KinderuniMedizin for 15 and 10 years respectively, were honoured on Monday: Helmut Kubista ("How do animal venoms work", "Poisonous animals and their venoms" and "What actually is epilepsy?"), Andreas Eder and Andrea Nell (both "No more toothache") have been teaching at KinderuniMedizin for 15 years and Daniela Haluza ("How smoking damages your health" and "Nature and health"), Kristina Manzano-Szalai "Life with an artificial hand" and "Why can food cause allergies?", Christian Albert Müller ("Why doesn't Florian like spinach?" and "Breathing difficulties from an ENT perspective") and Peter König ("Nobody willingly sits down in stinging nettles", "But you drink coffee to wake yourself up" and much more…) have been teaching at KinderuniMedizin for 10 years.
---