All News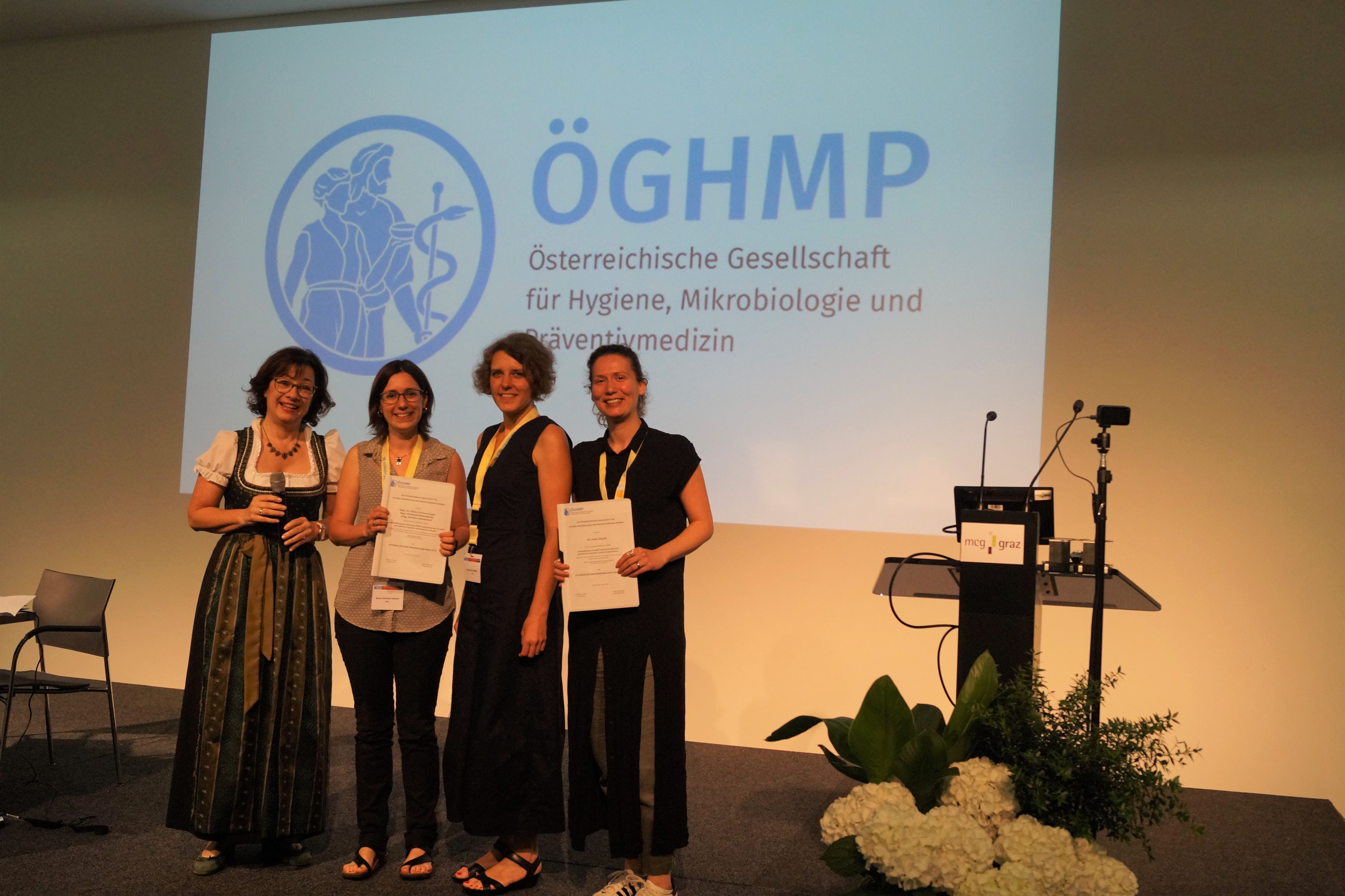 (Vienna/Graz, 20 June 2018) At the 36th Annual Meeting of the Austrian Society of Hygiene, Microbiology and Preventive Medicine (ÖGHMP), held in Graz between 4 and 7 June 2018, both the Austrian Microbiology Award and the Austrian Hygiene Award 2018 were awarded to employees of ICC Water & Health. A marked success for the joint project conducted as part of the inter-university collaboration between the Medical University of Vienna, Vienna University of Technology and Karl Landsteiner University in Krems.
The Austrian Microbiology Award 2018 went to two ICC Water & Health employees Silvia Cervero-Aragó and Barbara Schrammel from MedUni Vienna's Institute of Hygiene and Applied Immunology in Alexander Kirschner's team from the Division of Water Hygiene (Head: Regina Sommer) and to Elisabeth Dietersdorfer in Julia Walochnik's team at MedUni Vienna's Institute of Specific Prophylaxis and Tropical Medicine for their papers* on viable but non-culturable Legionella strains.

Legionellae cause legionnaire's disease, one of the commonest water-borne infections in industrialised countries. Legionellae are normally quantified using culturing techniques in water samples but a lot of recent studies have shown that the number of viable but non-culturable (VBNC) Legionella cells in water distribution systems can be many times greater than the number of culturable legionellae. The studies aimed to estimate the potential health relevance of these VBNC legionellae by determining their viability in laboratory tests using modern cytometric techniques, as well as their infectivity for human cell cultures. These studies showed, for the first time, that 1) a significant proportion of VBNC legionellae retain their viability over a long period of time and 2) these VBNC legionellae are capable of directly infecting human macrophages. However, they are much less efficient (longer infection time, higher infectious dose, smaller number of infected cells) at doing so than culturable cells. A health relevance cannot therefore be ruled out and this could explain long-drawn-out courses of illness in those with compromised immune systems.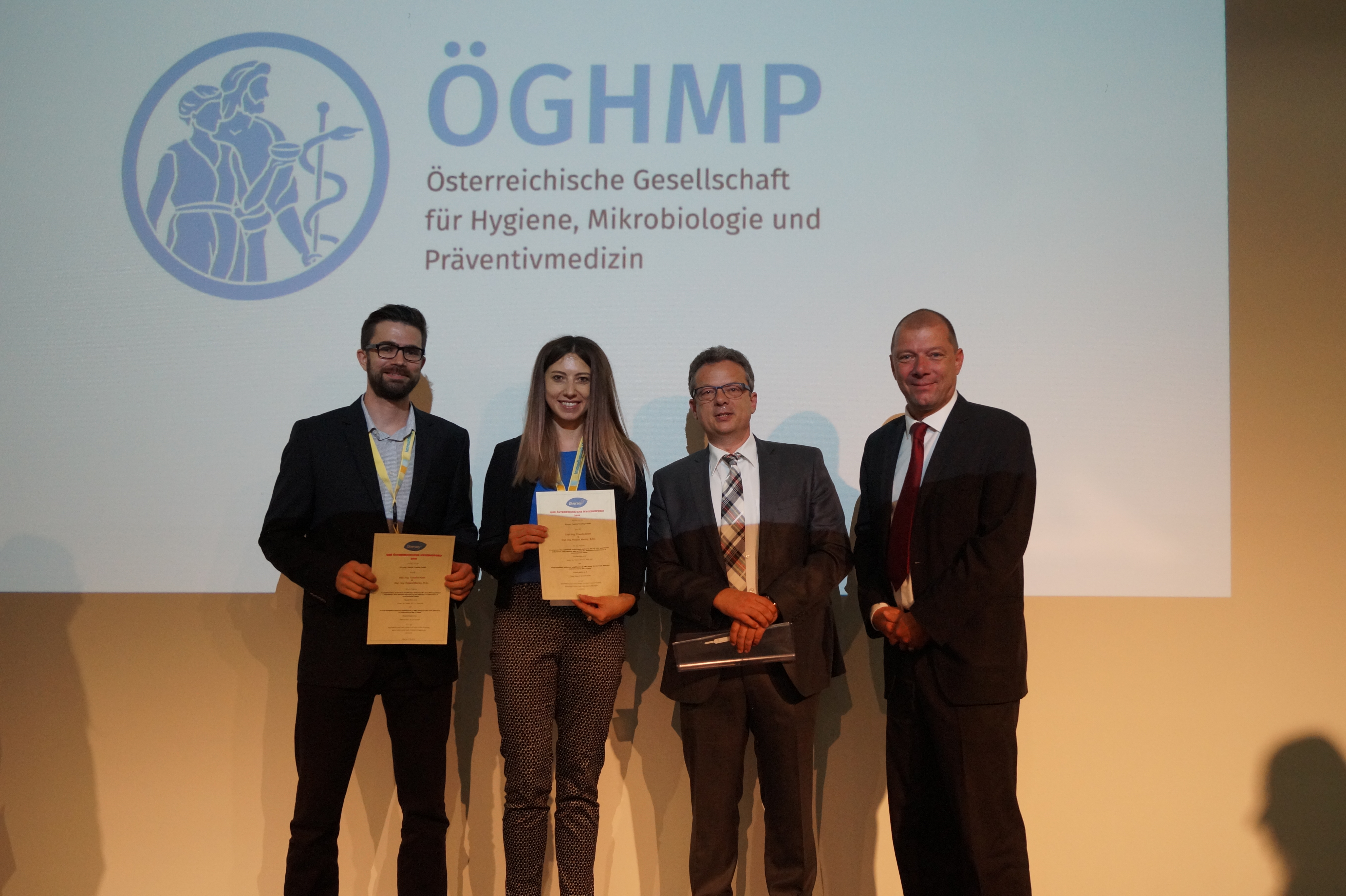 This year's Austrian Hygiene Award was awarded to two doctoral candidates Claudia Kolm and Roland Martzy from the Molecular Diagnostics working group at Vienna University of Technology (Farnleitner research group) for their papers** on the subject of "Rapid method for detecting faecal contamination". Both papers deal with the development and evaluation of isothermal amplification methods for detecting Enterococci in water, targeting the 23S rRNA gene as a marker for faecal contamination. In order to provide specific and simple detection, Claudia Kolm used a helicase-dependent amplification method, while, in his paper, Roland Martzy applied a LAMP (Loop-mediated isothermal amplification) method. For the purpose of this successful collaboration, Regina Sommer directed her expertise into the culturing of Enterococcus strains. The microbiological methods currently used for detecting faecal contamination require costly laboratory infrastructure and take an entire day to deliver results. In contrast, the newly developed methods can be used in situ without the need for a laboratory and provide contamination results within one hour.
The papers arose from the individual Austrian Science Fund (FWF) project "Health Relevance of VBNC Legionellae" (Head: Alexander Kirschner) and the "IsoAmp" project (Head: Georg Reischer) funded by Lower Austria Research and Education Ltd. All publications are freely available on the Internet under the Open Access option.

About ICC Water & Health
ICC Water & Health is a collaboration between the Medical University of Vienna, Vienna University of Technology and – since 2017 – Karl Landsteiner Private University of Health Sciences in Krems (www.waterandhealth.at) and is funded by the Austrian Ministry of Education, Science and Research.

The publications:
* Dietersdorfer E, Kirschner AKT, Schrammel B, Ohradanova-Repic A, Stockinger H, Sommer R, Walochnik J, Cervero-Aragó S (2018) Starved viable but non-culturable (VBNC) Legionella strains can infect and replicate in amoebae and human macrophages. Water Research 141 doi: 10.1016/j.watres.2018.01.058
* Schrammel B, Cervero-Arago S, Dietersdorfer E, Walochnik J, Lück C, Sommer R, Kirschner AKT (2018) Differential development of Legionella sub-populations during short- and long-term starvation. Water Research 141, doi: 0.1016/j.watres.2018.04.027
** Kolm, C., Martzy, R., Brunner, K., Mach, R.L. Krska, R., Heinze, G., Sommer, R., Reischer, G.H., Farnleitner, A.H., (2017) A complementary isothermal amplification method to the US EPA qPCR approach for the detection of enterococci in environmental waters. Environ Sci Technol 51(12): 7028-7035.
** Martzy, R., Kolm, C., Brunner, K., Mach, R.L. Krska, R., Šinkovec, H., Sommer, R., Farnleitner, A.H., Reischer, G.H. (2017) A loop-mediated isothermal amplification (LAMP) assay for the rapid detection of Enterococcus spp. in water. Water Res 122: 62-69.
---