All News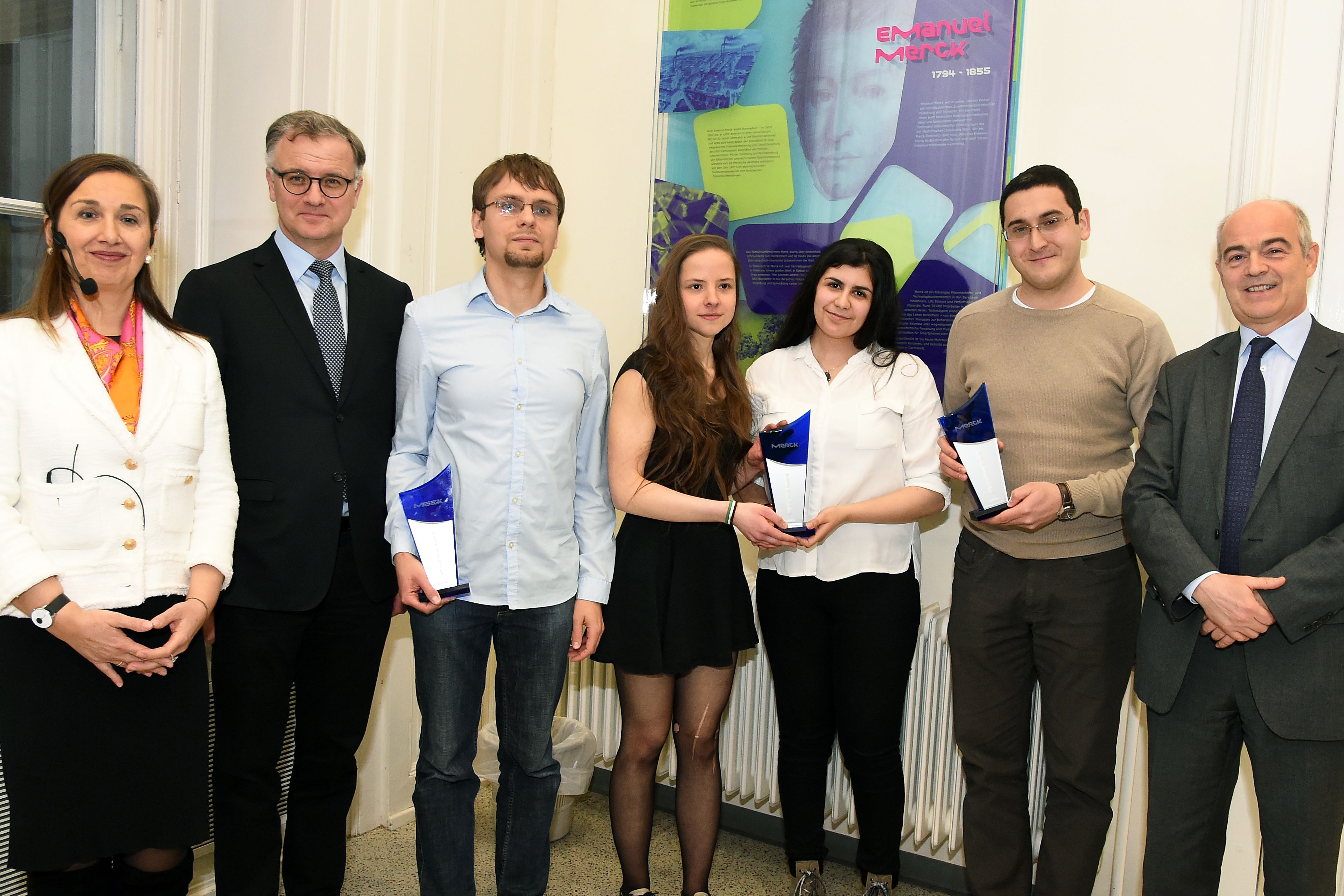 (Vienna, 26 March 2018) Aleksej Drino from the Medical University of Vienna took first place in the Be Curious Awards. The prize, donated by Merck, is intended for young researchers in the fields of healthcare, life sciences and performance material, who develop potential solutions to global challenges.
Markus Müller, Rector of the Medical University of Vienna and jury chairman, and Wolfgang Wein, CEO Merck Austria, presented the prizes to the three winners. Merck launched the prize last year.
First place went to Aleksej Drino from the Division of Cell and Developmental Biology at the Medical University of Vienna for his paper entitled "tiRNA molecules as mediators of liquid-liquid phase transition under conditions of stress".

Speaking about his work, Aleksej Drino said: "Disruptions to the protein structure have been observed in many neurodegenerative diseases, including amyloidosis, Alzheimer's and Parkinson's. The latest findings show that Stress Granules (SG) play a role in the development of these diseases. SG are granular structures that occur in the cell when it is under stress and adjusts the production of protein-coding ribonucleic acids (RNA). The main focus of my research is the role of tRNA fragments (tRNA = transfer RNAs, short ribonucleic acids) with regard to cellular Stress Granule metabolism. The tRNA fragments that I plan to research in more detail, using a combination of biochemical, structural and microscopic approaches, are the so-called tiRNAs; these are produced when tRNAs are split under stress. My research approach would not only provide new information about the mechanism of the body's stress response but would also provide new insights into the pathogenesis of neurodegenerative diseases. Moreover, these experiments could offer an opportunity for developing new RNA-based drugs by targeted modification of small RNA molecules."

Second place went to Angelika Gebhart and Selma Toy from Rosensteingasse Higher Technical College for their paper entitled "Study of the interactions between MYC and the IKK complex".

Third place was awarded to Vadim Kotov, University of Vienna/Institute for Molecular Biotechnology (IMBA)/CSSB Hamburg, for his paper entitled "T3SS Filament as an Anti-Virulence Drug Target".

The prizes are worth €9,000 in total.
---