All News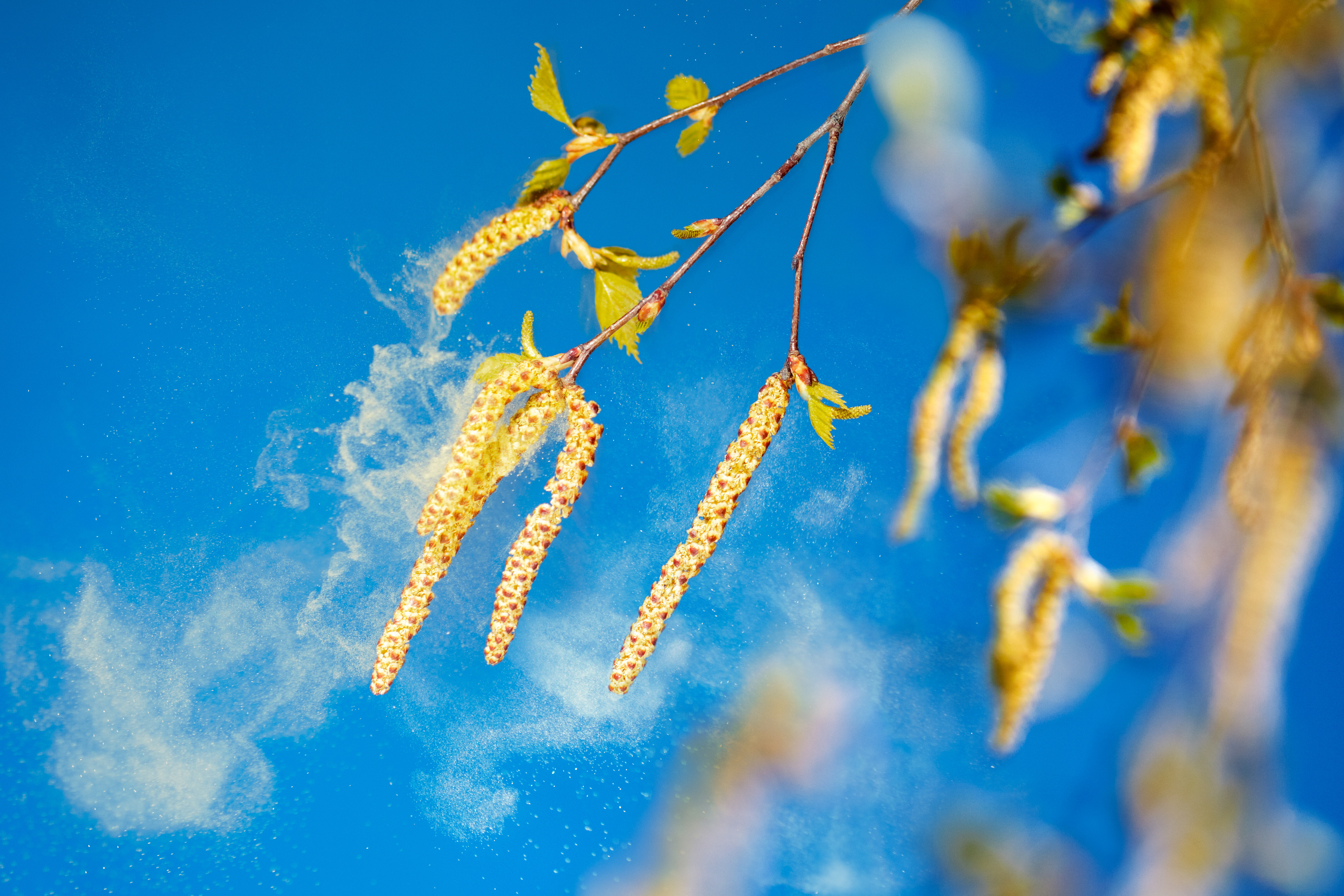 (Vienna, 14 March 2018) Due to the mild weather in January, this year's pollen season started slightly earlier than usual. However, the bitter cold in February stopped pollination in its tracks. This back and forth continues, as the birch pollen season is expected to reach record values this year. At a press conference of MedUni Vienna's Pollen Monitoring Service, allergy experts, together with the IGAV (special interest group for allergen avoidance) information platform, presented a forecast of this year's pollen count. They also announced new services and appealed to allergy sufferers to seek timely medical advice. A pollen allergy is not just a nuisance, it affects the whole body and can have serious consequences.
This year's extremely mild January encouraged early flowering of alder and hazel. In some cases, allergy sufferers had to cope with a rapid rise in the pollen count and the problems that brings with it. The cold snap in February completely suspended the release of pollen, giving pollen allergy sufferers a longer break. However, with the sudden rise in temperatures last week, early-flowering species resumed their pollination. On top of this, birch trees are about to flower and "this year, they really have what it takes," explains Katharina Bastl from MedUni Vienna's Pollen Monitoring Service. However, the biologist did offer some hope: "Greater pollen release does not necessarily equate to a heavy perceived pollen burden. How allergy sufferers respond to it depends upon how the season starts and progresses."

If the weather warms up gradually, our bodies are better able to adjust to pollen levels, so that the season does not seem so bad. However, if these massive swings in temperature continue, the impact on sufferers will be much greater than if the pollen count were to increase gradually.

Pollens make allergy sufferers ill
Whatever the case, allergy sufferers must be prepared, because a pollen allergy is not just a nuisance, it affects the whole body. "When allergy sufferers are exposed to their triggers, it even affects their blood count. On exposure to the allergen, the number of red blood cells that transport oxygen through the body from the lungs drops in the peripheral blood to the same level as in mild anaemia, thereby intensifying the malaise that accompanies allergy symptoms," explains Erika Jensen-Jarolim from MedUni Vienna's Institute of Pathophysiology and Allergy Research and the Messerli Research Institute of VetmedUni Vienna, MedUni Vienna and the University of Vienna.

Go to the doctor!
The typical visible symptoms such as a runny or permanently blocked nose, itchy eyes and sneezing are often only the tip of the iceberg, which is why prompt and accurate diagnosis and early treatment play a decisive role in the progression of the condition.

Diagnosing a pollen allergy is based on three pillars: medical history, skin test and blood screening, the latter becoming increasingly important. Says Jensen-Jarolim: "There have been huge advances in blood analysis over the past few years. So-called component-based diagnosis is particularly accurate." This not only allows allergy triggers to be investigated as a whole – an allergen extract is made up of many different components – but also allows us to identify exactly which specific molecules in the mixture the patient reacts to. This capability means that it is now possible to identify the allergen responsible for the problems both quickly and accurately.

Once the allergy has been identified, pollen allergy sufferers are able to reduce their symptoms perceptibly and permanently by consistently avoiding the allergen – this is where the Pollen Monitoring Service comes in – and by having specific immunotherapy, thereby significantly improving their quality of life. "There are very good medical options available for controlling allergies and preventing consequential problems such as asthma," says Christian A. Müller, Head of the Outpatient Clinic for Allergy, Smell and Taste Disorders at the ENT Department of MedUni Vienna/Vienna General Hospital. Targeted immunotherapy (SIT, allergy vaccination) can help the immune system to realise that allergens such as pollen are harmless and that there is no need to fight them. "The trend is moving towards refining immunotherapies in different administration forms, so that the most suitable treatment can be selected for each individual patient," says Müller. "Prompt and consistent treatment pays off in every case but is not used often enough!"

Pollen App 6.0: More services, more user-friendly
The Austrian Pollen Monitoring Service at the ENT Department in Vienna is an established institution for both allergy sufferers and doctors. Based on scientific evidence, new services are added every year to provide personalised support to pollen allergy sufferers and to help in the early detection of an allergic condition. The Pollen App is particularly popular and helps more than 400,000 allergy sufferers throughout Europe to find their way through the pollen season. "As well as improved menu navigation, the updated version of the Pollen App shows the pollen count over the day right on the start screen. This gives users a quick overview of the pollen count on and hour by hour basis," explains Uwe E. Berger, Head of the Austrian Pollen Monitoring Service and the Aerobiology and Pollen Information Research Group at MedUni Vienna. Individually customised versions of this service are also available. As a prerequisite for receiving personalised forecast data, symptoms must be entered in the pollen diary, which is linked to the app.
The Pollen App is available as a free download for smartphones and tablets with iOS and Android operating systems: www.pollenwarndienst.at as well as in app stores.

New "Ragweed-Finder" planned – your help is needed!
Another app is in development: "In the summer of 2007 we launched www.ragweedfinder.at. Members of the public are asked to report findings of this highly allergenic weed throughout Austria and to send a photo via the website, to help stop it spreading. We now want to offer this service in the form of an app," explains Berger. In order to finance this project, there is an online donations page on the website www.pollenwarndienst.at asking for financial support to fund Ragweed Finder as a mobile application.
---