All News
(Vienna, 24. September 2018) Modern medical imaging provides accurate information about the extent (staging) of prostate cancer. PSMA ligand PET/MRI offers a so-called "one-stop-shop" method for accurately staging newly diagnosed prostate cancers, allowing treatment to be adapted accordingly. This is the finding of an interdisciplinary study from MedUni Vienna, which has now been published in the leading journal "Clinical Cancer Research".
Up until now, the primary staging of prostate cancer was based on diagnostic modalities with method-inherent limitations. The interdisciplinary working group led by Markus Hartenbach from the Division of Nuclear Medicine has now demonstrated the outstanding diagnostic value of [68Ga]Ga-PSMA 11 PET/MRI in the primary staging of prostate cancer confirmed by needle biopsy. PSMA ligand PET/MRI not only produced very good results in local and whole-body staging compared to histology but led to a change in the initially planned clinical strategy in nearly one third of patients.
"PSMA ligand PET/MRI has shown that we can provide both patient and doctor with crucial information that will prevent over-treatment or under-treatment of this cancer. Our next step is to show that this technique provides accurate results, even in patients with slightly elevated PSA levels, thereby advancing non-invasive, personalised diagnostics!" says Hartenbach.
The working group examined 122 patients using PSMA ligand PET/MRI prior to scheduled radical prostatectomy (RP). The primary endpoint was the performance of PSMA ligand PET/MRI in cancer staging compared with staging histology (histological whole-mount sections of the prostate, histology of lymph node dissection and metastatic biopsies). In addition to this, a multidisciplinary team re-evaluated the initial therapeutic approach in order to assess the impact of PSMA ligand PET/MRI on clinical management.
In the final analysis, PSMA ligand PET/MRI correctly identified the cancer in 119 out of 122 patients (97.5%). Moreover, PSMA ligand PET/MRI changed the clinical strategy in 28.7% of patients, either in favour of systemic treatment/radiotherapy, because of a locally advanced stage and/or remote metastases, or so-called active surveillance, because the primary tumour was not visible or only minimally visible on the scan.
Bernhard Grubmüller from the Department of Urology published the paper in the leading clinical journal "Clinical Cancer Research" (IF 10.2) as lead author.
Authors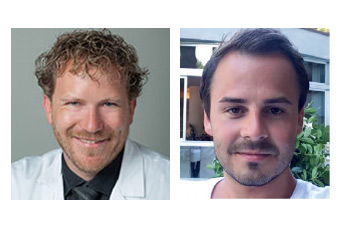 After completing his studies and then working as a junior and senior doctor in Ulm and Munich, Markus Hartenbach has worked at MedUni Vienna as a senior doctor on the PET/MRI scanner in the Division of Nuclear Medicine under the direction of Marcus Hacker (Department of Biomedical Imaging and Image-guided Therapy) since 2014. Together with the urooncology working groups of the associated specialist disciplines, he initiated a prospective clinical pharmaceutical study in the field of metabolic multi-parametric hybrid imaging (PET/MRI) for prostate cancer, which, as a Phase III study of the radiopharmaceutical 68Ga-PSMAHBED-CC is still recruiting patients with suspected prostate cancer, probably until the middle of 2019 ("The RAPID Study", clinicaltrials.gov ID: NCT02659527).
Bernhard Grubmüller is also working as an investigator on this study. He has been a junior doctor since 2013 and is currently concentrating on prostate imaging at the Department of Urology under the supervision of Shahrokh Shariat. He expects to complete his specialist training in urology at the beginning of 2019. Alongside his research work, Bernhard Grubmüller is also pursuing a PhD in "Applied Medical Science".
Service: Clinical Cancer Research
Bernhard Grubmüller, Pascal Baltzer, Sabrina Hartenbach, David D'Andrea, Thomas H. Helbich, Alexander R. Haug, Gregor M. Goldner, Wolfgang Wadsak, Sarah Pfaff, Markus Mitterhauser, Theresa Balber, Neydher Berroteran-Infante, Marko Grahovac, John Babich, Christian Seitz, Gero Kramer, Martin Susani, Peter Mazal, Lukas Kenner, Shahrokh F. Shariat, Marcus Hacker, Markus Hartenbach: PSMA ligand PET/MRI for primary prostate cancer: Staging performance and clinical impact.
Clin Cancer Res. 2018 Aug 23. pii: clincanres.0768.2018. doi: 10.1158/1078-0432.CCR-18-0768. [Epub ahead of print]
---