All News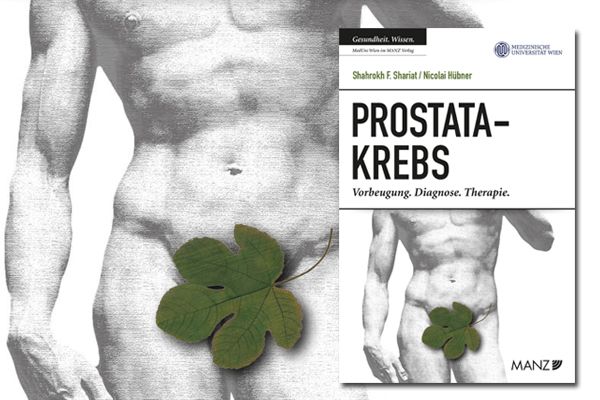 (Vienna, 18 January 2018) Prostate cancer is the commonest form of cancer in the Western world. Approximately 15 – 20% of men will be affected by it at some time in their lives; 2.6 % of all men die from prostate cancer. That equates to around 1,000 deaths a year in Austria. However, effective countermeasures can be taken against it by lifestyle choices and prevention through early detection, since prostate cancer that is detected in good time can usually be treated successfully," explains Shahrokh Shariat, Head of MedUni Vienna's Department of Urology. Together with junior doctor Nicolai Hübner, he has written a book entitled "Prostate cancer: Prevention. Diagnosis. Treatment" as part of a collaboration between MedUni Vienna and MANZ Verlag. The self-help book is now available in bookshops and online.
In this new self-help book, the two MedUni Vienna urologists explain the tasks and functions of a healthy prostate gland, discuss associated problems and risk factors and how prostate diseases can be prevented. The book is written in a style that is easy for the layman to read and understand, while being based on scientific evidence, and explains how prostate cancer can be detected in good time, when different methods of treatment are recommended, what an elevated PSA reading can mean and how life with minimal side-effects is possible following prostate surgery. The book focuses, in particular, on the current status of research and science in diagnosis and treatment.

The risk of developing prostate cancer increases with age. The average age for developing prostate cancer is 66. Men are recommended to have an annual check from the age of 45 onwards. "As with any other major illness, early detection of prostate cancer is key to its successful treatment. That is why it is so important to take the risk seriously and have an annual check-up when you reach the appropriate age," emphasise the two authors.

No specific trigger has yet been identified for prostate cancer but certain DNA mutations are known to play a role. Hereditary mutations are thought to be responsible for around 5 – 10% of prostate cancers, the rest are due to mutations that occur in later life.

Medical advances through precision medicine
The Department of Urology at MedUni Vienna is making great progress in the area of personalised diagnostics. Diagnostic accuracy is being enhanced by new biomarkers and successful collaboration with researchers in the area of imaging diagnostics, as well as new techniques in the field of molecular pathology. Individually adapted treatments are proving to be a successful way forward. Says Shariat: "Not every cancer requires surgery. Often a minimally invasive procedure or active monitoring is sufficient. Thanks to an improved molecular risk strategy, survival times can now be extended by several months, even in previously hopeless cases."

MedUni Vienna at MANZ Verlag: Five useful self-help books
The latest self-help book is the fifth to be published by MedUni Vienna in collaboration with MANZ-Verlag in the "Health. Science" series. The books that have already been published include: "Pollen and Allergy" (2015), "High Blood Pressure" (2015), "Diabetes" (2016), "Vaccination" (2016) and "Health in Old Age" (2017).
Link to all books: www.manz.at/gesundheit-wissen.
There is also a book entitled "Climate Change and Health" in the "Aspects of Science" series, published in the summer of 2017. Self-help books planned for 2018 include "A Soft Diet" and a book on "Bionic Reconstruction". Link to all books: https://goo.gl/GM5hxQ.

Recommended reading: "Prostate cancer: Prevention. Diagnosis. Treatment." Shahrokh Shariat and Nicolai Hübner, MedUni Vienna at MANZ Verlag, ISBN: 978-3-214-10080-3. 2018, 180 pages, €23.90.
---