All News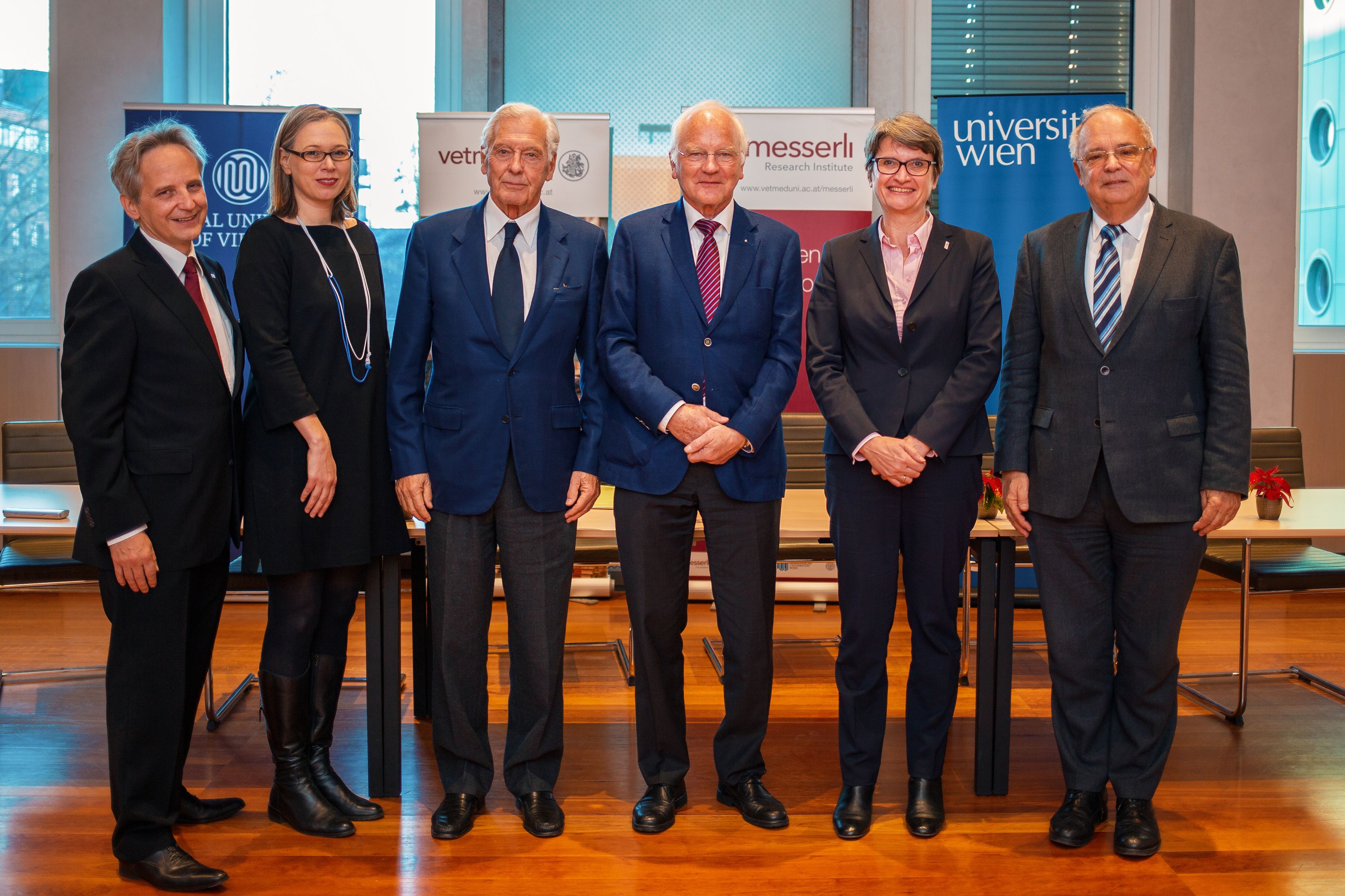 (Vienna, 30 November 2018) The immediate future is now financially secured for the successful inter-university "Messerli Forschungsinstitut für Mensch-Tier-Beziehung" [Messerli Research Institute for Human-Animal Interaction]. On Thursday, the Messerli Foundation and the Rectorates of Vetmeduni Vienna (which will retain operational control), the Medical University of Vienna and the University of Vienna signed a contract extension and new performance agreements. These included the definition of a new Chair for researching the neuroscientific principles of human-animal interaction.
Since 2010, the "Messerli-Forschungsinstitut für Mensch-Tier-Beziehung" of Vetmeduni Vienna, the Medical University of Vienna and the University of Vienna has dedicated itself to researching human-animal interactions and their underlying principles in the fields of ethics, comparative medicine, animal cognition and behaviour, as well as teaching, for example by means of the interdisciplinary Masters Course in Human-Animal Interaction (IMHAI). As a networking hub, it provides an ideal environment for conducting excellent research to ensure sustained improvement of human-animal interactions in the effective dimensions of "basic research", "education and lifelong learning" and "society".

"With its interdisciplinary breadth encompassing veterinary medicine, biology, human medicine and even philosophy and psychology, the Messerli Research Institute provides important and unique knowledge and contributes to the interface between animals and humans," says Petra Winter, Rector of Vetmeduni Vienna. "The strategic location of this Research Institute within our institution reinforces our holistic approach to veterinary medicine, which distinguishes us from other veterinary medicine institutions, due to our basic research and public relevance. In our field, it is particularly important to raise public awareness about the ethical treatment of animals."

The holistic aspect is not only reflected in ethical and cognitive approaches but also in approaches to healthcare. "The collaboration between three Austrian universities fostered at the Messerli Research Institute is unique and one that successfully builds a bridge between human medicine and veterinary medicine. This is a shining example of how interdisciplinary collaboration on one site can lead to an outstanding global centre of excellence," says Michaela Fritz, MedUni Vienna's Vice Rector for Research and Innovation, underlining the importance of the long-standing partnership.

In other countries, cognitive behavioural research is more likely to come under the heading of biology. However, combining knowledge from biology and veterinary medicine provides a much more open approach, which is more attractive for international partnerships, also with the newly defined Chair. "The Chair for researching neuroscientific principles of the human-animal interaction fits well into the expansion of cognitive neurosciences at the University of Vienna, which is also intended to lead to a joint course of study offered by the three participating universities," says Heinz W. Engl, Rector of the University of Vienna.

Messerli Foundation and Research Institute
Set up by Herta Messerli in 1982, the Messerli Foundation is dedicated to nature conservation and animal welfare. The Foundation is headquartered in Sörenberg in Switzerland. It finances scientific projects that benefit nature in general and the welfare of the animal world in particular. The Messerli Research Institute was founded in 2010 with funding from the Messerli Foundation and under the aegis of Vienna University of Veterinary Medicine, in collaboration with the Medical University of Vienna and the University of Vienna. It is dedicated to research into human-animal interaction and its foundations in the fields of ethics, comparative medicine and animal cognition and behaviour. It is characterised by a broad interdisciplinary approach (biology, human medicine, veterinary medicine, philosophy, psychology) and a strong international focus.
---