All News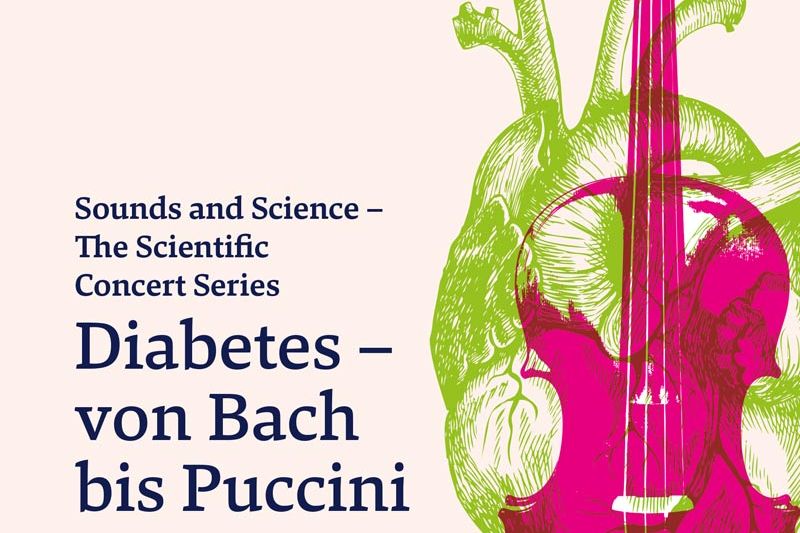 (Vienna, 12 November 2018) Diabetes from Bach to Puccini – that is the interesting theme for the next concert in the "Sounds and Science" series, which will take place on 15 December 2018 in the Vienna Sofiensaal concert hall (Marxergasse 17, 1030 Vienna, 19:00 hrs). "Sounds and Science" – or music meets science – was started by MedUni Vienna researchers and compares the music of classical composers with their medical history, as seen from the perspective of modern medicine. Against the backdrop of classical compositions from Johann Sebastian Bach, Eugène Ysaye and Giacomo Puccini, the theme of this concert is diabetes. And, incidentally, this coming Wednesday is World Diabetes Day.
Embedded within this musical setting, there will be interesting short talks by leading medical experts on the specific disease and on the possible modern treatment options.

The speakers on 15 December will be Gerhard Prager (bariatric surgery/MedUni Vienna), Alexandra Kautzky-Willer (diabetology/MedUni Vienna), Paul Haber (sports medicine/MedUni Vienna), Guntram Schernthaner (diabetology/MedUni Vienna), Marcus Säemann (nephrology/Wilhelminenspital), Petra Munda (gastroenterology/MedUni Vienna) and Manfred Hecking (internal medicine/MedUni Vienna) plus Hans-Peter Petutschnig (Vienna Medical Association). The audience will also gain insights into the musical works of the famous personalities who suffered from diabetes. The concert presenter will be journalist Heinz Sichrovsky.

The Sounds will be provided by Herbert Lippert, tenor; Rainer Honeck, violin; Rémy Ballot, violin; Tobias Lea, viola; Robert Nagy, cello and Manfred Hecking, double bass.

After the concert, there will be an opportunity to meet the artists and scientists in a relaxed setting to discuss and exchange ideas with them.

The detailed programme for 15 December 2018 is as follows:
- Johann Sebastian Bach: "Preludio" from Partita in E Major for Solo Violin
- Eugène Ysaÿe: "Obsession; Prelude" from Sonata No. 2 for Solo Violin
- Talk: "What links Bach and Ysaÿe both musically and medically?"
- Eugène Ysaÿe: "Lento" from Sonata Op. 28 for Solo Cello
- Johann Sebastian Bach: Cantata No. 5 BWV 5 III - Aria for Tenor, Viola & Continuo
- Pro/contra debate: "Obesity in diabetics: bariatric surgery or exercise?"
- Giacomo Puccini: Scherzo for String Quartet
- Talk: "Puccini's musical career"
- Giacomo Puccini: "Crisantemi"
- Talk: "The variability in forms of diabetes focusing on ageing phenomenology and using the example of Puccini, who died at the age of 74 without any treatment."
- Giacomo Puccini: "Arie des Cavaradossi"
- Giacomo Puccini: "Nessun dorma"

About "Sounds and Science"
The idea for the unusual concert series "Sounds and Science" was dreamed up by a musician, two scientists and a scientist/doctor: member of the Philharmonic Orchestra, Thilo Fechner, the two scientists and internist/nephrologist Gere Sunder-Plassmann and Marcus D. Säemann and MedUni Vienna internist and musician Manfred Hecking. They are especially interested in the medical conditions suffered by world-famous composers and, moreover, they want science "to be heard". It is immaterial whether the composers' works had anything to do with their medical histories or not. However, what is important to them is that people re-experience and understand the latest knowledge about diseases and the current status of research within the context of music. Music can and should open the mind: the initiators of "Sounds and Science" want to stimulate this process.
---