All News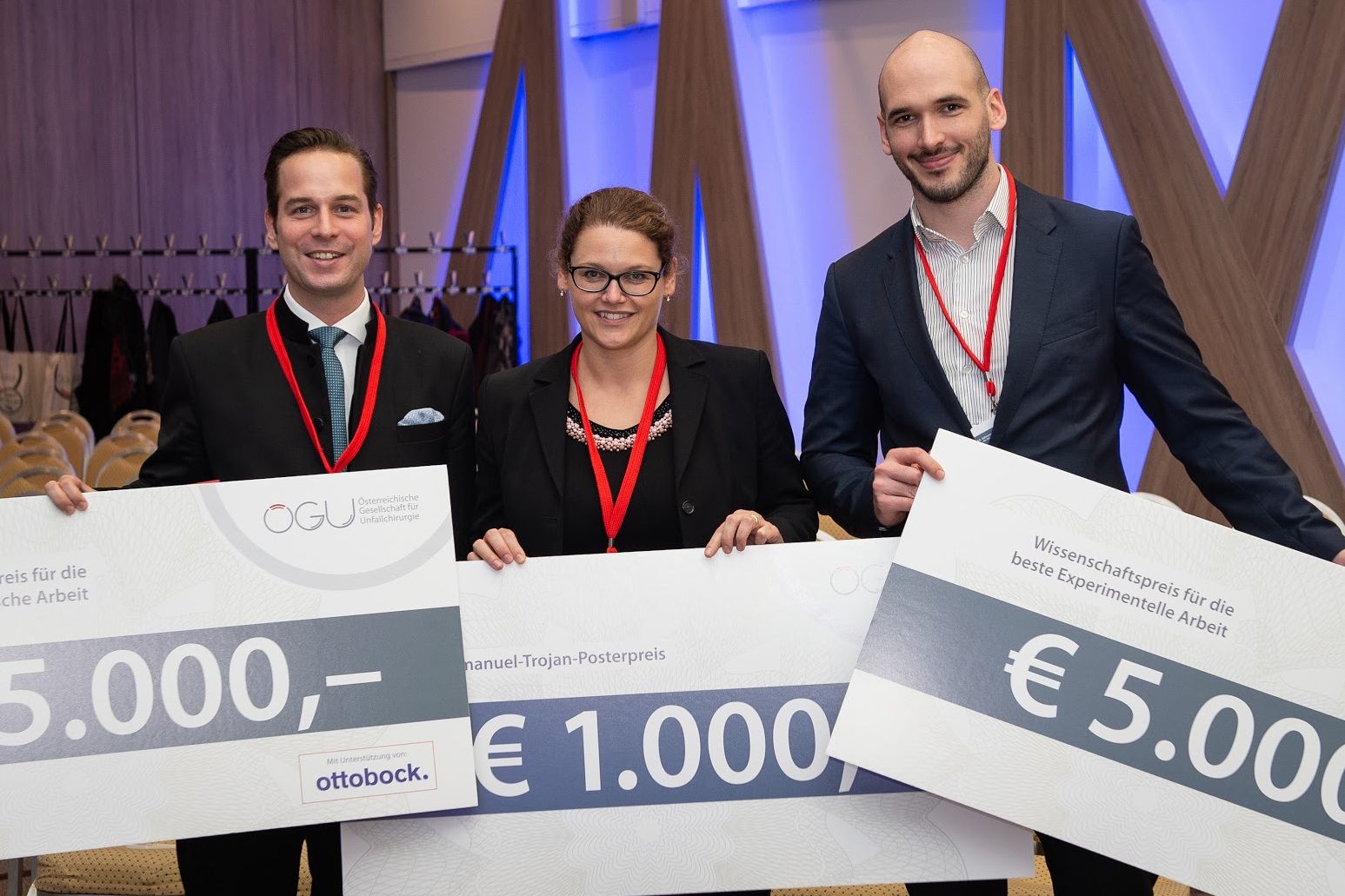 (Salzburg, 25 October 2018) At the annual meeting of the Austrian Society for Trauma Surgery in Salzburg, no fewer than three high-value prizes for outstanding scientific work were awarded to employees from the Division of Trauma Surgery at the Department of Orthopedics and Trauma Surgery. Stephan Frenzel won the Science Prize for the best clinical paper, Thomas Haider the Science Prize for the best experimental paper and Gerhild Thalhammer won the Poster Prize for this year's annual meeting.
The Science Prizes for the best clinical and experimental papers went to Stephan Frenzel and Thomas Haider respectively. Both prize-winning works were produced within the Polytrauma Research Group led by Lukas Negrin. "These two papers provide important new findings about diagnosis and determination of injury severity in patients with the most serious injuries," says Lukas Negrin, last author of both prize-winning papers, summarising the study results. In the paper "Does the applied polytrauma definition notably influence outcome and patient population? – a retrospective analysis", Stephan Frenzel outlined the huge differences in existing polytrauma classifications, which determine the planning of subsequent treatment and academic analysis, especially in terms of mortality and hospitalisation. The value of a systemically circulating protein, the soluble form of the ST2 receptor sST2, as a biomarker in polytraumatised patients was illustrated in the paper "Increased serum concentrations of soluble ST2 are associated with pulmonary complications and mortality in polytraumatized patients".

Gerhild Thalhammer, Head of the Trauma Surgery Outpatient Clinic for Hand Injuries, won the Poster Prize for her paper entitled "Medium and long-term outcomes following transosseous TFCC refixation". Injuries in the region of the TFC complex (TFCC), which plays a key role in wrist stabilisation, are among the most serious wrist injuries. If left untreated, these injuries result in chronic instability, pain and loss of wrist function. In her study, Gerhild Thalhammer outlined for the first time the long-term outcomes following complex arthroscopic-assisted reconstruction of the TFCC and showed that the transosseous suturing technique is also associated with very good long-term outcomes.
---