All News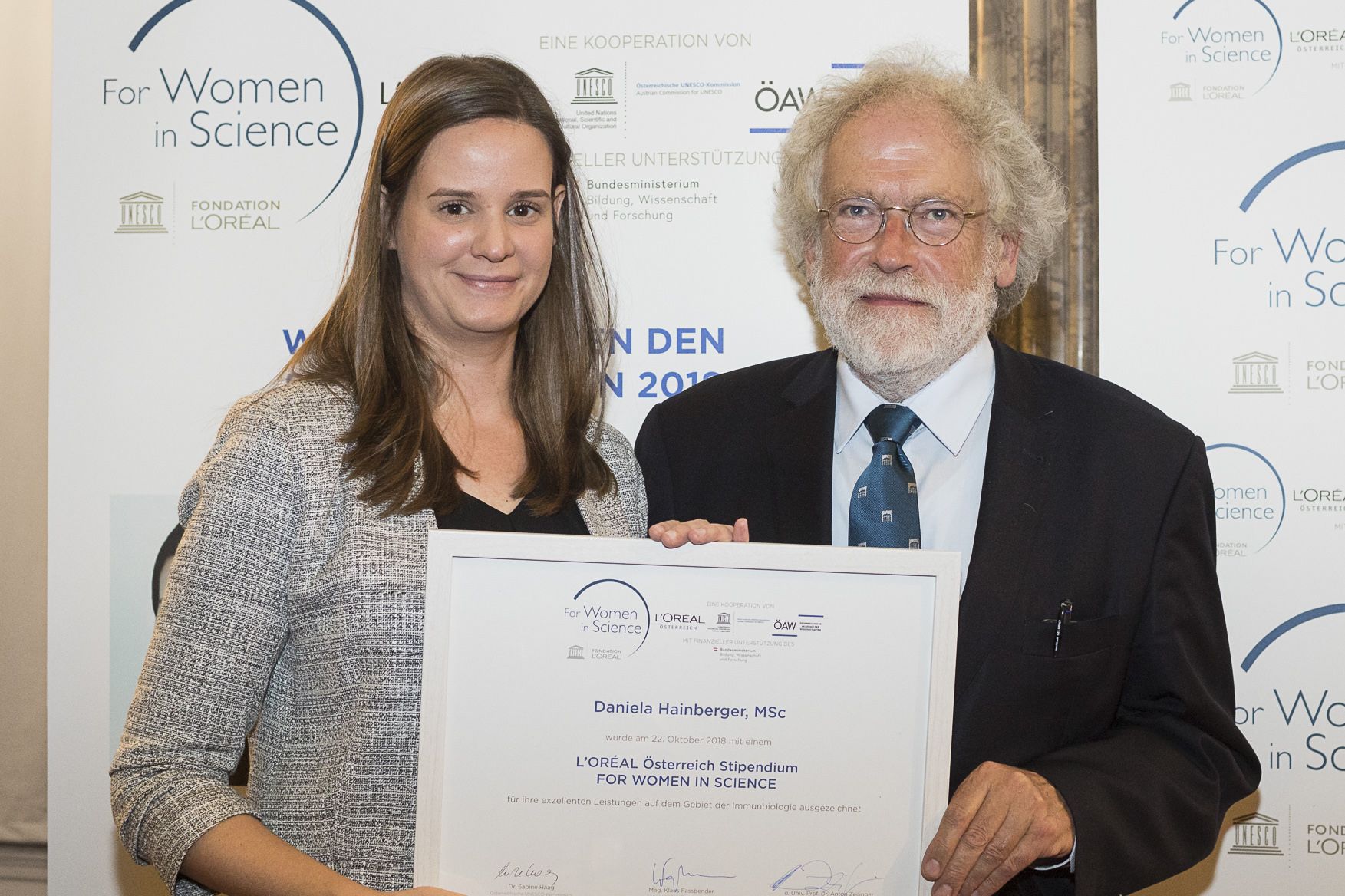 (Vienna, 23-10-2018) Daniela Hainberger, PhD student at MedUni Vienna, receives a L'Oréal Austria scholarship as part of the international initiative FOR WOMEN IN SCIENCE. She receives funding for her research project on the role of NCOR1 in CD4-positive T-helper cells.
Daniela Hainberger studied Biology at the University of Innsbruck (Bakk.Biol.) and completed her Master's degree in Molecular Biology at the University of Vienna. She wrote her Master Thesis in Wilfried Ellmeier's group at the Institute of Immunology at MedUni Vienna, where she has been working as a PhD student in the PhD program Inflammation and Immunity (IAI) since 2014. In 2017 she completed a research stay of several months at the University of Minnesota (with Michael A. Farrar).

In her project, Daniela Hainberger focuses on CD4-positive T-helper cells and is particularly interested in the molecule NCOR1. NCOR1 is a so-called co-repressor whose task is to recruit other molecules, each with its own individual functions, into genes in order to regulate them. These regulatory mechanisms change the ON/OFF status of genes and thus control the development and function of cells in our body, including T cells. Even a slight disturbance of these mechanisms can have enormous effects and lead to changes in the immune system. In the worst case, an efficient and targeted immune response is lacking or the immune system attacks the body's own structures, as is the case with autoimmune diseases. It is therefore important to understand these basic regulatory processes in detail. The aim of her dissertation is to elucidate the role of NCOR1 in CD4-positive T-helper cells using molecular biological and immunological methods.

The L'Oreal Austria Fellowship is a programme of L'Oreal in cooperation with the Austrian UNESCO Commission and the Austrian Academy of Sciences. It supports excellent female scientists in early career stages and from various scientific fields. This is also intended to draw the public's attention to the potential of women in science.
---