All News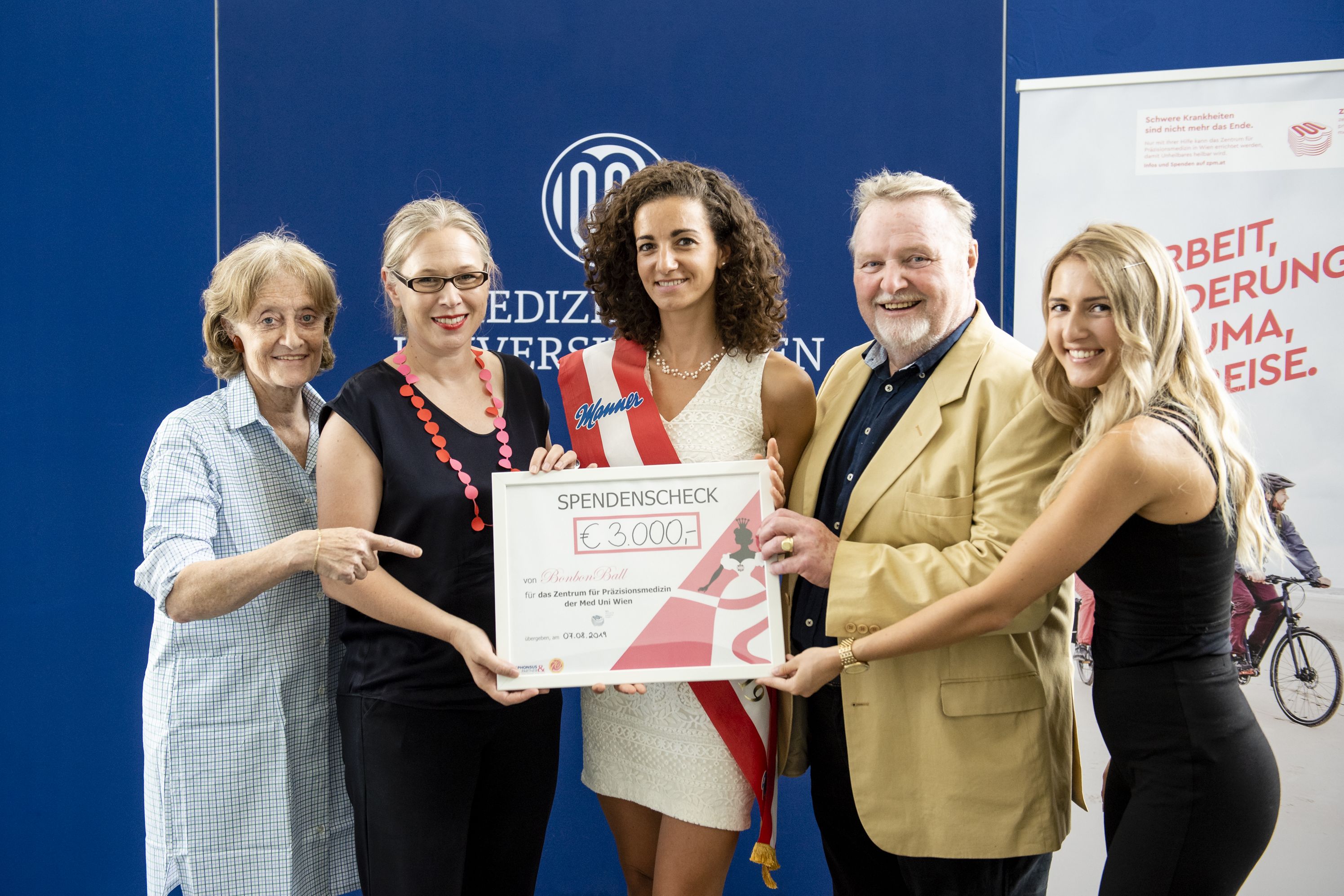 (Vienna, 09 August 2019) The sweetest ball in Vienna celebrated its 70th anniversary on 01 March 2019. To mark the occasion, the organisers of the BonbonBall donated the net proceeds from the tombola – totalling €3,000 – to go towards construction of MedUni Vienna's planned Center for Precision Medicine. Miss Bonbon 2019, Judith Steindl, ball organiser Heinz Alphonsus and its marketing director, Vanessa Klinka, have now presented the net proceeds from the tombola of the 70th BonbonBall to Vice Rector Michaela Fritz and Suzanne Rödler. BonbonBall hopes that this will reinforce the importance of sensible consumption of sweets.
Sensible sweet-eating
Sweets have a bad reputation because of their high sugar content. However, more and more low-sugar, high-protein alternatives are coming onto the market, so that people can continue to enjoy the odd sweet. By supporting the Center for Precision Medicine, BonbonBall wants to underscore the importance of health-awareness and common-sense when it comes to sweet consumption. "Our collaboration with MedUni Vienna came into being because we want to encourage people to be sensible in their consumption of sweets. I am delighted that our donation will support a project that will advance medicine and research in Austria," explains ball organiser Heinz Alphonsus.

Precision medicine at MedUni Vienna
Medicine reimagined: precision medicine is bringing about a paradigms shift in medicine. Each person has a different, completely individual genetic make-up that can predispose them to a risk of developing certain diseases. The best form of treatment and prevention is therefore personalised medicine – precision medicine. This new approach will put many previous medical achievements into the shade.

Center for Precision Medicine
MedUni Vienna is to play a pioneering role in this and will start building its Center for Precision Medicine on the MedUni Vienna General Hospital Campus in 2022. The new Center will focus in particular on biomedical research, clinical studies, genome technology, bioinformatics and IT. Its close proximity to Vienna General Hospital will be particularly advantageous to patients: clinicians and basic researchers will be working together on the same site to develop the very latest knowledge, so that patients can be treated using state-of-the-art medicine (www.zpm.at).
The Center for Precision Medicine, the construction of which will be financed by donations and third-party funding, is one of three research centres that are to be built in Vienna over the next few years. With these innovative projects, MedUni Vienna is signalling its commitment to the development of 21st century medicine.

For more details about how to donate to the Center for Precision Medicine.


---