All News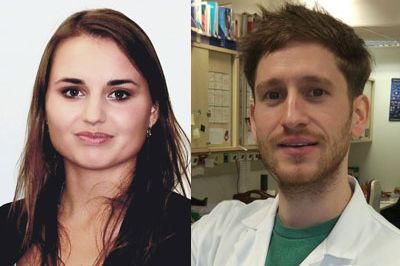 (Vienna/Hradec Kralove, 06 December 2019) Representatives of MedUni Vienna have won prizes at the 16th International Medical Postgraduate Conference at Hradec Kralove in the Czech Republic. Anete Romanauska and Markus Kraller were both successful, taking first and third place respectively.
This event is an international competition for PhD students studying at medical faculties and medical universities. A jury of international experts assesses the candidates on the basis of scientific quality, presentation, contribution to the conference proceedings and the subsequent discussion.
Anete Romanauska from Alwin Köhler's working group at Max Perutz Laboratories impressed the jury with her paper on "Lipid Storage at the Inner Nuclear Membrane".
Her paper earned her the title of MedUni Vienna "Researcher of the Month" in October 2019. » For more details about the study

About Anete Romanauska
Anete Romanauska studied biology at the University of Latvia in Riga from 2011 until 2014. She then went on to do her Masters in molecular biology at the University of Vienna. She has worked as a PhD student in Alwin Köhler's working group since 2016.

Third Place for Markus Kraller
Markus Kraller, from Hannes Stockinger and Johannes Huppa's group at the Institute of Hygiene and Applied Immunology, Center for Pathophysiology, Infectiology and Immunology, took third place with his paper entitled "Single Molecule FRET Reveals Enhanced Binding Lifetime between TCR and pMHCI in the Presence of CD8"
Using a glass-supported lipid membrane that mimics an antigen-presenting cell and facilitates high-resolution single-molecule fluorescence microscopy on living cells, the scientists managed to visualise and measure individual interactions between T-cell antigen receptors (TCRs) and their ligands, the peptide-loaded Major Histocompatibility Complexes I (pMHCI) in real time. A particularly interesting finding of this study is the stabilising influence that the CD8 co-receptor has upon the TCR-pMHCI interaction. This simultaneously binds to the pMHCI and sensitises T-cells for antigens.

About Markus Kraller
Markus Kraller studied molecular biosciences at the Paris Lodron University in Salzburg from 2009 to 2012. Following a three-month research internship at the Charité hospital in Berlin, he did a Masters in molecular biology at the University of Vienna. Since February 2015, Markus has been working as a CCHD PhD student in the working group led by Hannes Stockinger and Johannes Huppa. He has already won several poster and lecture prizes.
---