All News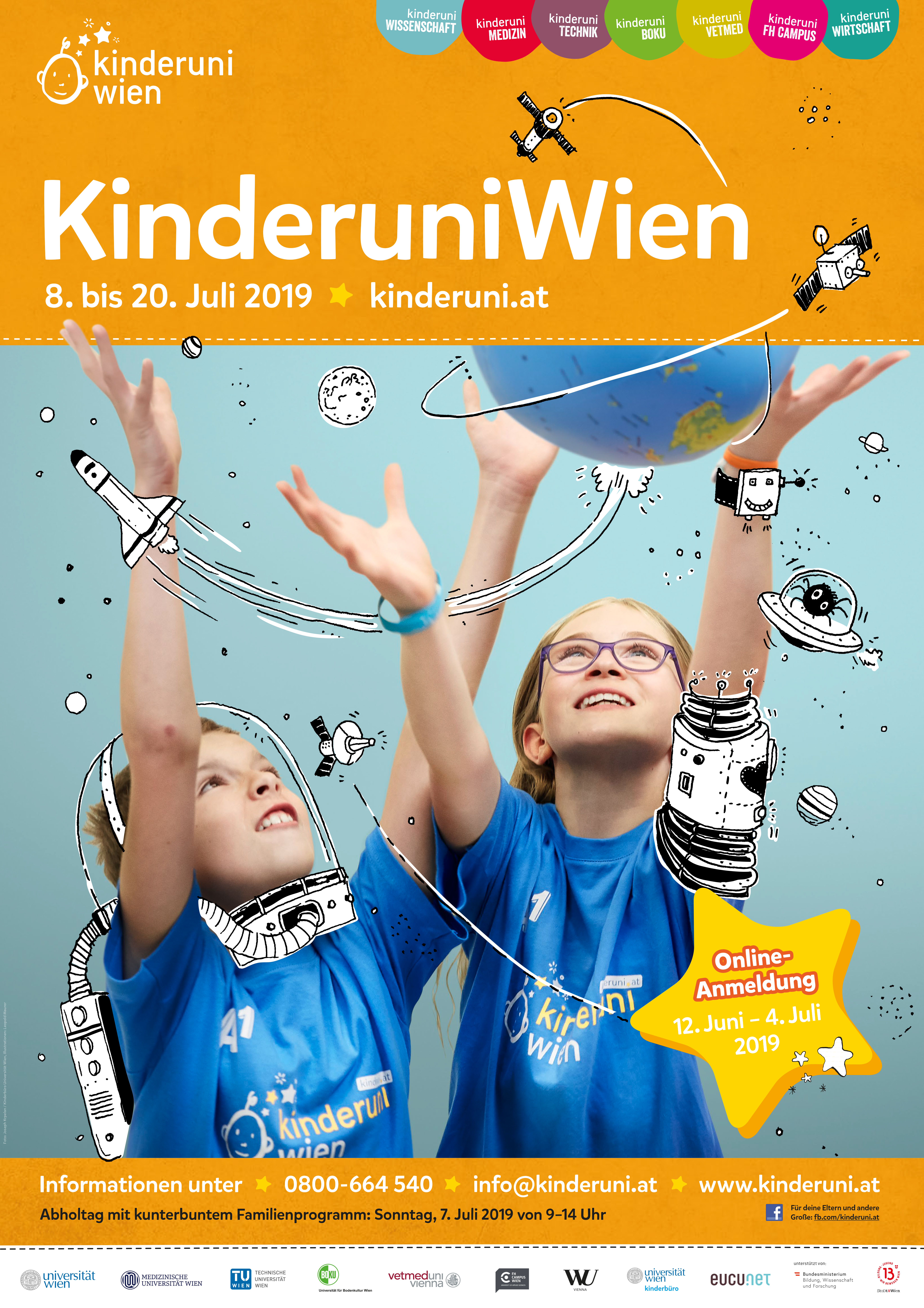 (Vienna, 15 May 2019) Vienna Children's University (KinderuniWien) offers children an understanding of research. That is why six universities and one technical university are once again opening their doors to inquisitive children from 8 to 20 July 2019, to give them an opportunity to explore and be amazed. This will be the 17th time that MedUni Vienna has taken part and the focus this year is on genes. You can check out the KinderuniWien 2019 programme on the kinderuni.at website or in the hot-off-the-press Study Planner with programme booklet.
KinderuniWien will once again encompass the Medical University of Vienna, the University of Vienna, Vienna University of Technology, the University of Natural Resources and Applied Life Sciences Vienna, Vienna University of Veterinary Medicine, Vienna University of Applied Sciences and the University for Economics and Business Administration Vienna. With around 430 classes and nearly 23,400 places, the participating universities are once again placing themselves firmly in children's hands. 600 scientists will give the young researchers exciting insights into many different areas of research and discover science with them!

It is guaranteed to be an interesting and varied two weeks with exciting highlights and a diverse playtime programme. The aim of KinderuniWien remains unchanged: children aged between 7 and 12 years are given their first glimpse of university life without any pressure on them and have an opportunity to develop a passion for science and research.

Focus on "Genes – blueprint for life" at MedUni Vienna
6 fingers and 7 toes, is there really such a thing?
Enlighten your genes
Our genes under the microscope
How your genes make bones!
The book of life - and how to read it
The ACGT of genes
All quite complicated: that's my family!
Altogether the KinderuniMedizin offers 96 events with topics around medicine and health.

The rest of the timetable
All that remains to do before registration opens on 12 June is: sign up, browse and select! Registration is open until midnight on 4 July at kinderuni.at and, with the pass and T-shirt you can collect on the University of Vienna campus on collection day, 7 July, there is nothing to stop you taking part in KinderuniWien. This year, there will also be an opportunity to register in advance as an Österreich 1 Kinderuni reporter – the training courses for this are marked with a microphone symbol in the online programme.
---