All News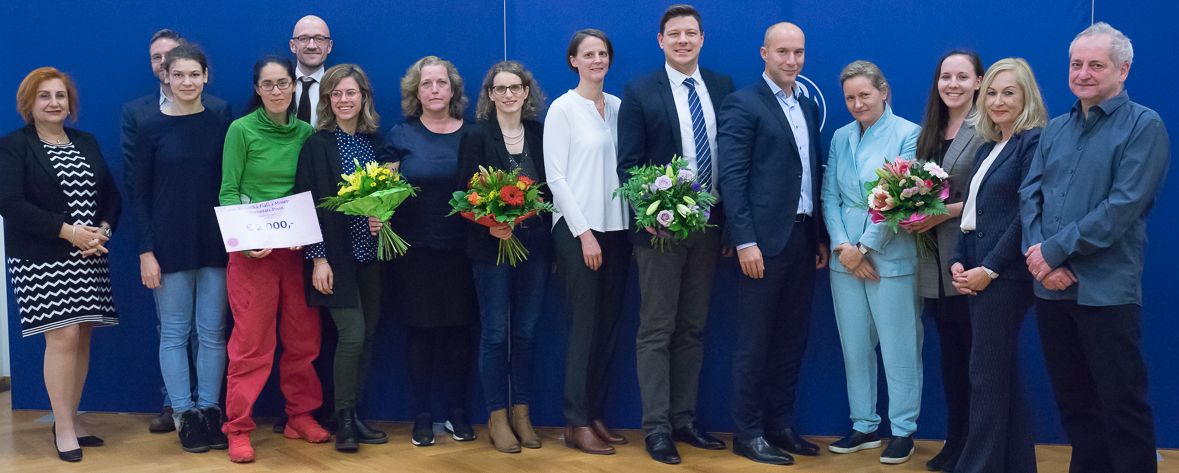 (Vienna, 27 November 2019) This year's MedUni Vienna Veronika Fialka-Moser Diversity Prizes were awarded to Mina Lahlal, Ruth Kutalek, Simone Böll and David Weidenauer. The prize-winners were presented with their certificates by Vice Rector Anita Rieder, together with the two jury members Ernst Eigenbauer and Tamar Kinaciyan, at a ceremony in the Rectorate Hall.
The Medical University of Vienna awards the Veronika Fialka-Moser Diversity Prize to consciously encourage the discussion about diversity at the university. It is intended to recognise contributions in this area and to highlight the issue of diversity. The prize is named after Veronika Fialka-Moser, Professor of Physical Medicine, in recognition of her many years of service in the field of Diversity Management at MedUni Vienna.
This year's prizes were awarded in recognition of outstanding contributions in the categories of Education and Research. Prize money of €2,000 is awarded in each category. MedUni Vienna employees and PhD students are able to submit papers.

Mina Lahlal, Ruth Kutalek and Simone Böll won awards in the "Education" category. The course "Global Health and Humanitarian Work" is an established part of the PhD course in Public Health but is also aimed at students of Medicine and International development. The various facets of global health (post-colonialism, adapted technology, tropical surgery & medicine, logistics, inter alia) are examined and discussed in a transdisciplinary setting. In choosing the lecturers, particular attention is paid to the gender balance and to a highly diverse range of backgrounds – so, for example many lecturers originate from or have worked in the Global South – just like many students. This is intended to facilitate "global learning" and provide a practical experience of diversity in education.

David Weidenauer won an award in the "Research" category. The teaching of CPR in schools increases the survival rate and has been recommended by WHO since 2015. The randomised, controlled trial conducted by David Weidenauer has shown, for the first time, that this training can confidently be started in primary schools. The children enjoyed practising the resuscitation procedures, regardless of their gender, age, mother tongue, origin or physical ability. They showed a great deal of interest and were keen to repeat the training.
While older children were able to perform cardiac massage more effectively, even the younger children were able to perform simple actions like making an emergency call or operating the defibrillator. Theoretical and practical teaching content awakened interest and promotes self-confident behaviour in an emergency situation.
Interestingly, girls aged between 8 and 13 rated their performance on the training course as much weaker than did their male classmates of the same age.


All prize-winners:
Education:
1st place: Mina Lahlal, Ruth Kutalek, Simone Böll "Course: Humanitarian work and global health"
2nd place: Eva Katharina Masel, Andrea Praschinger "Using Medical Comics and Graphic Medicine as a teaching method"
3rd place: Paulina Sarbinowska "Austrian sign language (ÖGS) for medical professionals"

Research:
1st place: David Weidenauer "I can save lives"
2nd place: Johanna Strobl, Natalia Alkon "Diversity under the skin – influences of sex, age, skin color and disability on cutaneous innate lymphoid cells"
3rd place: Stefanie Kirchner, Benedikt Till, Martin Plöderl, Thomas Niederkrotenthaler "The impact of suicide prevention videos on lesbian, gay, bisexual and queer adolescents (LGBQ)"


---