All News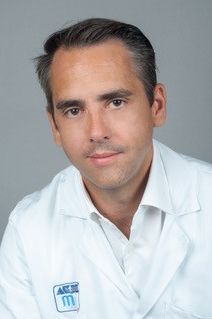 (Vienna, 02 September 2019) On 1 September 2019, Daniel Zimpfer took over the Chair of Pediatric Heart Surgery at MedUni Vienna. He was already head of the pediatric heart surgery program at MedUni Vienna's Division of Cardiac Surgery.
"We are responsible for all heart surgery for congenital heart defects, our patients ranging from newborn babies right through to adults. In fact, around 60% of our cases involve newborn babies or infants up to the age of one," explains Zimpfer.

"We want to consolidate and expand the role of our division as one of Europe's leading centres for pediatric heart surgery." A major aspect in the immediate future will be the personalisation of treatment strategies. Conditions range from heart valves diseases through to serious heart defects with underdeveloped heart chambers. In particular, those patients with the most complex heart defects, who could previously only be offered palliative care, benefit from individualised treatment concepts and the large majority of them can now be given corrective surgery. Another focus, in close collaboration with pediatric cardiology, will be myocardial regeneration in children with single-chamber hearts.

Daniel Zimpfer and his team have a broad research remit. So far, a particular interest has been heart replacement – from artificial hearts through to organ transplants for congenital heart defects. In order to strengthen this area, a heart-assist pump is to be developed, amongst other things, to meet the special needs of children with congenital heart defects and only one heart chamber.

Zimpfer is passionate about the training of would-be surgeons, which is a particular challenge in pediatric heart surgery. "Many heart defects are rare and the operations complex. In order to improve training in future, one of the things we can do is to recreate human hearts with various malformations using 3D printing and so offer simulated surgeries on true-to-life models. This increases safety when learning surgical techniques."

The research groups at the Division of Cardiac Surgery have interdisciplinary links with numerous other areas, both within the Center for Cardiovascular Medicine (CCVM) at the Medical University of Vienna/Vienna General Hospital and within the newly established Comprehensive Center for Pediatrics of MedUni Vienna and Vienna General Hospital.

About Daniel Zimpfer
Daniel Zimpfer studied medicine in Vienna and completed his specialist training in cardiac surgery and vascular surgery at MedUni Vienna. He has an MBA in Health Care Management (Vienna University of Economics and Business) and completed the "Surgical Leadership Program" at Harvard Medical School. He took over as medical director of the program for mechanical circulatory support in 2012 and has been Head of Surgery for congenital heart defects since 2014.
Zimpfer is a member of numerous national and international professional societies and guideline committees and is a reviewer for several leading specialist journals in the field of cardiovascular surgery.



---