All News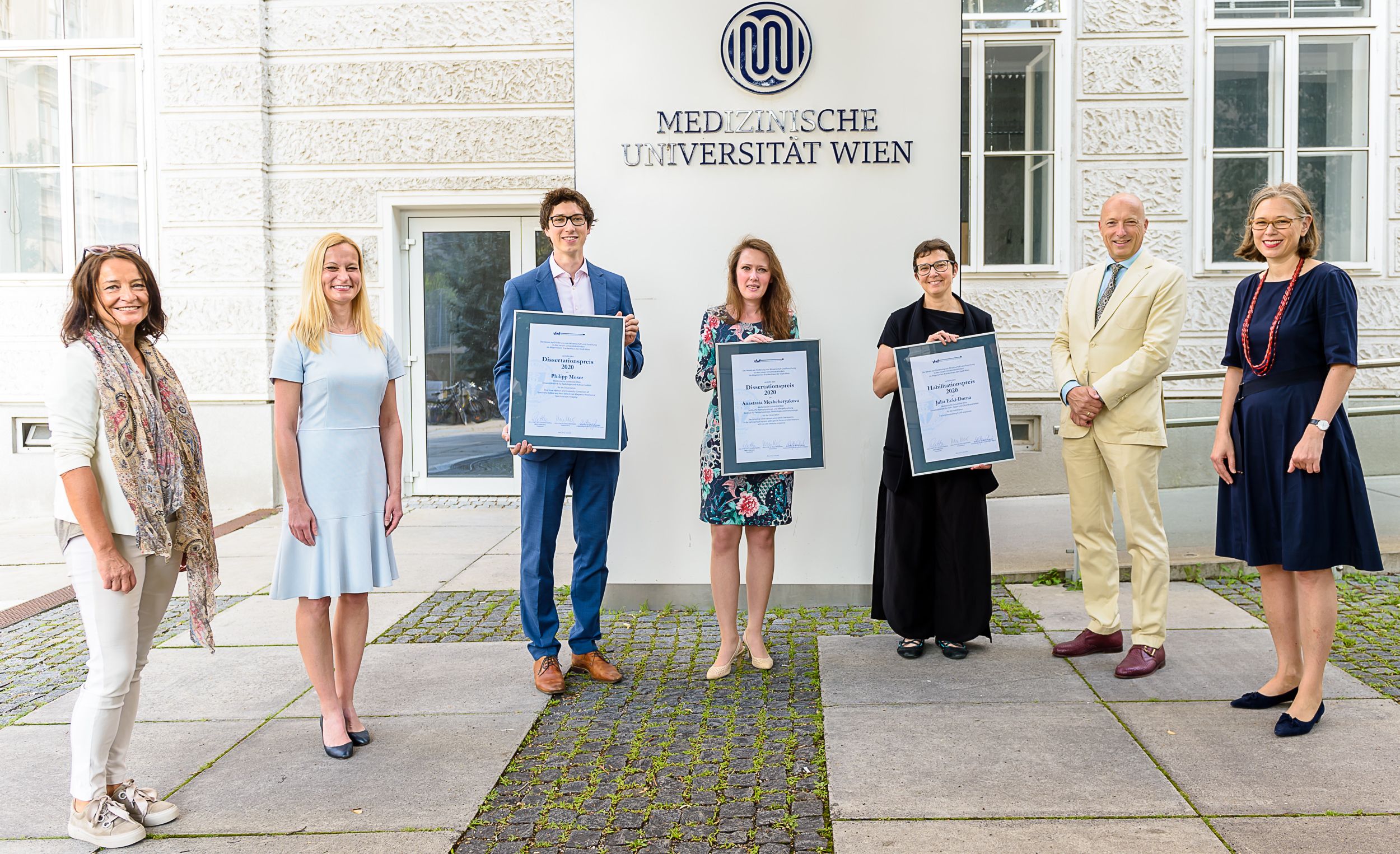 (Vienna, 22 July 2020) The vfwf (Association for the Promotion of Science and Research) presented prizes for the best dissertations and postdoctoral theses produced at MedUni Vienna during 2019. The awards were presented by Martina Lutterschmied, Christine Radtke, Bruno Podesser and Michaela Fritz.
Students were able to submit degree theses completed at MedUni Vienna during 2019 to be considered for the awards. Because of the large number of high-quality submissions, the vfwf decided to award prizes to four winners in each category. The prizes were presented at the vfwf's university lecture in MedUni Vienna's Lecture Center in Vienna General Hospital.
Postdoctoral thesis
Julia Eckl-Dorna, Department of Ear, Nose and Throat Diseases
"Factors modulating B cell responses"

Dissertation
Anastasia Meshcheryakova, Institute of Pathophysiology and Allergy Research
Deciphering novel cancer-associated checkpoints in the sphingolipid system with special focus on interrelations with on-site immune response

Philipp Moser, Center of Excellence for High-Field MRI
Real-time Motion and Instability Correction of Spectrally-Edited and Non-Edited Fast Magnetic Resonance Spectroscopic Imaging

The vfwf
The charitable "Association for the Promotion of Science and Research in the New Viennese Departments at the City of Vienna's General Hospital" was founded in 1995, exclusively for scientific purposes, and has the following aims:


Promoting future-oriented teaching and research in the new Viennese departments, in keeping with the very latest European and international knowledge and methods.
Upholding the tradition of Vienna Medical School.
Developing guidelines and possible solutions for forward-looking organisation of the Austrian healthcare system.
Promoting future-oriented interdisciplinary collaboration between all relevant medical, scientific, legal and socio-political disciplines with the aim of overcoming future problems in basic and applied medical research.
Cultivating contacts with recognised experts throughout the world.
Promoting the scientific, health policy and social position of the new Viennese departments within all relevant social groups.
Publishing publications, brochures and books.
Organisation and financing of regular conferences and symposia and establishing a permanent "Vienna Medical School Science Forum".
---