All News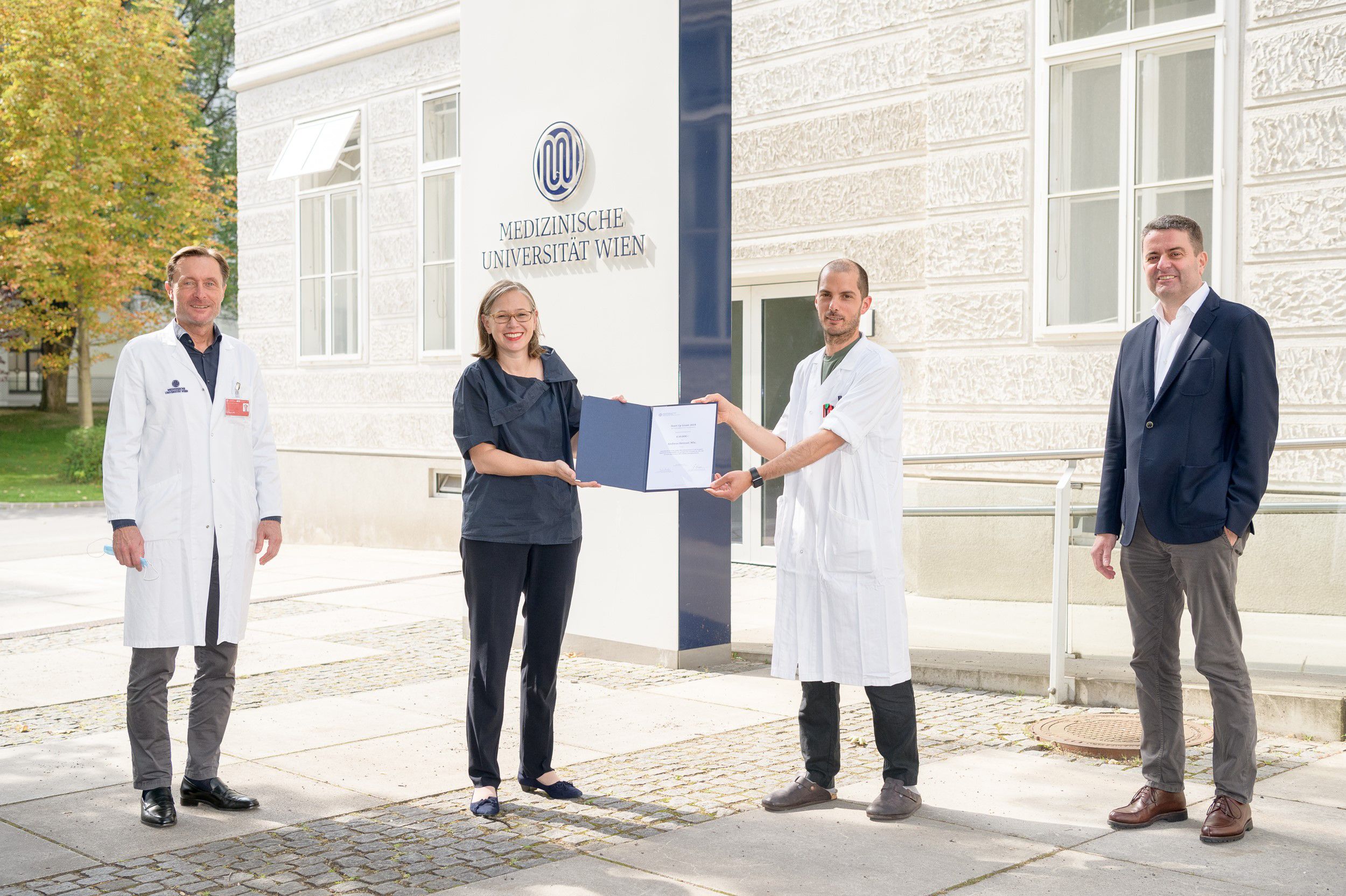 (Vienna, 16 September 2020) – The aim of the Medical University of Vienna's new Transplantation Research Platform, which was set up in 2019, is to promote young scientists working in the field of transplant research. One of the important instruments for doing this is the "Start-Up Grants", each worth €10,000. The first of these has now been awarded to Andreas Heinzel from MedUni Vienna's Department of Medicine III, (Division of Nephrology and Dialysis), following independent assessment by the Platform's board.
The grant will generate new research results, which can be used as a basis for raising third-party funding in the future. Today (Wednesday) Heinzel was presented with the award by Michaela Fritz, Vice Rector for Innovation and Research, and the Transplantation Research Platform coordinators, Rainer Oberbauer and Thomas Wekerle.
About the winning project
Andreas Heinzel's research project that is being funded by the Start-up Grant from the Transplantation Research Platform will study the common T-cell receptor repertoire against the human polyomavirus 1 (BKV). Specifically, mononuclear cells are taken from the peripheral blood of kidney transplant recipients who have recently experienced BKV reactivation and these cells are stimulated in vitro with BKV antigens. The antigen-responsive cells are then analysed using modern sequencing techniques to decode the T-cell receptor sequences. These sequences can then be used to compare the BKV-specific T-cell repertoire of different volunteers and to identify any shared (common) receptors.
Decoding of the common repertoire will provide new starting points for the differential diagnosis of BK nephropathy and T-cell-mediated rejection and will serve as a basis for BKV-specific immune monitoring. Moreover, the existence of such a public repertoire would be an important piece of the jigsaw in terms of using virus-specific cell products from third parties in the treatment of persistent viral infections.

2020 call now open
The current call for the Transplantation Research Platform start-up grant for 2020 is already underway – applicants can find all the relevant information here.
About Andreas Heinzel
Andreas Heinzel was born in Salzburg and completed a Master of Science degree at the University of Applied Sciences Upper Austria, Faculty of Informatics, Communications and Media, in Hagenberg. He is currently working and studying on a PhD programme at MedUni Vienna's Division of Nephrology and Dialysis.
---