Greetings from Eric Kandel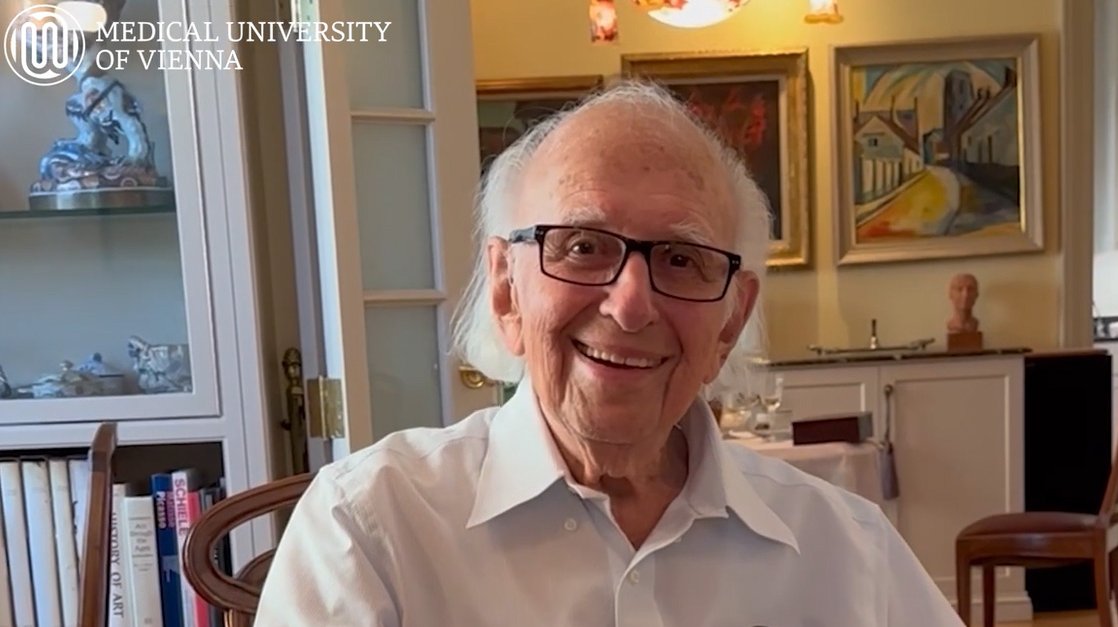 Funds from the European Resilience and Recovery Facility and donations are being used to create a Center for Precision Medicine at the MedUni Vienna General Hospital campus. The new research infrastructure creates a modern framework for digital and personalised medicine. In future, diagnoses, therapies and preventive measures will be developed here that are customised to individual factors. The new research center is named after Eric Kandel, a Nobel Prize winner from Vienna.
The Eric Kandel Institute - Center for Precision Medicine is to become one of the leading centers for research and development of therapies in the field of customised medicine. The new building is being constructed as part of one of the largest investment projects on the MedUni Vienna General Hospital campus as one of three centers shaping the medicine of the 21st century: the Center for Translational Medicine and Therapies, the Center for Technology Transfer and the Eric Kandel Institute - Center for Precision Medicine.
The new Eric Kandel Institute focuses in particular on biomedical research, clinical studies, genome technology, bioinformatics and IT. The close proximity to the AKH offers a significant advantage for patients: Clinically active doctors and basic researchers work closely together and in close proximity to develop the latest findings, allowing patients to be treated with the latest medical knowledge.
---
What is personalised precision medicine?
Rethinking medicine: personalised precision medicine is bringing about a paradigm shift in medicine. Every person has unique DNA and a unique, individualised gene sequence. On the one hand, we carry the information stored here with us from birth; on the other hand, our DNA is subject to individual changes over the course of our lives. These can be caused by exogenous factors or by lifestyle influences. This genetic disposition is the reason for a possible, gene-related risk of a certain disease. Medicine based on the "one-size-fits-all" treatment method has often been associated with side effects or, in some cases, little success in curing the disease. The best form of therapy and prevention is therefore personalised medicine: precision medicine.
Customised therapy
Precision medicine is based on modern diagnostic methods such as genome sequencing and molecular imaging. This should make it even easier in future to treat patients in a targeted and personalised manner and to identify the cause of the disease at a molecular level. This increases the individual chances of recovery enormously and could take away people's fear of diseases or treatments.
With the help of precision medicine, patients' risk of disease can be determined better than before. For example, in people who have an increased risk of cardiac arrest due to their genetic disposition. With the help of precision medicine, it is possible to recognise this genetic defect and thus take measures in good time. Analysing genetic predisposition also helps to predict how patients will respond to certain medications or various therapies.
Thanks to major advances in research, innovation and technology, it is possible to provide targeted prevention and therapy for various diseases:
Cardiovascular diseases
Mental illnesses
Diseases of the respiratory tract
Metabolic diseases and obesity
Cancer
Genetic diseases
Infectious diseases
Allergies
Rheumatological diseases
Autoimmune diseases
Haematological diseases
Neurological diseases
Eye and ear diseases
Urological diseases
---
Eric Kandel gives his name to the project
Eric Kandel (born 1929 in Vienna) revolutionised the understanding of the formation of short and long-term memory with his studies. The findings from Eric Kandel's work provided deep insights into the performance of human memory and a molecular understanding of mental processes and psychiatric illnesses. In 2000, he was awarded the Nobel Prize in Physiology or Medicine for his discovery of chemical and structural changes in the brains of all learning organisms, from snails to humans.
As a child, Kandel was forced to emigrate to the USA with his family in 1939 after the annexation of Austria by National Socialist Germany. He was granted American citizenship in 1945. In 2009, he was made an honorary citizen of the City of Vienna. In 2012 he received the Grand Decoration of Honour in Silver with a Star for services to the Republic of Austria, in 1994 an honorary doctorate from the University of Vienna and in 2018 an honorary doctorate from the Medical University of Vienna. Kandel lives in New York.