NeuroTrans is a European Training Network (ETN) from the Marie Skłodowska-Curie Actions Innovative Training Networks (MSCA ITN) of the European Commission's Horizon 2020 framework.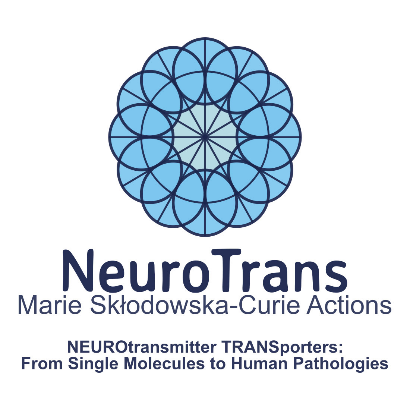 An ETN is a structured international PhD training environment. Building on the PhD programmes of the involved Universities, NeuroTrans will establish an international training programme by forming a highly interdisciplinary team of world-leading European researchers from 9 Universities and 5 industry partners.
Training will include most important subdisciplines in quantitative biology, including molecular modelling, computer simulations, biophysics, biochemistry, neurobiology, molecular and structural biology. The vision of NeuroTrans is
to reach an improved understanding of neurotransmitter: sodium symporter (NSS) function reaching from the molecular level to human pathologies,
to investigate how psychoactive substances target these transporters,
to elucidate how disruption of transporter function contributes to neuropsychiatric disease pathobiology.
NeuroTrans makes use of cutting-edge methods to reach this goal, but also develops enabling techniques in biophysics, molecular and structural biology. Especially the industrial partners will establish novel devices for detection in live cells.
---
Scientific Mission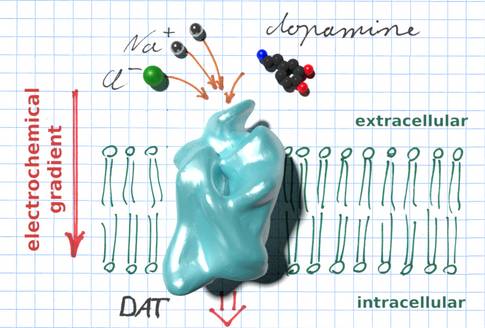 The scientific mission of NeuroTrans is to develop solid relationships between molecular and systemic effects with the objective to understanding NSS (mal)function from the underlying molecular principles. To achieve this goal, NeuroTrans has defined the following scientific objectives:
To characterize ligand bound complexes and derive structural and mechanistic insights by determining GABA transporter structures.
To characterize the electrogenic events associated with transport (binding, translocation, release). Novel technologies for electrophysiological recordings will be developed to significantly improve instrument sensitivity and throughput in vesicular and cellular recordings.
To obtain dynamic, kinetic, thermodynamic, structural, and mechanics insight into the processes of substrate binding and transport with improved temporal and spatial resolution. Novel technologies will be developed for efficient measurements of thermodynamic and kinetics parameters in vesicles and cells.
To identify the mode of action of NPS. The development of new microfluidic devices for cell based measurements and its integration with the analytic technologies will boost throughput by orders of magnitude.
To assess the molecular determinants of novel disease causing mutations associated with neuropsychiatric disease discovered in large population screens, including mutations eliciting discrete changes in transporter function or leading to dysregulation of neurotransmitter homeostasis.
The state-of-the art infrastructure available or developed within the NeuroTrans Network will support archiving these ambitious research objectives.
---
Beneficiaries
Medizinische Universität Wien
Universität Regensburg
Universidade Nova de Lisboa
Kobenhavns Universitet
Nanion Technologies GmbH
Universita degli Studi dell'Insubria
Rijksuniversiteit Groningen
Nanotemper Technologies GmbH
Universität Hamburg
Ludwig-Maximilians-Universität München
University of East Anglia
Elvesys
NeuroTrans has received funding from the European Union's Horizon 2020 research and innovation programme under the Marie Skłodowska-Curie Actions grant agreement no. 860954.