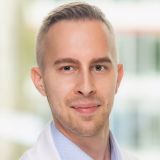 Keywords
Biomarkers, Pharmacological; Positron-Emission Tomography; Programmed Cell Death 1 Receptor
Research group(s)
Experimental Nuclear Medicine
Head: Cécile Philippe
Research Area: The research group "Experimental Nuclear Medicine" deals with the development and evaluation of radiotracers in various diseases. In addition, the group focuses on organ axes and pharmacokinetics.
Members:
Research interests
My research focuses primarily on the development of PET tracers for the PD-1/PD-L1 immune checkpoint. The ultimate goal is to achieve a better patient stratifcation in the context of anti-cancer immunotherapy and to improve therapy respone and survial.