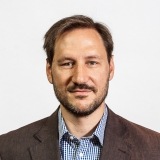 Keywords
Diagnostic Imaging; Optical Devices; Optical Imaging; Retina; Tomography, Optical Coherence
Research group(s)
Hitzenberger/Pircher Group
Research Area: Biomedical optics with a focus on optical coherence tomography (OCT) and ocular imaging
Members:
Research interests
His scientific interest lies in retinal imaging, adaptive optics, new contrast techniques in optical coherence tomography, coherence microscopy.
Techniques, methods & infrastructure
Optical coherence tomography (OCT) is a non-invasive optical imaging technique that records cross sectional images of biological tissue with high axial resolution. The combination of OCT with adaptive optics enables the visualization of cellular structures such as cone and rod photoreceptors in the human eye.