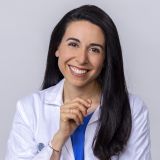 Keywords
Fetal Death; Fetal Growth Retardation; Fetal Mortality; Placental Insufficiency; Stillbirth
Research group(s)
Austrian Stillbirth Alliance
Head: Dana Muin
Research Area: 1) Epidemiology of antepartum fetal death 2) Post-mortem investigations [genetic analyses, conventional and virtual autopsy, laboratory investigations, placental histology] 3) Classification of fetal death 4) Stillbirth prevention 5) Biomarkers
Members:
Reproductive Biology Unit
Head: Martin Knöfler
Research Area: biological function, differentiation and development of the human placenta
Members:
Research interests
Dana Muin's main research interest focuses on antepartum fetal death and placental dysfunction leading to intrauterine growth restriction and eventually stillbirth.
In 2018, she worked one year at the Tommy's Stillbirth Research Centre in Manchester, UK, under the academic supervision of Professor Alexander Heazell and received a Master of Research in Reproduction and Pregnancy from The University of Manchester.
Currently, she is head of the Stillbirth Research Group at the Medical University of Vienna, collaborating with national and international researchers on epidemiological data and conducting laboratory investigations in the field of placental dysfunction. She has established a national registry in cooperation with the Institute of Clinical Epidemiology at Tirol Kliniken, Austria ("IUFT Register Österreich").
Dana Muin's main interest lies in finding the cause of fetal death and implementing evidence-based guidelines for optimal post-mortem investigations following intrauterine fetal death in Austria.
Grants
Octavia's Trust (2018)
Source of Funding: EU, Aiding research into causes and prevention of stillbirths and late stage miscarriages
Principal Investigator