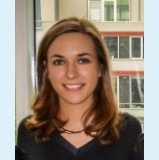 Keywords
Colonoscopy; Colorectal Neoplasms, Hereditary Nonpolyposis; Preventive Medicine
Selected publications
Waldmann E, et al. Interval cancer after colonoscopy in the Austrian national screening Programme: influence of physician and patient factors. Gut 2020 Oct 6;gutjnl-2019-319427
Waldmann, E*, Wieszczy P*, et al. Colonoscopist performance and colorectal cancer risk after adenoma removal stratify surveillance: two nationwide observational studies. Gastroenterology 2020 Oct 14;S0016-5085(20)35247-1.
Ferlitsch M, et al. Colorectal polypectomy and endoscopic mucosal resection (EMR): European Society of Gastrointestinal Endoscopy (ESGE) Clinical Guideline. Endoscopy 2017;49(3):270-297.
Waldmann E, et al. Trends in quality of screening colonoscopy in Austria. Endoscopy 2016;48(12):1102-1109.
Waldmann E, et al. Risk factors cannot explain the higher prevalence rates of precancerous colorectal lesions in men. Br J Cancer. 2016;115(11):1421-1429.