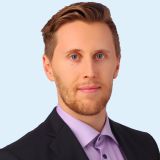 Keywords
Artificial Intelligence; Diabetic Retinopathy; Diagnostic Imaging; Eye; Eye Diseases; Fluorescein Angiography; Image Processing, Computer-Assisted; Imaging, Three-Dimensional; Multimodal Imaging; Ophthalmology; Optical Imaging; Retina; Tomography, Optical Coherence
Research group(s)
Vienna Reading Center
Research Area: Our mission is to enhance progress in the scientific understanding of diseases and treatment through efficient and reliable analysis of ophthalmic images in clinical studies.
Members:
Research interests
Medical image analysis
Machine learning, Artificial intelligence
Imaging biomarkers
Optical coherence tomography angiography
Fluorescein angiography
Retinal vascular diseases
Selected publications
Hofer, D. et al., 2019. Foveal Avascular Zone Segmentation in Clinical Routine Fluorescein Angiographies Using Multitask Learning. Lecture Notes in Computer Science, pp.35–42. Available at: http://dx.doi.org/10.1007/978-3-030-32956-3_5.