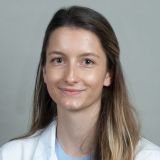 Keywords
Biomimetic Materials; Nerve Regeneration; Peripheral Nerves; Regenerative Medicine; Schwann Cells; Silk
Research group(s)
ARGE Radtke
Research Area: cell based therapies and spider silk conduits for peripheral nerve regeneration
Members:
Research interests
Within the scope of my research, I try to unravel the unique properties of spider silk responsible for its exceptional ability to support peripheral nerve regeneration. I combine methods such as mass spectrometry, electron microscopy, and atomic force microscopy, with in vitro studies to determine the crucial chemical, structural, and morphological properties of spider silk.
Techniques, methods & infrastructure
Primary rodent cell culture
Imaging

Live Cell Imaging
Confocal Laser Scanning Microscopy

Material Characterisation

Atomic Force Microscopy
Electron Microscopy
Proteomics (nLC-nESI-MS/MS)

Transcriptome Analysis
Selected publications
Borger, A. et al. (2022) 'How miRNAs Regulate Schwann Cells during Peripheral Nerve Regeneration—A Systemic Review', International Journal of Molecular Sciences, 23(7), p. 3440. Available at: http://dx.doi.org/10.3390/ijms23073440.