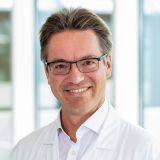 Keywords
Breast Cancer; Colorectal Neoplasms; Colorectal Surgery; General Surgery; Inflammatory Bowel Diseases; Peritoneal Neoplasms; Robotics; Surgical Procedures, Minimally Invasive
Research interests
My main research focus is translational surgical oncology, mainly focusing on strategies to improve response to perioperative systemic chemotherapy as well as immunotherapy in patients with metastatic disease who are eligible for curative cancer surgery (colorectal, appendiceal, gastric, ovarian and primary peritoneal surface malignancies).
My clinical research focuses on the improvement of surgical therapy for patients with peritoneal surface malignancies as well as minimally invasive and robotic surgery in patients with colorectal cancer.
Techniques, methods & infrastructure
Clinical research infrastructure: Department of Surgery, Medical University of Vienna, Austria
Translational research Infrastructure: Surgical Research Laboratories, Medical University of Vienna, Austria
Techniques: Essentially all techniques of translational cancer research (cell culture, FACS, Western blot, immunoprecipitation, immunohistochemistry, quantitative RT-PCR, etc.)
Clinical databases: Peritoneal Surface Malignancy register and CRC tumor bank, Medical University of Vienna
Selected publications
Bhangu, J.S. et al., 2018. Circulating Free Methylated Tumor DNA Markers for Sensitive Assessment of Tumor Burden and Early Response Monitoring in Patients Receiving Systemic Chemotherapy for Colorectal Cancer Liver Metastasis. Annals of Surgery, 268(5), pp.894,
Bachleitner-Hofmann, T. et al., 2011. Antitumor Activity of SNX-2112, a Synthetic Heat Shock Protein-90 Inhibitor, in MET-Amplified Tumor Cells with or without Resistance to Selective MET Inhibition. Clinical Cancer Research, 17(1), pp.122–133. Available at: http://dx.doi.org/10.1158/1078-0432.CCR-10-0253.
Bachleitner-Hofmann, T. et al., 2008. HER kinase activation confers resistance to MET tyrosine kinase inhibition in MET oncogene-addicted gastric cancer cells. Molecular Cancer Therapeutics, 7(11), pp.3499–3508. Available at: http://dx.doi.org/10.1158/1535-7163.MCT-08-0374.
Sturlan, S. et al., 2003. Docosahexaenoic acid enhances arsenic trioxide–mediated apoptosis in arsenic trioxide–resistant HL-60 cells. Blood, 101(12), pp.4990–4997. Available at: http://dx.doi.org/10.1182/blood-2002-08-2391.
Bachleitner-Hofmann, T. et al., 2002. Stimulation of Autologous Antitumor T-Cell Responses Against Medullary Thyroid Carcinoma Using Tumor Lysate-Pulsed Dendritic Cells. The Journal of Clinical Endocrinology & Metabolism, 87(3), pp.1098–1104. Available at: http://dx.doi.org/10.1210/jcem.87.3.8283.