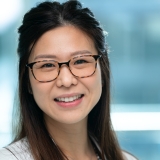 Keywords
DNA Mismatch Repair; Epidemiology; Genes, BRCA1; Genes, BRCA2; Hereditary Breast and Ovarian Cancer Syndrome; Lynch Syndrome II
Research group(s)
Predictive Oncology Group
Members:
Research interests
My research interests cover all aspects of the epidemiology of hereditary breast, ovarian and endometrial cancer, with a focus in prediction of breast cancer risk and outcomes for the high-risk population.
My current focus includes male breast cancer, treatment responses and health outcomes of BRCA-associated metastatic breast cancer, and patient-reported outcomes in hereditary cancer patients. I am also interested in the etiology and prevention of prostate cancer, particularly BRCA-associated prostate cancer.
Grants
Austrian BRCA‐associated metastatic breast cancer registry (2019)
Source of Funding: Pfizer, Research Grant
Principal Investigator
BRCA-P - Prospectively randomized place-controlled phase 3 study to determine the effect of denosumab on breast cancer prevention in BRCA1 mutation carriers (2019)
Source of Funding: U.S. Department of Defense, Breast Cancer Research Program Breakthrough Award - Funding Level 4
Coordinator of the collaborative project