All News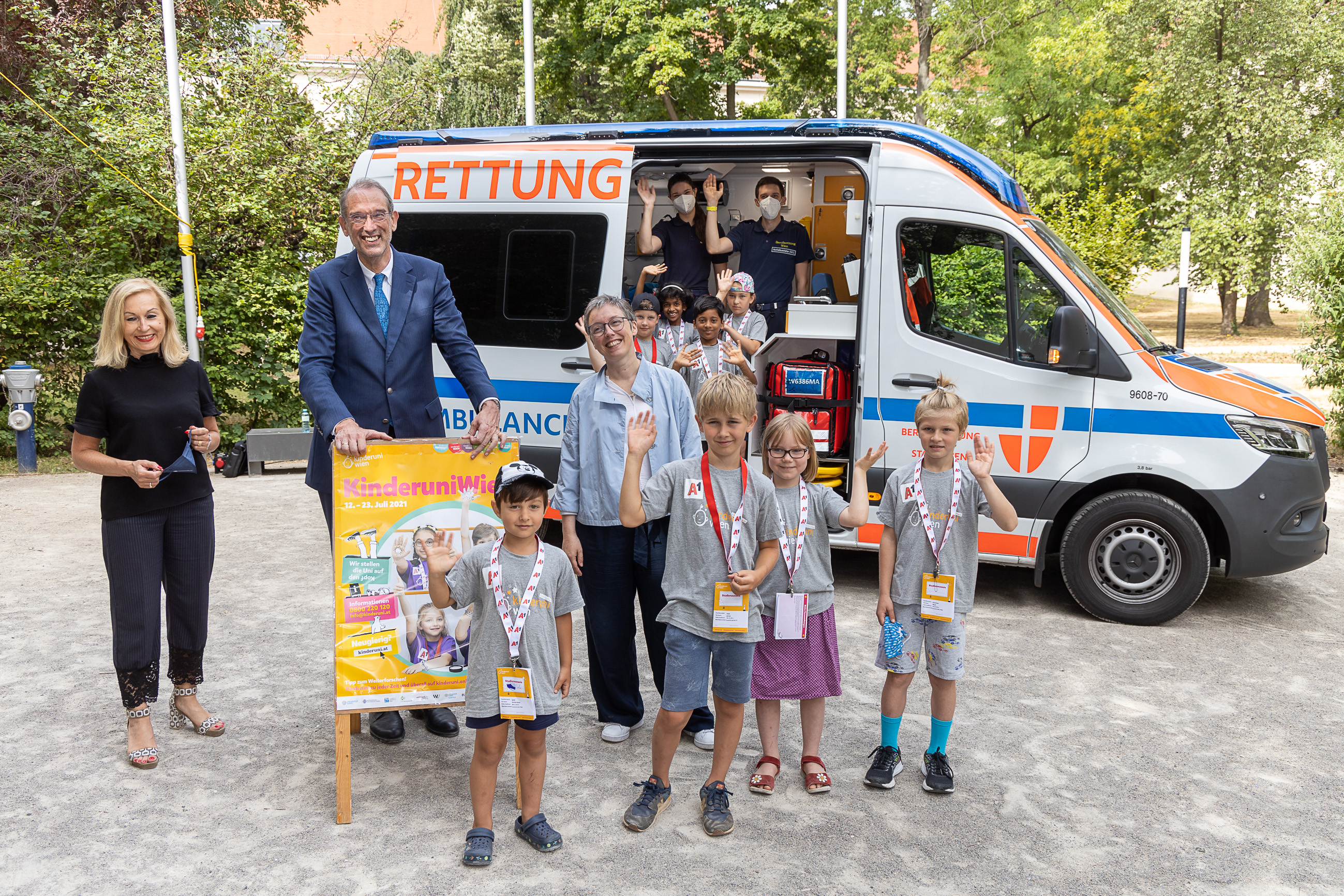 (Vienna, 14 July 2021) MedUni Vienna is participating in KinderuniVienna, offering future doctors and researchers a varied taster and familiarisation programme. Education Minister Heinz Faßmann took advantage of this opportunity, visiting Anita Rieder, Vice Rector of MedUni Vienna, and the enthusiastic researchers of tomorrow at the start of KinderUni Medicine.
Inquisitive young researchers can conquer the world of medicine either in 19 small-group, in-person workshops, in around 40 online offerings or by participating in the two live-streamed composite afternoon programmes.
Experiencing science live in small groups
Shortly after the end of the school term, MedUni Vienna and other universities once again opened their doors to inquisitive young talent. This year, KinderuniVienna is following a small-group format in keeping with the slogan "Healthy and happy" and, up until 22 July, is offering more than 3,000 places for children to marvel at science and ask questions about it. There is something to discover and room for exciting questions at MedUni Vienna, the University of Vienna, University of Natural Resources and Applied Life Sciences, Vienna University of Veterinary Medicine and Vienna University of Economics and Business.
Another kind of research in the Kinderuni livestream
The virtual Kinderuni livestream brings science to the whole family on two afternoons: in just a few hours, starting from 16:00 hrs on 14 and 21 July, the audience will time travel through the coral reef, learn more about cryptocurrencies and coronavirus vaccinations or learn how to stay happy and healthy in spite of stress. Each afternoon's programme consists of four lectures.
New kinderuni.online contributions
Around 100 new contributions are now available on kinderuni.online! Lecturers from all six participating universities and Vienna University of Applied Sciences have once again produced entertaining and varied online formats, in the form of videos, podcasts, articles and posters. These are available 24/7 and will give inquisitive children from all over the world colourful insights into the world of research and the chance to solve the associated quiz and collect Geistesblitze (genius points)!
For more information: www.kinderuni.at
---