All News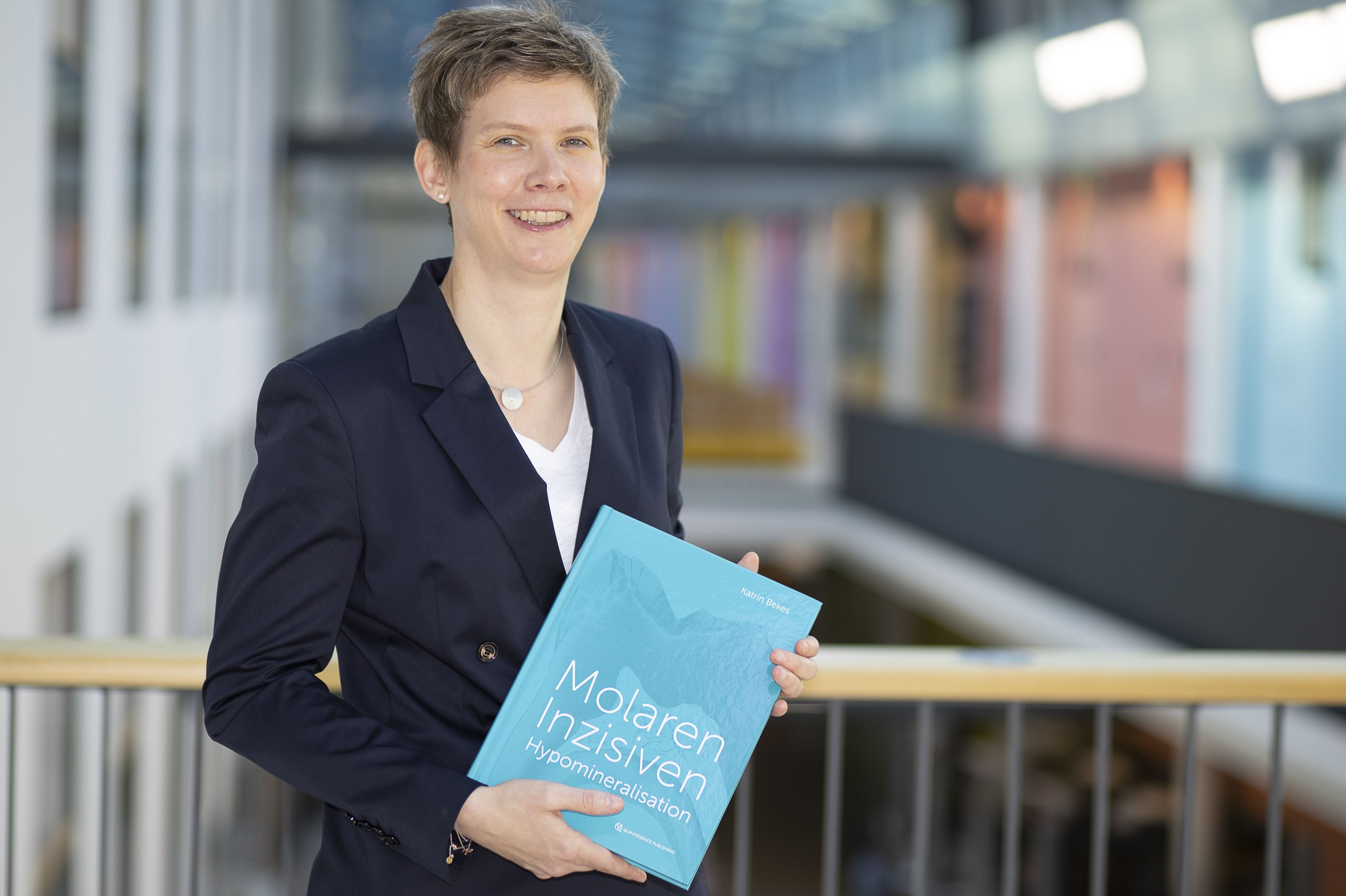 (Vienna, 22 July 2021) The first German-language book on chalky teeth (technical term: Molar Incisor Hypomineralisation or MHI) has just been published – written by Katrin Bekes from the University Clinic of Dentistry Vienna. She published the first book on this subject in English in 2020. MIH has now become a highly topical issue in dentistry.
It describes a qualitative enamel defect, which classically occurs on one or more of the first permanent molars with or without involvement of the permanent incisors. It is characterised by opacities on the affected teeth, in some cases with post-eruptive breakdown of the enamel and, occasionally, severe hypersensitivity of the hypomineralised teeth. Bekes explains: "The causes are not yet known. However, the estimated global prevalence of 13 – 14% shows that Molar Incisor Hypomineralisation is a clinical picture that needs to be taken seriously. There is therefore an urgent need to properly diagnose the condition in the course of routine clinical practice and to master the therapeutic concepts."
The book is intended to serve as a comprehensive reference work, which firstly looks at the various aspects of MIH based on the existing literature, secondly offers practical tips for dealing with this condition and finally explains the procedures involved in various treatment options. It is directed at interested dental colleagues, postgraduates and students and anyone who wishes to expand their knowledge about this contentious aspect of everyday clinical dentistry.
About Katrin Bekes
Katrin Bekes is Head of Paediatric Dentistry at the University Clinic of Dentistry Vienna. She is currently President of the German Society for Paediatric Dentistry (DGKiZ), Vice President of the Austrian Society for Paediatric Dentistry and Austrian Councillor at the European Academy for Paediatric Dentistry (EAPD) and the International Association of Paediatric Dentistry (IAPD). She founded the only Austria-wide centre of excellence for patients with MIH (specialist clinic for mineralisation disorders) and has published and lectured widely in this field, amongst others.
Recommended reading:
Katrin Bekes: Molaren-Inzisiven-Hypomineralisation; 2021, 188 pages, Quintessence Publishing Deutschland; ISBN 978-3-86867-561-0.
LINK to the book:
https://www.quintessence-publishing.com/deu/de/product/molaren-inzisiven-hypomineralisation
LINK to the English book:
https://www.springer.com/de/book/9783030316006
---