All News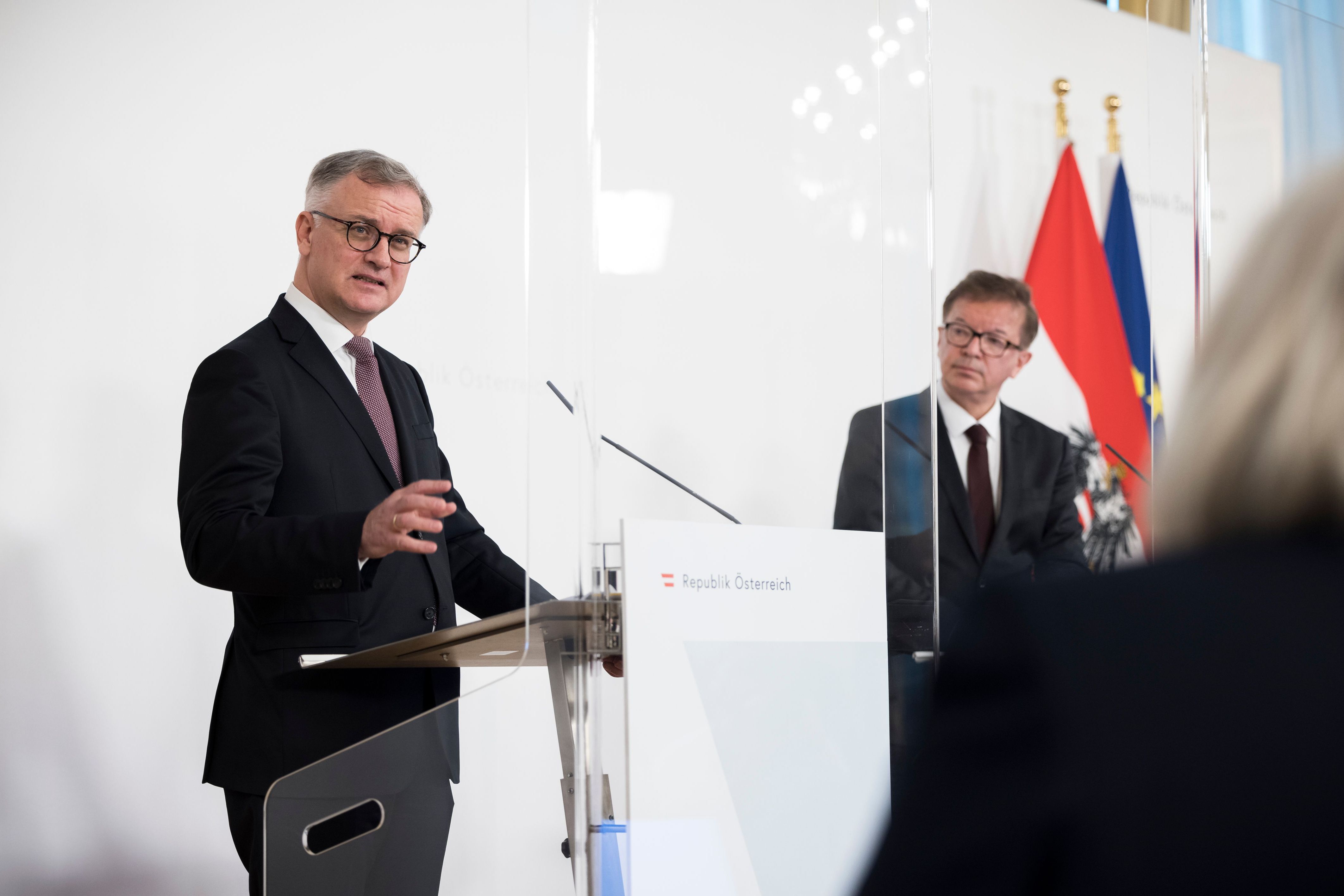 (Vienna, 19 March 2021 ) The Supreme Health Council (OSR), the 35-strong body that advises the Health Minister, constituted itself on Friday. The Rector of the Medical University of Vienna, Markus Müller, was unanimously reappointed as President, as Minister Rudolf Anschober announced at a press conference.
The President's deputies on the Health Council are Christiane Druml, Chair of the Bioethics Commission and Director of MedUni Vienna's Josephinum and Michael Grimm from the Medical University of Innsbruck. Müller thanked his colleagues for their vote of confidence and said he was looking forward to the OSR addressing subjects other than coronavirus, such as children's and women's health or cooperation between different medical professions. In total, there are eleven MedUni Vienna employees on the OSR.
Apart from coronavirus, the OSR will look at issues that will still be facing the Austrian healthcare system after the pandemic, explained Katharina Reich, Head of Department and Chief Medical Officer in the Health Ministry, such as E-health and digitisation, for example. There is a cross-professional intake and patient advocates, care-giving relatives and the patient safety platform are represented on the Council. The strategic focus will be on cooperation and collaboration. The OSR will now meet regularly and set up working groups. The Covid Board was set up as an expert committee of the OSR.
MedUni Vienna experts currently occupy eleven places on the Supreme Health Council (in alphabetical order):

Thomas Berger, Head of the Department of Neurology
Christiane Druml, Director of MedUni Vienna collections
Brigitte Ettl, member of the University Council
Gabriele Fischer, Department of Psychiatry and Psychotherapy
Klaus Markstaller, Head of the Department of Anesthesia, General Critical Care and Pain Medicine
Markus Müller, Rector of MedUni Vienna
Arnold Pollak, former Head of the Department of Pediatrics and Adolescent Medicine and former Chair of the Senate
Elisabeth Puchhammer-Stöckl, Head of the Center for Virology
Anita Rieder, Vice Rector for Education of MedUni Vienna, Head of the Center for Public Health
Thomas Szekeres, President of the Medical Association, Division of Medical-Chemical Laboratory Diagnostics
Ursula Wiedermann-Schmidt, Head of the Center for Pathophysiology, Infectiology and Immunology

The Supreme Health Council
The Supreme Health Council (OSR) is an advisory board of the Federal Minister for Social Affairs, Health, Care and Consumer Protection and is made up of voluntary members – experts from the fields of medicine, psychology, care, science, medical and pharmacy associations, social insurance, and public health services.
The OSR is independent in the exercise of its advisory function. Its decisions are advisory in nature and are non-binding.
In addition to its advisory work and the evaluation of fundamental questions connected with the "state of medical science", the Supreme Health Council is also responsible for preparing expert opinions and recommendations, as required. The Supreme Health Council may also propose to the Federal Minister that a recommendation or expert opinion be published.
---