All News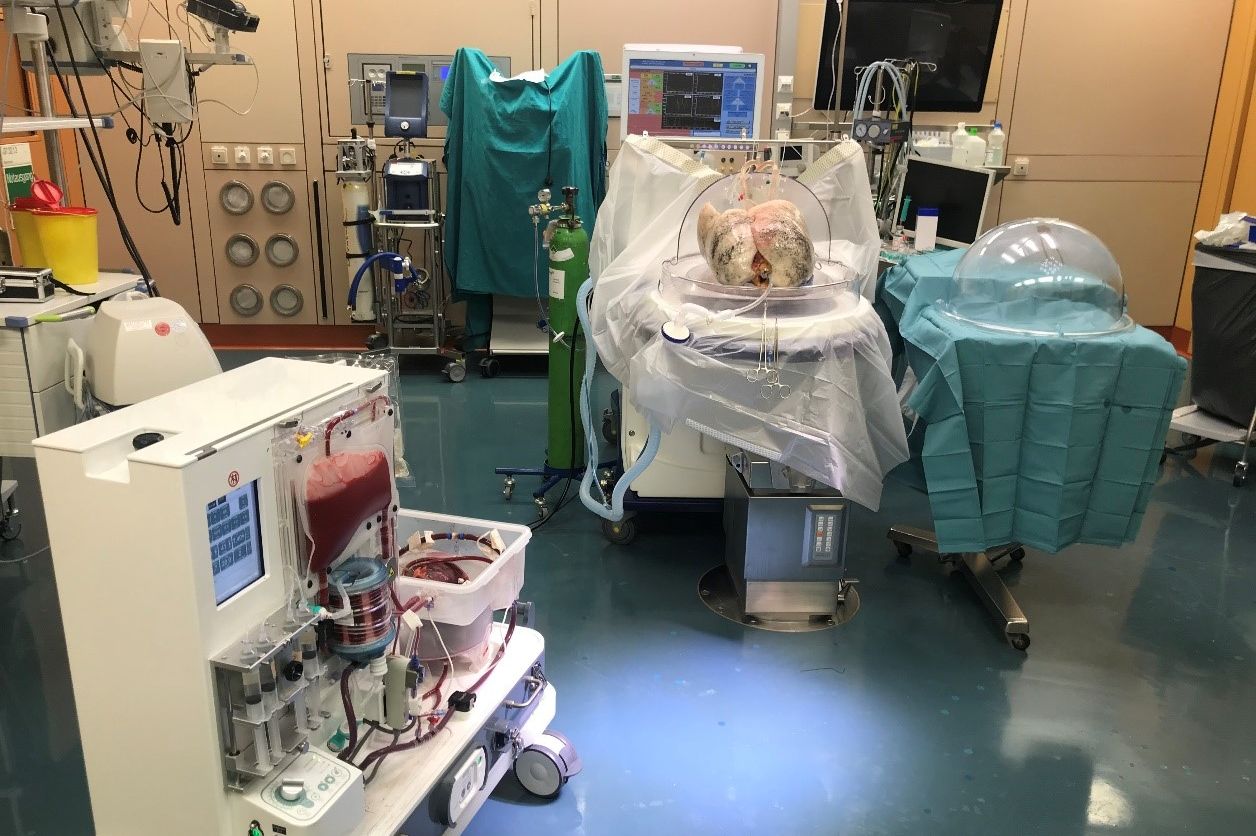 (Vienna, 03 March 2021) Ex-situ organ perfusion of donor organs is one of the most promising innovations in transplantation medicine. The process involves flushing explanted donor lungs or donor livers with special solutions in specially designed machines and continuously monitoring their function. This provides the opportunity to accurately measure organs of borderline quality and observe them over several hours before releasing them for transplantation. Two donor organs from the same donor have now been perfused in parallel in the newly established perfusion room at Vienna General Hospital and MedUni Vienna.
After harvesting, it was unclear whether the donor liver and donor lungs were of sufficient quality for safe transplantation. The organs were therefore transported from the donor hospital to University Hospital Vienna, where they were optimised for several hours in perfusion machines. Both organs could be used, and both the liver and the lungs displayed good primary organ function following transplantation.
New methods improve function of donor organs
The currently used technique of ex-situ lung perfusion was developed in Lund (Sweden) and Toronto (Canada). The method was originally intended to improve the assessment of donor organs. The Lung Transplantation Center at Vienna General Hospital and MedUni Vienna played a major role in extending the indication for ex-situ lung perfusion and also use it to optimise marginal organs. By flushing the lungs with special solutions and targeted therapeutic interventions, the function of the donor organs can be improved, so that organs initially classified as unsuitable can be accepted for transplantation.
"Ex-situ lung perfusion is now an important factor in improving the supply of donor lungs," says Konrad Hoetzenecker from the lung transplantation programme at Vienna General Hospital and MedUni Vienna.
For about three years, the Division of Transplantation at Vienna General Hospital and MedUni Vienna has been running a machine perfusion programme for donor livers initiated by Gabriela Berlakovich, Head of the Division of Transplantation. The programme has already prepared more than 100 donor organs for transplantation by means of hypothermic perfusion. Last year the programme was enhanced by a new machine for normothermic ex-situ liver perfusion. For the first time, a method enables close monitoring and accurate assessment of the donor liver before transplantation.
"The great advantage of this method over cold storage on ice is that the metabolism of the donor liver to be closely examined over a period of several hours," explains Dagmar Kollmann from the Division of Transplantation. Several studies have shown that this innovative technique significantly increases the percentage of marginal donor organs that can be accepted for transplantation.
---