All News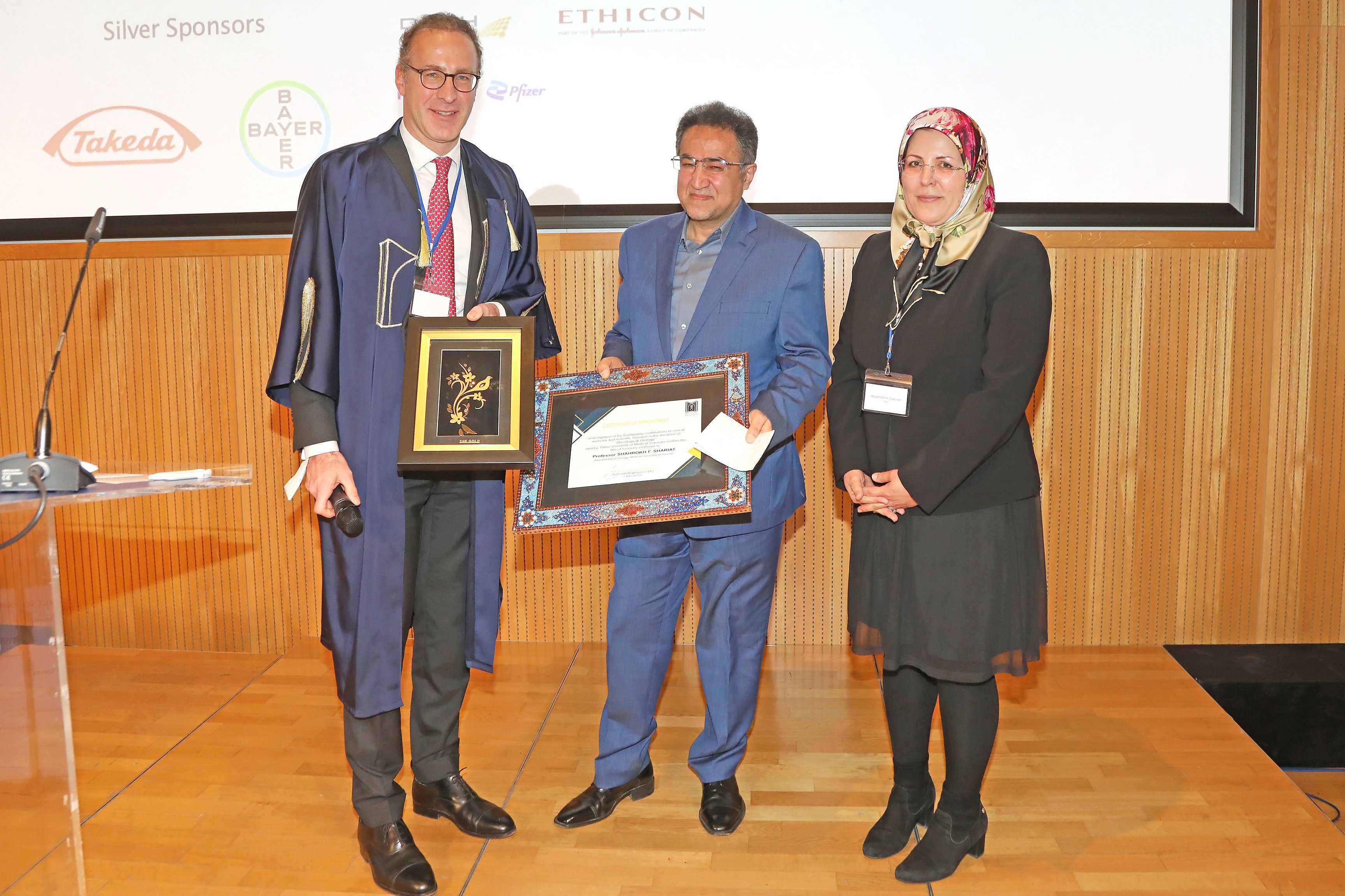 (Vienna, 19-12-2022) Shahrokh Shariat, Head of the Department of Urology at MedUni Vienna and AKH Vienna, was awarded an honorary professorship by Tabriz University of Medical Sciences (Tabriz, Iran). The award ceremony took place in the Van Swieten Hall at the Michael J. Marberger Meeting of the Department of Urology at MedUni Vienna that was attended by representatives from Tabriz University. The award honours Shariat's international commitment to urological research and his endeavour to promote the professional exchange at a global level. It also strengthens the cooperation between both universities in the urological teaching and research sector.
In addition to strengthening clinical urological expertise at MedUni Vienna, one of Shariat's main concerns is the training and promotion of young scientists. In addition to a dense, high-calibre and international training programme, he also conducts an ambitious fellowship programme at his clinic, which brings young researchers from all over the world to the hospital. Among other things, these activities enable young doctors at the University Department of Urology to establish solid, global networks that benefit them personally, but also the entire discipline.
About the person
As a child, Shahrokh Shariat moved from Teheran (Iran) to Vienna, where he obtained his Matura (higher school certificate) and then studied chemistry and mathematics at the Swiss Polytechnic University in Lausanne, subsequently switching to MedUni Vienna to study medicine. Following his graduation, Shariat went to the USA, completed a research fellowship at the Baylor College of Medicine in Houston, Texas, and a residency in urology at the University in Dallas, Texas. At the Memorial Sloan-Kettering Center in New York, Sharia specialised in urological oncology. Since June 2013, he has headed the University Clinic for Urology of MedUni Vienna and AKH Vienna, as well as the Comprehensive Cancer Center (CCC) of both facilities since September 2022.
Shariat has compiled more than 1,680 peer-reviewed publications and owns four patents developed on the basis of his research in the field of prostate and bladder cancer. His Scopus h-Index (Hirsch factor) is 120. He is also the recipient of numerous national and international awards, including the EAU Crystal Matula Award 2014 and the AUA Gold Cystoscope Award 2017.
Shariat is an adjunct professor at Cornell University in New York, the University of Texas at Dallas, Karls University in Prague, and the First State Medical Sechenov University in Moscow. He is also an honorary professor at the University of Amman (Jordan) and holds honorary doctorates from the Carol Davila University of Medicine and Pharmacy, Bucharest and the Semmelweis University, Budapest.
About the Tabriz University of Medical Sciences
The Tabriz University of Medical Sciences is one of Iran's best and oldest universities. It consists of 11 faculties: Medicine, Pharmacy, Dentistry, Paramedical Sciences, Health, Nutritional Sciences, Rehabilitation, Nursing and Midwifery, Health Management and Medical Informatics, Advanced Medical Sciences and Traditional Medicine. In addition to 31 research centres, it also operates 10 teaching hospitals and trains more than 7,000 students. It is located in Tabriz, Iran's fifth-largest city. Tabriz is located in the northwest of the country and has 1.7 million inhabitants.
---