All News
(Vienna, 08 November 2022) Julia Berger and Maximilian Mair from the Division of Oncology at the Department of Medicine I were awarded the Walter Siegenthaler Medal in silver in Cologne. The prize is awarded annually to young researchers who have made outstanding contributions to the field of internal medicine.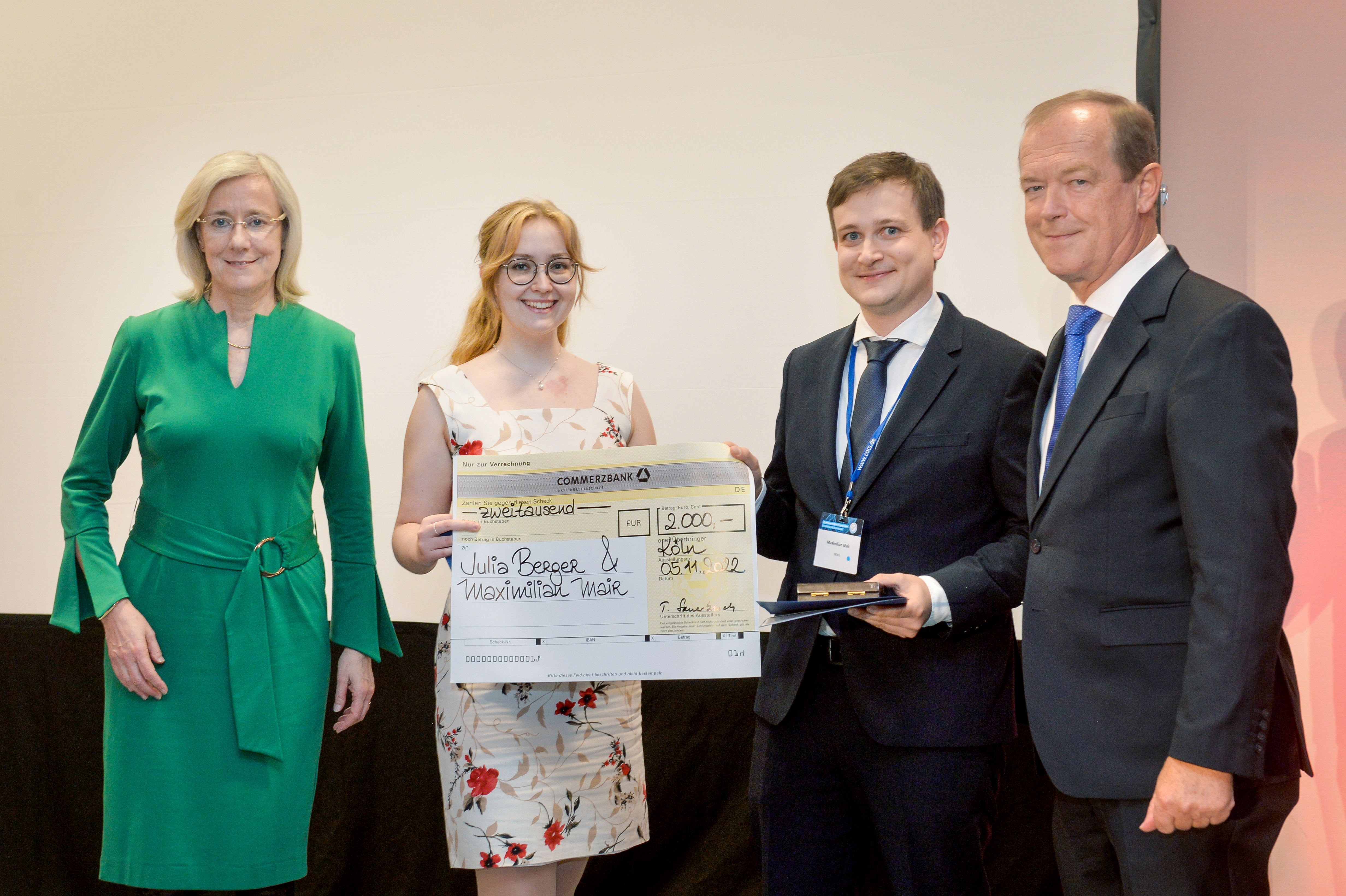 Julia Berger and Maximilian Mair were awarded the prize for their research into Covid vaccination in cancer patients (Humoral immune response in hemato-oncological patients and health care workers receiving SARS-CoV-2 vaccinations, doi: 10.1001/jamaoncol.2021.5437), which appeared in the leading journal JAMA Oncology in 2021 (impact factor 33.006). The conclusion of the study conducted under the supervision of Matthias Preusser from the Division of Oncology at MedUni Vienna's Department of Medicine I is that, although most cancer patients do develop antibodies post vaccination, their immune response was less pronounced than in the control group. Several follow-up papers have subsequently been published, most recently on fourth vaccination in haemato-oncology patients (Inhibition of SARS-CoV-2 Omicron BA.1 and BA.4 after fourth vaccination or tixagevimab/cilgavimab in cancer patients, doi:jamaoncol.2022.4226). This paper showed that the fourth vaccination brings about a significant increase in neutralising antibodies in these patients. In contrast, passive immunisation by means of a drug-administered antibody combination was not shown to be sufficiently protective in this vulnerable group.
About Julia Berger
Born in Vienna in 1999, Julia Berger graduated with distinction from De la Salle School Strebersdorf in 2017 and has since been studying human medicine at the Medical University of Vienna. She enrolled on the MDPhD Programme of Excellence (Thematic Programme: Malignant Diseases) in the winter semester of 2021. She has already received several merit scholarships in the course of her studies.
About Maximilian Mair
Maximilian Mair was born in Innichen (South Tyrol/Italy) in 1993. After graduating from Bruneck Grammar School (South Tyrol), he studied human medicine at the Medical University of Vienna from 2012 to 2018, receiving several merit scholarships and one research grant. He then enrolled on the doctoral programme in Applied Medical Sciences (Thematic Programme: Clinical Neurosciences). Since 2020, he has worked as a junior doctor at MedUni Vienna's Division of Oncology, where he is training to become a consultant in internal medicine and haematology and internal medicine oncology.
About the Walter Siegenthaler Medal
The Walter Siegenthaler Science Awards, each endowed with a silver medal and a cash prize of €2,000, are awarded to promote young medical scientists. Typically, three science awards are offered every two years for basic research work on current topics in internal medicine. The Walter Siegenthaler Gold Medal is awarded by the Walter Siegenthaler Society for "outstanding contributions to the field of internal medicine".
---