All News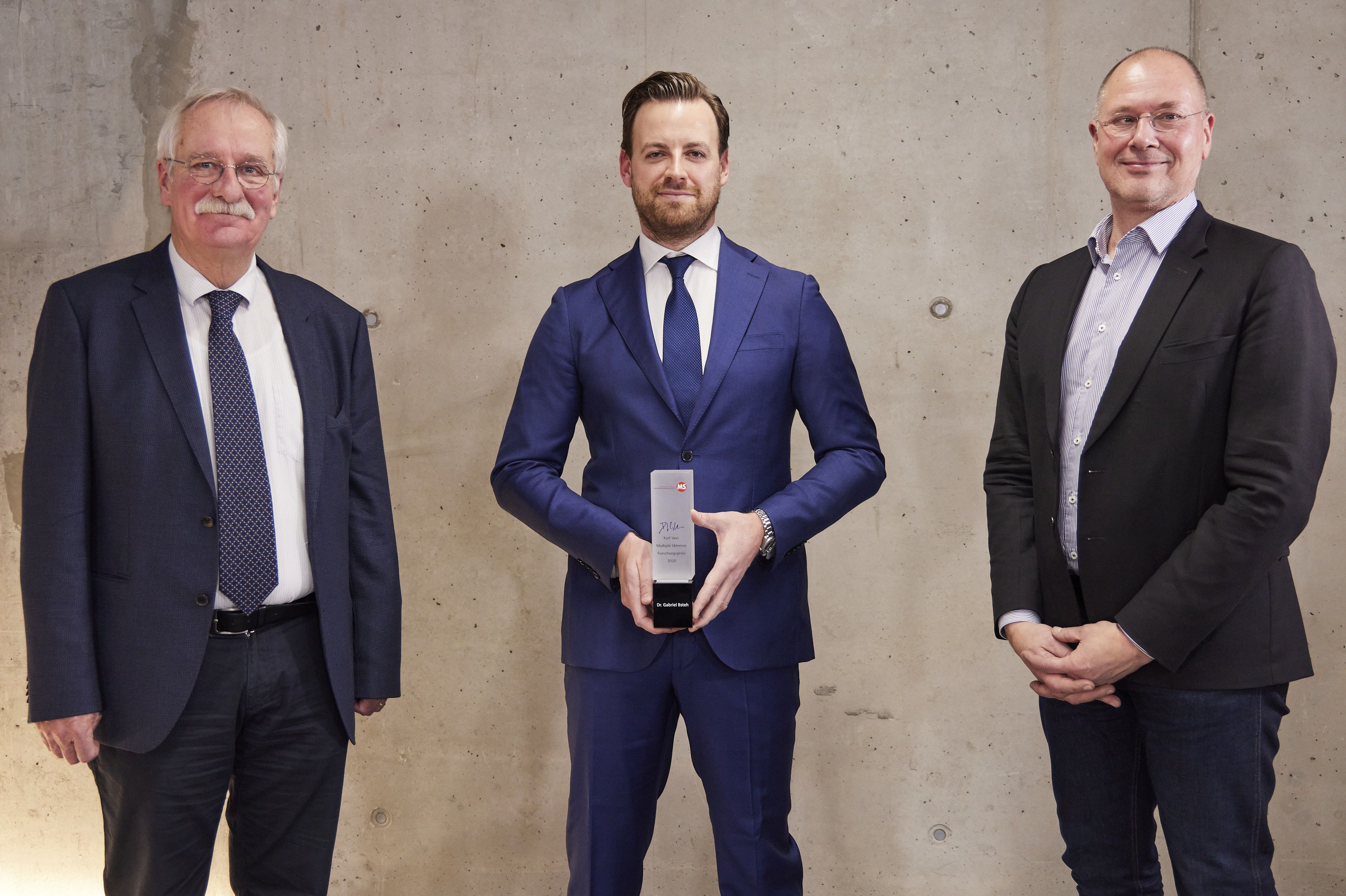 (Vienna, 10 December 2020) Gabriel Bsteh, neurologist at MedUni Vienna's Department of Neurology has been recognised by the Multiple Sclerosis Research Association with the first-ever award of the Karl Vass Multiple Sclerosis Research Prize.
The newly created prize is dedicated to the memory of neurologist and MS researcher Carl Vass, former President of the MS Association and Professor of Neurology at MedUni Vienna, who died in 2012. It will be awarded every two years to a young scientist working in Austria, who has already produced outstanding research work in the field of Multiple Sclerosis.
On completing his studies in human medicine at the Medical University of Innsbruck in 2013, Gabriel Bsteh embarked on a PhD in Clinical Neurosciences at the Department of Neurology, working as a research assistant in the neuroimmunology and Multiple Sclerosis working group under the supervision of Thomas Berger. As part of his PhD thesis entitled "Personalized Medicine in Multiple Sclerosis", he studied various clinical and preclinical factors with a view to predicting the outcome for MS patients as individually as possible. His PhD thesis comprised six publications as lead author on prognostic factors that describe for the first time the role of initial paroxysmal symptoms, personality traits and coping and risk perception in making a prognosis for MS and indicate predictors of outcome after ending MS treatment and following pregnancy.
During this time and during a foreign placement at the University Hospital in Zürich, Gabriel Bsteh started to look closely at optical coherence tomography (OCT) and sense of smell as potential biomarkers in MS. This has so far produced a further nine publications as lead author and these have helped to establish OCT as a biomarker of MS-associated neuroaxonal injury, which is on the verge of being introduced into routine clinical use.
On completing his PhD in Innsbruck, Gabriel Bsteh transferred to the Department of Neurology at the Medical University of Vienna in 2019, where his clinical work primarily includes the care of MS patients and his scientific focus continues to be on the investigation and development of factors and biomarkers for individualising the prognosis and treatment of Multiple Sclerosis in neuroimmunological and other neurological diseases.
Within his seven years of research activity, Gabriel Bsteh has produced a total of 46 publications (30 of these as lead author) in peer-reviewed journals. He currently has four ambitious project applications for obtaining competitive third-party funding in the respective evaluation procedures, one of which has already obtained funding approval from the Austrian Multiple Sclerosis Research Association.
Bsteh is also acquiring expertise in medical biostatistics and the processing of Big Data, as is evidenced by the leading statistical analysis in a total of 28 publications. Within the framework of a qualification agreement, Bsteh is currently on the path to a professorial chair at the Medical University of Vienna.
About the Multiple Sclerosis Research Association
The Multiple Sclerosis Research Association was founded by the MS Society Vienna in 1992 with the aim of promoting and expanding scientific research into Multiple Sclerosis in Austria. It is a charitable association funded by donations and is non-profit-making. The overriding aim of the MS Research Association is to facilitate new Austria-wide research projects into the development, diagnosis and treatment of Multiple Sclerosis. Over the last few years, it has used targeted start-up funding to successfully implement numerous project concepts, predominantly from the research departments of Austrian medical universities, thereby encouraging networking between the participating institutions. This has enabled new and important diagnostic and therapeutic techniques, which are not of interest to the pharmaceutical industry, to be evaluated and thus made available to the affected patients as rapidly as possible.
---