All News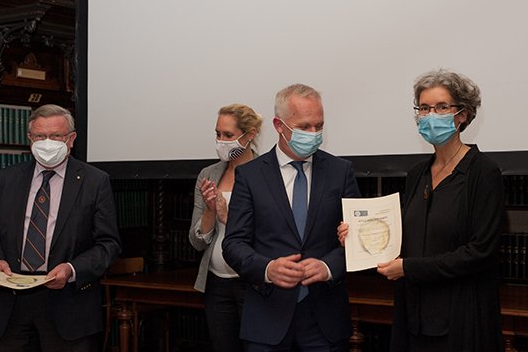 (Vienna, 13 November 2020) Ellen Gelpi-Mantius from MedUni Vienna's Division of Neuropathology and Neurochemistry (Department of Neurology) has been awarded the Otto Kraupp Prize for the best doctoral thesis accepted by an Austrian medical university in the previous year. She impressed the jury with her paper "Neuropathological Characterisation Of Neurodegenerative Diseases: From Human Postmortem Studies To Tissue-Based In Vivo Biomarkers".
This year, the Otto Kraupp Prize endowed by Siemens Healthineers was awarded for the 22nd time. It has been awarded since 1998 in honour of the services of the long-serving Dean and former Chairman of the Pharmacological Institute of the University of Vienna, Otto Kraupp. Helmut Sinzingers was also remembered at this year's awards ceremony. The President of Vienna Medical Association and jury chairman succumbed to a serious illness on 21 February 2020.
As every year, the Board of Trustees invited applications from everyone who had completed a doctoral thesis at an Austrian medical university during the previous year. Out of all the submissions, the jury selected four candidates, who then presented their papers at an event held in the Billrothhaus on 27 October. Ellen Gelpi-Mantius took first place in the adjudication and also received the commendation for the best lecture.
Content of the doctoral thesis
In terms of molecular pathology, neurodegenerative diseases are characterised by abnormal protein deposits in various cell types in the nervous system. Gelpi's neuropathological studies on the protein alpha-synuclein have contributed to a better understanding of the key role of the peripheral autonomic nervous system in the pathogenesis of Parkinson's disease and REM sleep behaviour disorder and, with the aid of salivary gland biopsies, to the development of a biomarker in the early stage of the disease. Together with her colleagues, Gelpi also defined a new tauopathy with autoantibodies against the cell adhesion molecule IgLON5 and established corresponding diagnostic criteria, for the first time establishing a correlation between neurodegeneration and autoimmunity. Neuropathological studies are an integral part of the diagnosis and investigation of neurodegenerative diseases and are an important prerequisite for the development of biomarkers and targeted therapeutic approaches.
About Ellen Gelpi
Ellen Gelpi studied medicine in Barcelona, where she also did her specialist training in neurology. Her interest in neurosciences brought her to Vienna, where she initially started as a research assistant at the Institute of Neurology of the Medical University of Vienna, under the supervision of Herbert Budka, and subsequently joined a specialist course in neuropathology, in order to specialise in neurodegenerative brain diseases. In 2009, she moved to IDIBAPS Hospital Clinic in Barcelona, where she successfully ran the brain bank for neurodegenerative diseases for eight years. In 2017, she returned to Vienna, where she took over the reference centre for documentation and recording of human prion diseases in Austria. Ellen Gelpi has authored more than 200 scientific publications and has written reviews and book chapters on the subject of neurodegeneration.
An overview of the Otto Kraupp prize-winners:
1st place & commendation for the best lecture:
Neuropathological Characterisation Of Neurodegenerative Diseases: From Human Postmortem Studies To Tissue-Based In Vivo Biomarkers
Ellen Gelpi-Mantius
Division of Neuropathology and Neurochemistry (NPC), MedUni Vienna
2nd place:
Studies on the molecular basics of obesity and the risk prediction for diabetes, kidney disease, and cardiovascular disease
Andreas Leiherer
VIVIT Molecular Biology Laboratory, Feldkirch
3rd place & commendation for the best written work:
HDAC inhibition improves cardiopulmonary function in a feline model of diastolic dysfunction
Markus Wallner
Division of Cardiology, MedUni Graz
4th place:
Gene therapeutic approaches for Epidermolysis bullosa
Ulrich Koller
Department of Dermatology and Allergology, Paracelsus Private Medical University, Salzburg
---