All News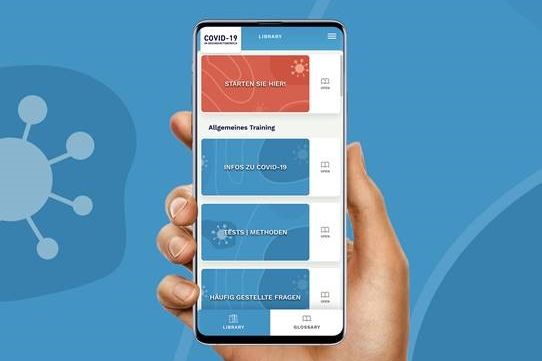 (Vienna, 25 November 2020) In collaboration with experts from the Medical University of Vienna and the Vinzenz Group, ovos media GmbH has developed and implemented a digital COVID-19 hygiene training course. The aim of the compact, interactive training app is to inform and protect the permanent workforce and external staff working in healthcare institutions.
The pandemic has led to drastic tightening of hygiene and behavioural rules and extra training requirements for a hospital workforce that is already under extreme pressure. The "COVID-19 im GESUNDHEITSBEREICH" [COVID-19 in the HEALTHCARE SECTOR] app is suitable for all staff working in outpatient and inpatient areas of healthcare institutions. A requirements analysis conducted with numerous stakeholders such as virologists and dedicated COVID-19 managers defined four key target groups: the medical staff, nursing and therapeutic professions, auxiliary professions and cleaning staff as well as external partner companies.
The aim was to develop an app that is practice-oriented, easy to use and based on the very latest medical knowledge. The training course begins with general information about COVID-19, hygiene measures, emotional support and contact management. It deals more specifically with case definitions, practical scenarios and checklists, video tutorials for handling PPE and much more. This ensures that the knowledge of all members of staff is consolidated on a lasting basis. A low-threshold, easy-to-use editing system allows individual healthcare institutions to adapt it to their own in-house content.
The hygiene training course will be available in the form of a multiplatform application (android, iOS and web). The app, which employs scenario-based, educational games, was designed in collaboration with game designers, virologists and doctors.
---