All News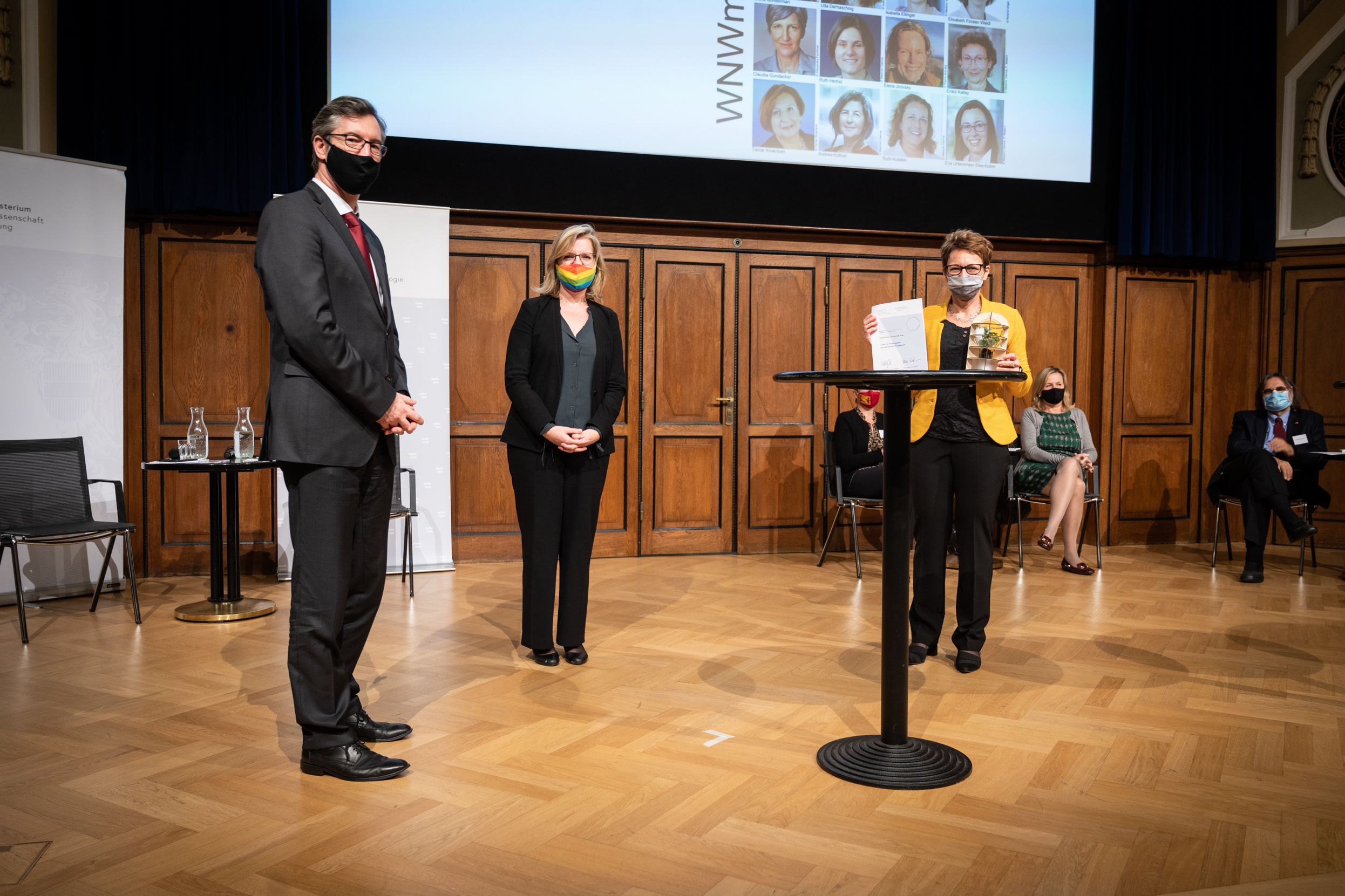 (Vienna, 03 November 2020) MedUni Vienna's Network of Scientists (WNWmed) project "WNWmed-NOST Vernetzung und Unterstützung von NostrifikantInnen" wins first prize in the 7th Sustainability Awards in the Administration & Management category/field. The awards were presented by Climate Protection Minister Leonore Gewessler and Section Head Elmar Pichl from the Federal Ministry of Education, Science and Research in the ceremonial hall of Vienna Museum of Technology.
The Network of Scientists for Medicine (WNWmed) launched the WNWmed-NOST project [project for networking and supporting those seeking recognition of their international qualifications] in 2017. The project is aimed at providing a long-term network for MedUni Vienna nostrificants [those who have had their international qualifications recognised], assisting them through their nostrification process and providing them with targeted support. The main objectives are to improve the efficiency of the nostrification process and to integrate "high potentials" as rapidly as possible. Well integrated doctors are not only a valuable resource for the medical profession but also make a significant contribution to the further development of society, both in their professional and in their private lives.
The aims of MedUni Vienna's Network of Scientists (WNWmed) are to promote the exchange of information, to provide mutual support in research and careers, to promote young scientists, to collaborate with other scientific networks, to set up joint research projects and to organise advanced training events etc..
The Sustainability Award was launched in 2008 and, since then, these prizes have been awarded every two years by the Federal Ministry of Education, Science and Research (BMBWF) and the Federal Ministry for Climate Protection, Environment, Energy, Mobility, Innovation and Technology (BMK). The Environmental Education FORUM within the environmental umbrella organisation is responsible for the organisational aspects. A jury selects the best 8 projects submitted for the prize: a 2nd and 3rd prize and a certificate are also awarded in each category. With 104 project submissions from 19 universities, eight technical colleges and seven teacher training colleges, interest and participation in the 7th Sustainability Award was greater than ever.
---