All News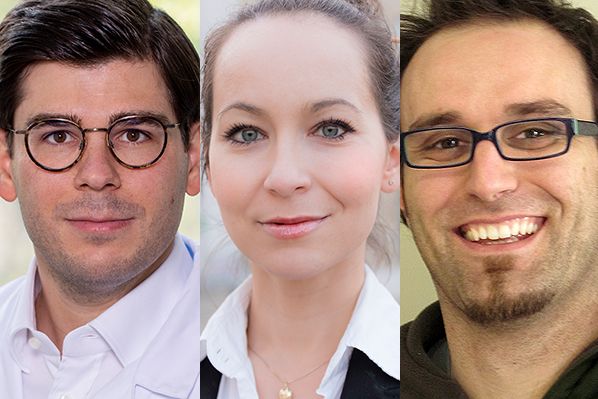 (Vienna, 18 November 2020) Vienna Medical Association awarded this year's Theodor Billroth Prize to Michael Leutner from MedUni Vienna's Division of Endocrinology and Metabolism. The First Bank of Austria Research Funding Prize and the Quality Seal also went to MedUni Vienna researchers, namely Galateja Jordakieva and Jürgen Harreiter respectively. The other places likewise went to MedUni Vienna researchers.
Vienna Medical Association's Theodor Billroth Prize
1. "Diagnosis of osteoporosis in statin-treated patients is dose-dependent"
Published in: Annals of the Rheumatic Diseases, September 2019
Michael LEUTNER
2. "Association between disease extent and pain symptoms in patients with deep infiltrating endometriosis"
Published in: Reproductive Bio Medicine Online, November 2019
Eliana MONTANARI
3. "Tissue-regenerative potential of the secretome of γ-irradiated peripheral blood mononuclear cells is mediated via TNFRSF1B-induced necroptosis"
Published in: Cell Death and Disease, September 2019
Elisabeth SIMADER
Erste Bank der Österreichischen Sparkassen AG (First Bank of Austria) Research Funding Prize
1. "Country-wide medical records infer increased allergy risk of gastric acid inhibition"
Published in: Nature Communications, July 2019
Galateja JORDAKIEVA
2. "Intrarenal Renin-Angiotensin-System Dysregulation after Kidney Transplantation"
Published in: Scientific Reports, July 2019
Johannes KOVARIK
Vienna Medical Association's Theodor Billroth Prize Quality Seals
1. "Nutritional Lifestyle Intervention in Obese Pregnant Women, Including Lower Carbohydrate Intake, Is Associated With Increased Maternal Free Fatty Acids, 3-b-Hydroxybutyrate, and Fasting Glucose Concentrations: A Secondary Factorial Analysis of the European Multicenter, Randomized Controlled DALI Lifestyle Intervention Trial"
Published in: Diabetes Care, August 2019
Jürgen HARREITER
2. "Papillary Muscle Dyssynchrony-Mediated Functional Mitral Regurgitation"
Published in: JACC: Cardiovascular Imaging, September 2019
Philipp BARTKO
3. "Changes in Hepatic Venous Pressure Gradient Predict Hepatic Decompensation in Patients Who Achieved Sustained Virologic Response to Interferon-Free Therapy"
Published in: Hepatology, March 2020
Matthias MANDORFER
Vienna Medical Association awards the "Vienna Medical Association's Theodor Billroth Prize" to encourage research work. The prize is awarded on an annual basis. All members of Vienna Medical Association are eligible to apply. Since the prize is intended to encourage young scientists and also to fund research activities in private practice, heads of departments, divisions and institutes are excluded from the competition (except as co-authors).
Vienna Medical Association website: www.aekwien.at/preise-auszeichnungen
vienna medical association Website
---