All News

(Vienna, 26 April 2021) The Federal Ministry of Education, Science and Research has allocated European Resilience and Recovery Facility funds for a €75 million investment in the construction of a new building and its equipment with state-of-the-art research infrastructure. The investment will run until 2026 and will create optimal conditions for up to 400 researchers on the Medical University of Vienna's General Hospital Campus.
The new building for this centre will be a visible sign of precision medicine on the Medical University of Vienna Campus in immediate proximity to one of the largest hospitals in the world, Vienna General Hospital. The investment will not only cover the building work but also the necessary infrastructural and digital equipment.
It is hoped to attract the most talented scientists in the world to this special area of translational research, thereby giving an additional and innovative impetus to the entire biomedical sector in Austria and Central Europe.
Developing the strength of medical research
Austria possesses world-standard medical institutions, universities and research institutions in the life sciences sector and is currently regarded as one of the top life sciences locations in the world. The greater Vienna area, in particular, hosts a concentration of scientific excellence in the field of medical life sciences, based on the very latest diagnostics, treatment and prevention. A major goal is to raise the international profile of Austria as a prestigious medical location even further. Particularly after the COVID-19 crisis, it is particularly important to address community health factors, also with a view to improving public health. The current COVID-19 crisis is an opportunity to establish a new world-class biomedical centre and to expand the location's portfolio.
Precision medicine
The concept of precision medicine is bringing about a paradigm shift in medicine. Each person has a completely individual predisposition to disease that is defined by their genetics and environmental influences. Precision medicine based on defined individual molecular factors is therefore the best approach to treatment and prevention.
The current COVID-19 pandemic has been an excellent demonstration of the importance of aligning medical research to social aspects to improve public health. At the same time, it is important to increase collaboration between medical research institutions throughout Austria.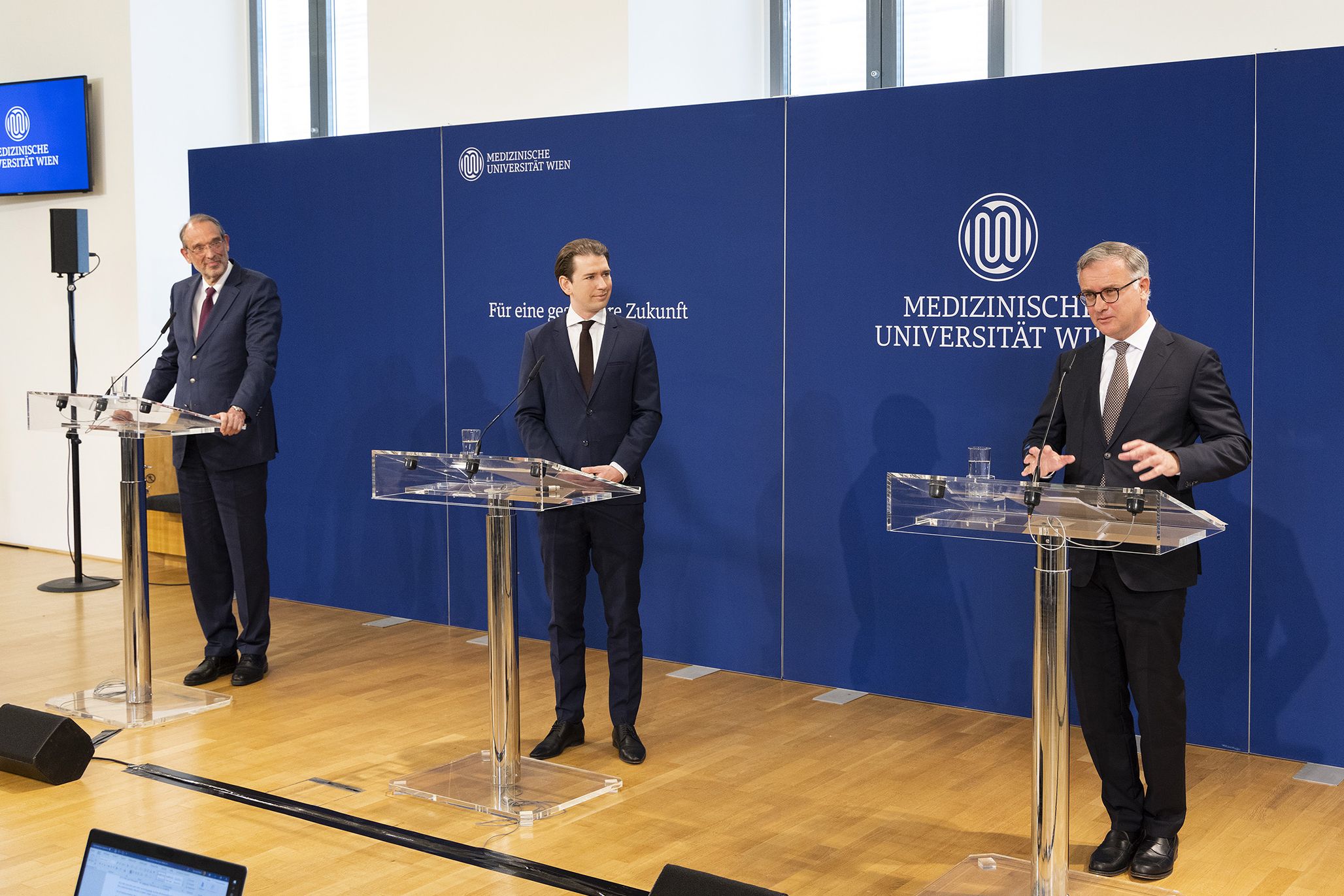 Medical University Campus – Vienna General Hospital
The research location "Vienna General Hospital Medical University Campus" has seen constant development over many years now. This includes a Center for Translational Medicine and Therapeutics currently under construction, a Technology Transfer Center, modern teaching facilities and finally the Institute for Precision Medicine being discussed here.
The specific aim is to ensure the rapid translation of scientific research results into direct benefits for patients.

Austrian Chancellor Sebastian Kurz
"The last year has shown how important medicine and medical research is to all of us. In our "comeback" plan, we aim to come out of the pandemic not only economically stronger but also more resilient as a country. Apart from research into new medicines and vaccines, research into new methods of diagnosis, treatment and prevention are also a very important part of this. This will enable us to take account of the individual situation and needs of each individual. The new Center for Precision Medicine at MedUni Vienna will play an important part in strengthening Austria as a science location and, most importantly of all, improving people's health."
Science Minister Heinz Faßmann
"The Federal Government is united in its commitment to research as the guarantor of future prosperity, to the instrument of risk prevention and to ensuring people's health. Medical research aims to increase our life expectancy and to prevent suffering. Precision medicine offers a credible promise of achieving both these things. The proximity of the new Institute for Precision Medicine to Vienna General Hospital is ideal. Clinicians can work closely with basic researchers, thus ensuring that new knowledge is rapidly translated into better treatments."
Rector Markus Müller
"Thanks to modern genetic and molecular biology techniques, disease is now no longer understood in terms of a general diagnosis but as a unique situation in the life of a unique person. In this respect, the individuality of a diagnosis is similar to that of a fingerprint. A molecular fingerprint allows extremely accurate personalised prevention and treatment – the medicine of the future. It is a future that can be summarised by the term precision medicine. With the planning and construction of new research buildings on the Vienna General Hospital MedUni Campus, we are staying abreast of the most significant trend in 21st century medicine."
---