All News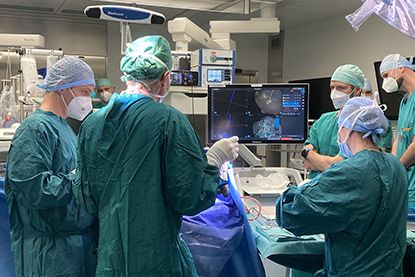 (Vienna, 29 January 2021) A few weeks ago, the surgical floor of the Department of Neurosurgery of Vienna General Hospital and MedUni Vienna was upgraded to the highest international standard and equipped with ultramodern imaging, while continuing active operation. The hospital's medical staff now have access to a high-field MRI scanner right next to the neurosurgical operating theatre, so that this can be used to check the progress of the operation intraoperatively, thereby facilitating even more accurately controlled operations on the brain or spinal cord.
This means that cross-sectional images of the brain can now be generated in real time during a neurosurgical procedure. This allows the surgical team to instantly detect any shape changes or displacement and, in combination with the neuro-navigation system, to identify tumour residue or other lesions in the brain, allowing them to be removed during the operation in a minimally invasive way.
Laser-induced thermal therapy (LITT)
So-called MRI-guided laser ablation has now been used for the first time in Austria on two patients suffering from epilepsy. In this procedure, the surgeon uses a stereotactic technique to insert a laser catheter through a small opening in the skull into the diseased changes to produce scans of the brain. Once the catheter is correctly positioned, the MRI procedure is continued and monitored in real time with thermal imaging. The laser energy that is used heats the affected area, thereby destroying it in an accurate and controlled way, without damaging healthy tissue. This minimally invasive procedure only requires a small opening and very few stitches. Lesions were successfully removed in both patients and the incidence of epileptic seizures was reduced or totally eliminated. "The combination of minimally invasive laser treatment and intraoperative MRI scanning opens up ground-breaking possibilities in epilepsy surgery and brain tumour surgery. Here at Vienna General Hospital/MedUni Vienna, we are the first in Austria to be able to offer our patients this procedure for brain surgery," says Clinical Director Karl Rössler.
Ultra-modern imaging in use
In addition to the 3 Tesla MRI scanner, a new 4D angiography unit has been installed in the same operating area. This allows imaging of the finest vessels in the brain and the intraoperative treatment of aneurysms using thin catheters introduced via the inguinal artery. This is necessary to prevent brain haemorrhages and their often dramatic consequences for patients. Directly adjacent to the neurosurgical operating area, a CT scanner is also available for further diagnostic imaging.
High level of patient safety
This ultra-modern and innovative equipment offers much greater patient safety, as procedures are less invasive and don't require large openings in the skull. MRI-assisted procedures reduce the probability of post-operative problems, restoring the patients to health and increasing their quality-of-life. Patients are often spared a second operation and the need for a second anaesthetic and are in hospital for a much shorter period.
---