All News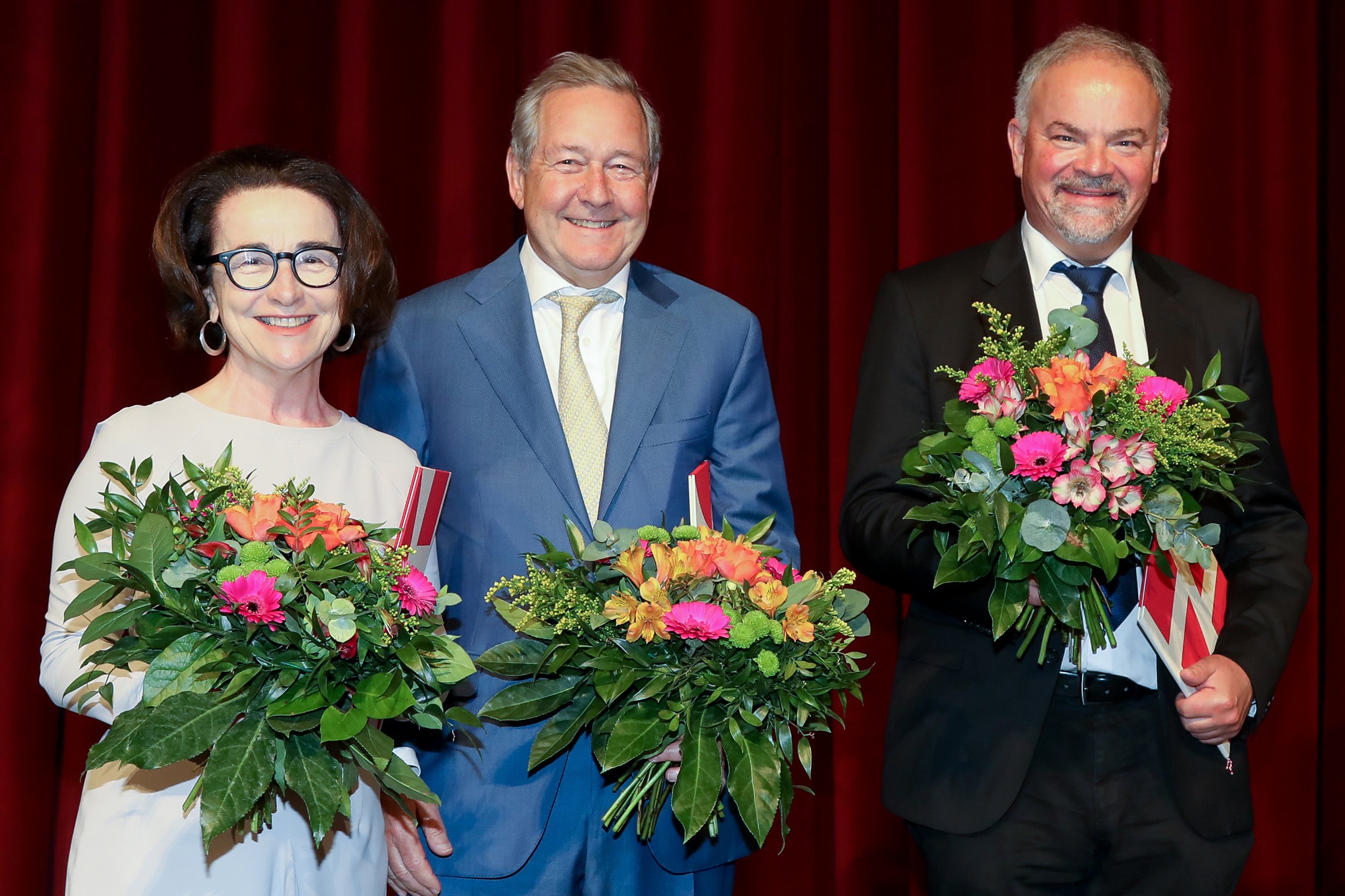 (Vienna, 11 May 2022) The Mayor of Vienna has awarded the Prize of the City of Vienna to three members of MedUni Vienna, namely bioethicist Christiane Druml, molecular biologist Jürgen Knoblich and rheumatologist Josef Smolen.
Christiane Druml, Head of Ethics, Collections and History of Medicine at MedUni Vienna, received this year's City of Vienna Prize in the Medical Sciences category from the Mayor. Molecular biologist Jürgen Knoblich received this year's prize in the Mathematics, Informatics, Natural Sciences and Technology category. Rheumatologist Josef Smolen received the award in the Medical Sciences category retroactively for 2020.
The City of Vienna prizes were presented by Veronica Kaup-Hasler, Executive City Councillor for Culture and Science, in the ballroom of Vienna City Hall.
Ever since 1947, the City of Vienna has endowed annual prizes for outstanding achievements in the fields of architecture, visual arts, literature, music (composition), journalism, science and national education. The prizes are awarded in appreciation of lifetime achievements to date that highlight Vienna's status as a vibrant centre for arts, sciences and national education. This honour can be awarded to individuals or teams of people. The awards are bestowed by the Mayor of the City of Vienna based on proposals from independent expert juries.
Christiane Druml
Christiane Druml is a lawyer and bioethicist. She has been Chair of the Austrian Bioethics Commission since 2007. From 2011 until 2015, she was Vice Rector for Clinical Matters of the Medical University of Vienna and, since 2012, she has been Director of the Josephinum – Ethics, Collections and History of Medicine. In January 2016, she was entrusted with management of the UNESCO Chair in Bioethics at the Medical University of Vienna.
Jürgen Knoblich
Jürgen Knoblich is a biochemist and molecular biologist. He has worked as a Senior Scientist at the IMBA since 2004 and has served as its Scientific Director since 2018. He has held a professorial chair in Synthetic Biology at MedUni Vienna since April 2021. Jürgen Knoblich's research is dedicated to brain development and the genetic causes of neurodevelopmental diseases. His work has earned him the Wittgenstein Prize in 2009, an ERC Senior Grant in 2010 and 2016, the Austrian Academy of Sciences' Erwin Schrödinger Prize in 2012 and the Hans Krebs Medal in 2015.
Josef Smolen
Josef Smolen is a consultant in internal medicine and immunology and is considered one of the most cited rheumatologists in the world. In 1989, he was entrusted with the management of the Department of Medicine II at Lainz Hospital. In 1995, he was appointed to the Chair of Rheumatology at the Department of Medicine III of the Medical University of Vienna. He headed up the Division of Rheumatology and the Department of Medicine III at MedUni Vienna and University Hospital Vienna right up until his retirement.
---