All News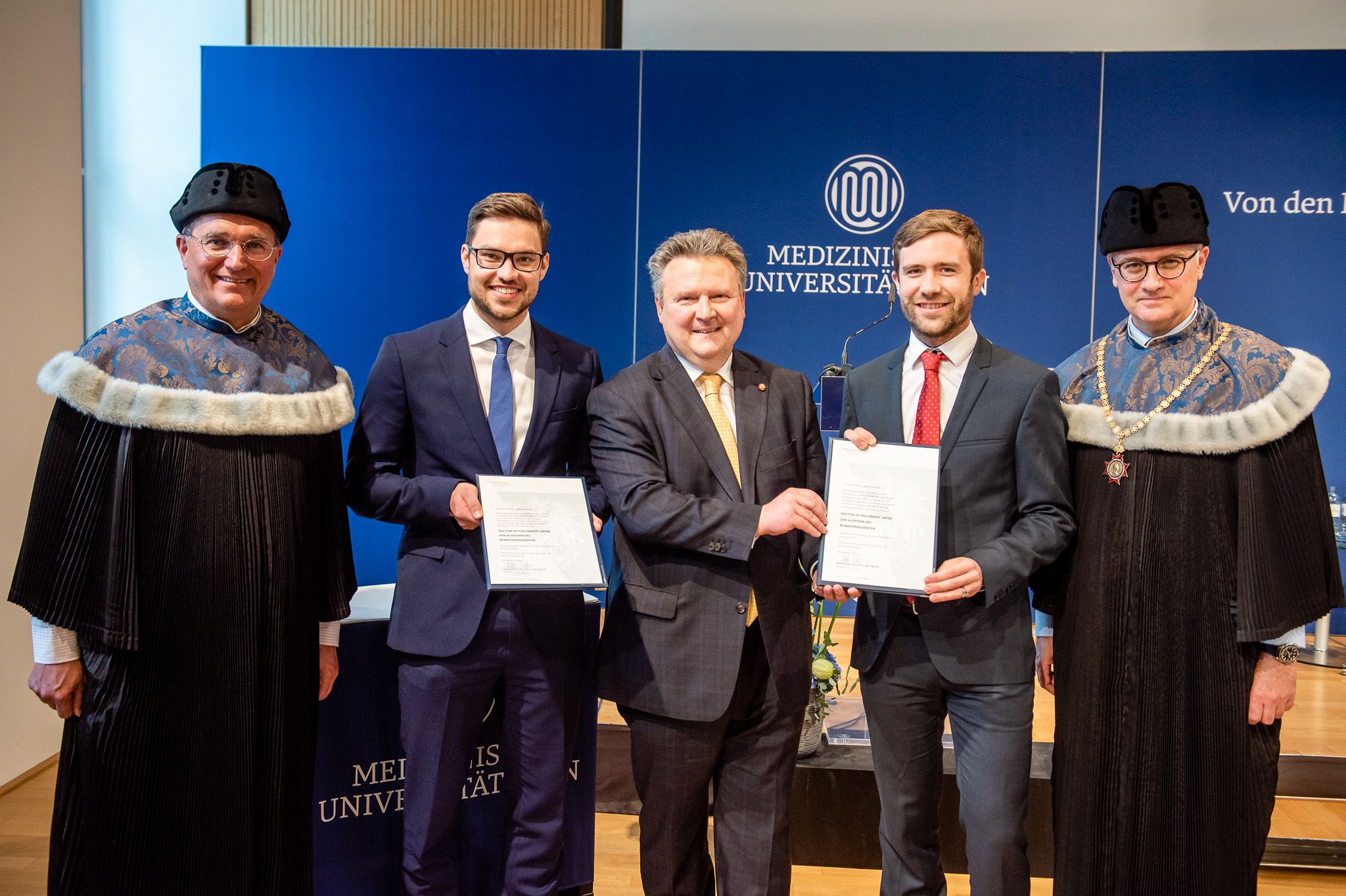 (Vienna, 03-11-2021) Yesterday, Vienna's Mayor Michael Ludwig, representing the Austrian Federal President, awarded "Sub Auspiciis Praesidentis Rei Publicae" rings of honour to two MedUni Vienna graduates at an academic ceremony in the Van Swieten Hall of the Medical University of Vienna. Christian Nitsche and Arthur Hosmann completed their PhD studies at the Medical University of Vienna with distinction. MedUni Vienna Rector Markus Müller also offered his personal congratulations.
Promotio sub auspiciis Praesidentis rei publicae (Latin for promotion under the auspices of the Federal President), also abbreviated to "Sub Auspiciis Promotion", is a particular Austrian form of the distinction for outstanding academic performance. It is the highest possible distinction for academic achievements in Austria. The prerequisites for admission to a Promotion sub auspiciis praesidentis are completing the senior level of secondary school with distinction, gaining a school leaving certificate with distinction, completing one's relevant studies with distinction (including all exam subjects of the diploma exams or modules in the baccalaureate or bachelors degree, as well as in the masters degree, and achieving a "Very Good" rating for one's diploma or masters thesis) and a rating of "Very Good" for the dissertation and completing all the rigours of the final exam with a "Very Good" grade.
Christian Nitsche completed his PhD on the "Vascular Biology" programme and is currently doing his specialist training at the Department of Medicine II, Division of Cardiology. Arthur Hosmann works as a specialist at the Department of Neurosurgery and completed his PhD on the "Neuroscience" PhD programme. With their dissertations, they both made valuable contributions to their respective fields of research and their findings were published in leading international scientific journals.
Literature:
Nitsche C, Scully PR, Patel KP, Kammerlander A, Koschutnik M, Dona C, et al. Prevalence and Outcomes of Concomitant Aortic Stenosis and Cardiac Amyloidosis. Journal of the American College of Cardiology. 2020. DOI: 10.1016/j.jacc.2020.11.006
Christian Nitsche was selected as Researcher of the Month for his work.
Arthur Hosmann's dissertation comprises 3 published works:
1. Hosmann A, Wang W, Dodier P, Bavinzski G, Engel A, Herta J, Plöchl W, Reinprecht A & Gruber A (2020) The Impact of Intra-Arterial Papaverine-Hydrochloride on Cerebral Metabolism and Oxygenation for Treatment of Delayed-Onset Post-Subarachnoid Hemorrhage Vasospasm. Neurosurgery 87: 712–719; doi: 10.1093/neuros/nyz500

2. Hosmann A, Ritscher LC, Burgmann H, Oesterreicher Z, Jäger W, Poschner S, Knosp E, Reinprecht A, Gruber A & Zeitlinger M (2018) Concentrations of Cefuroxime in Brain Tissue of Neurointensive Care Patients. Antimicrobial Agents Chemotherapy 62: e02164-17; doi: 10.1128/AAC.02164-17.

3. Hosmann A, Schober A, Gruber A, Sterz F, Testori C, Warenits A, Weihs W, Högler S, Scherer T, Janata A, Laggner A & Zeitlinger M (2016) Cerebral and Peripheral Metabolism to Predict Successful Reperfusion After Cardiac Arrest in Rats: A Microdialysis Study. Neurocritical Care 24: 283–293; doi: 10.1007/s12028-015-0214-x
---