All News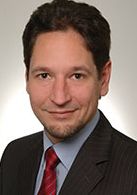 (Vienna, 1 September 2016) On 1 September 2016 Michael Fischer takes over the Chair of Molecular Physiology at MedUni Vienna The pain researcher comes to Vienna from the Friedrich Alexander University Erlangen-Nuremberg, where he headed up a research group at the Institute of Physiology and Pathophysiology.

Michael Fischer is conducting fundamental research into the pain functions of the peripheral nervous system. He is concentrating on the Transient Receptor Potential (TRP) channels, which are pore-forming transmembrane proteins that enable electrically charged particles, ions, to pass through biological membranes. These cellular ion channels play an important role in the perception of pain.
An astonishing number of medicinal substances that are in everyday use can trigger pain. They can also change the perception of temperature, like inflammation, and this was a major area of Michael Fischer's research.

He has successfully demonstrated that special TRP channels play the key role in this, because these channels also respond to chemical stress. Things that are generally undesirable and result in a substance being classed as dangerous, can nevertheless be used in measured amounts. Recent results for the skin show that unwanted cells are particularly sensitive and susceptible to damage.
Another topic that Michael Fischer has been researching over many years is headaches. Together with his working group, he has researched the mechanism and location of the onset of headaches and also tested new developments from the pharmaceutical industry at early stage in order to predict their effectiveness.

"I am looking forward to working in a collegial environment with experts in pain research at MedUni Vienna, so that I can exchange ideas with them and be part of a scientific network," explains Fischer. However, he also wants to build up collaborative relationships with other institutions and disciplines, such as the chemistry department, for example. The neurophysiologist's research work is always directed towards practical application: "My research must also have clinical benefits."

About Michael Fischer
Michael Fischer studied human medicine at the Friedrich Alexander University Erlangen-Nuremberg, where he remained after graduating to work as a scientific assistant (Neurology Department and Institute of Physiology and Pathophysiology). He completed his postdoctoral qualification (entitled: Contributions to the sensitivity and sensitisation of primary nocireceptive afferents focussing on Calcitonin Gene-Related Peptide) in 2008. A BBSRC Postdoctoral Research Fellowship and then a Feodor Lynen Fellowship took him to the University of Cambridge (Department of Pharmacology), where he worked as a researcher for four years. Since 2012 Fischer has been working back in Erlangen as a research group leader and, since 2014, as an extraordinary professor.


---