All News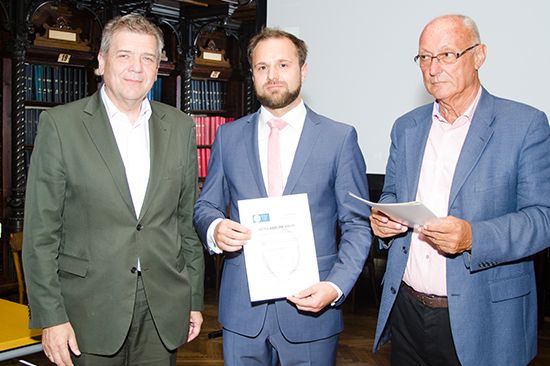 (Vienna, 22 June 2017) On 6 June 2017, the Otto Kraupp Prize for the best postdoctoral theses of 2016 was awarded at Vienna Medical Association's Billrothhaus. Georg Kranz from the Department of Psychiatry and Psychotherapy of MedUni Vienna/Vienna General Hospital took third place with his study.
This year the first two places went to Anja Wilmes and Claudia Lamina, both researchers at MedUni Innsbruck.
Overview of the prize-winners

1st Prize:
Anja Wilmes (Section for Physiology, MedUni Innsbruck)
"Molecular investigations of chemical stress induction in the renal proximal tubule"

2nd Prize:
Claudia Lamina (Section for Genetic Epidemiology, MedUni Innsbruck)
"Genome-wide Association Studies and Beyond: Utilizing Genome-wide Data to Uncover the Genetic Basis for Atheriosclerosis-associated Traits"

3rd Prize:
Georg Kranz (Department of Psychiatry and Psychotherapy, MedUni Vienna/Vienna General Hospital)
"Imaging the effects of sex steroid hormones on brain structure and function"

6 June 2017 marked the 19th occasion on which the "Otto Kraupp Prize" has been awarded for the best postdoctoral thesis produced at an Austrian medical university. The Vienna Medical Association has been awarding the Otto Kraupp Prize on an annual basis since 1999 in commemoration of the extraordinary achievements of Otto Kraupp as professor of pharmacology and toxicology and during his many years' service as deacon of the medical faculty of the University of Vienna. The successful candidates are selected by an independent jury.

About Georg Kranz
Georg Kranz (born in Nuremberg in 1981) studied psychology at the University of Vienna and went on to complete the doctoral programme in Clinical Neurosciences (CLINS) at MedUni Vienna. He graduated from both courses with distinction. He wrote his dissertation in 2013 on the subject of molecular imaging supervised by Rupert Lanzenberger at MedUni Vienna's Department of Psychiatry and Psychotherapy. He has already received numerous national and international awards, including the Young Investigators Award from the Federation of European Pharmacological Societies, the Prize for Clinical Psychiatry from the Austrian Society for Neuropsychopharmacology and Biological Psychiatry and the Wilhelm Auerswald Prize from Vienna Medical Association.
---