All News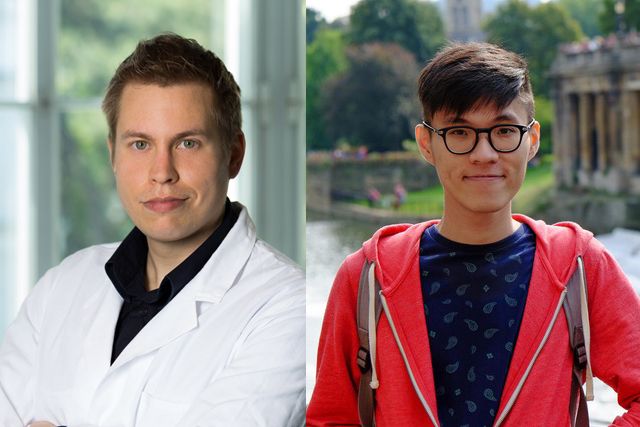 (Vienna, 26 September 2017) Jan Pencik and Huang-Chang Liang from MedUni Vienna's Department of Pathology both won poster prizes at the Austrian Society of Pathology's Autumn conference in Velden (14 –16 September).
The main themes of the conference in Carinthia were clinical pathology, molecular pathology, head&neck cancer and cytology. Great emphasis was placed on basic science, as was evidenced by the successful scientific poster exhibition.

Two out of the three poster prizes that were awarded went to the Department of Pathology of the Medical University of Vienna and specifically to its Division of Experimental Pathology.

Huang-Chang Liang from Olaf Merkel's group won the prize for his paper: "The AP-1 -BATF and -BATF3 module is essential for growth and survival of anaplastic large cell lymphoma"

Jan Pencik from Lukas Kenner's group won the prize for his paper: "Aberrant STAT3-AMPK signaling targets distinct subgroups of lethal prostate cancer"
Jan Pencik studied biochemistry in Olomouc and Brno (Czech Republic) from 2005 to 2009. He spent his research placement at the University of Stuttgart (Germany) before starting his doctoral thesis under Lukas Kenner at the LBI-CR in Vienna in 2010. Since then, he has worked at the Ludwig Boltzmann Institute and the Department of Pathology of MedUni Vienna, dedicating himself to the analysis of a mouse model for the development of prostate cancer by inactivation of IL-6/STAT3 and/or PTEN, which led to the publication of this study. The study was produced under the supervision of Lukas Kenner and Brigitte Hantusch as part of joint project with the Division of Nuclear Medicine and the Center for Biomarker Research in Medicine (CBmed GmbH, www.cbmed.org). Jan Pencik has already won several national and international prizes for his research. Since completing his PhD course, he has been working as a postdoc in Lukas Kenner's working group.

Jack Liang studied Life Sciences in Taipei Taiwan between 2009 and 2012 and then went to Imperial College in London, where he wrote his masters thesis on DNA repair mechanisms in ovarian cancer. Within the framework of the EU-funded Marie-Sklodowska Curie International Training Network "ALKATRAS - ALK as a Target of Translational Science", he was brought to the Department of Pathology, Division of Experimental Pathology by Project Co-Coordinator Olaf Merkel in 2016. Since then, he has established CRISPR/Cas9 technology within the department and is focussing on transcription factors from the AP1 family, known as BATF and BATF3, and their role in childhood T-cell lymphoma. He is currently working on his dissertation in Olaf Merkel's working group.
---