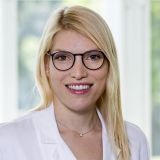 Keywords
Acromegaly; Cushing Syndrome; Endocrine System Diseases; Genetic Diseases, Inborn; Glucocorticoids; Pituitary Hormones
Research group(s)
Neuroendocrinology and rare endocrine diseases
Members:
Research interests
Research interests: We are interested in studying different aspects pituitary hormone release and pituitary tumor formation, HPA-axis function as well as clinical and genetic aspects of peripheral hormone action and the effects of hormone oversecretion.
We are employing techniques of molecular biology in cell culture and mouse studies to explore molecular mechanisms of the control of hormone release and hormone action.
Within our clinical work, we are currently focusing on the acute and chronic complications and comorbidities accompanying the oversecretion of cortisol in Cushing's syndrome.
Selected publications
Schernthaner-Reiter, M.H. et al., 2019. Influence of Genotype and Hyperandrogenism on Sexual Function in Women With Congenital Adrenal Hyperplasia. The Journal of Sexual Medicine, 16(10), pp.1529,
Schernthaner-Reiter, M.H. et al., 2019. GDF15 reflects beta cell function in obese patients independently of the grade of impairment of glucose metabolism. Nutrition, Metabolism and Cardiovascular Diseases, 29(4), pp.334,
Schernthaner-Reiter, M.H. et al., 2018. Factors predicting long-term comorbidities in patients with Cushing,
Schernthaner-Reiter, M.H., Trivellin, G. & Stratakis, C.A., 2018. Interaction of AIP with protein kinase A (cAMP-dependent protein kinase). Human Molecular Genetics, 27(15), pp.2604,
Trivellin, G. et al., 2014. Gigantism and Acromegaly Due to Xq26 Microduplications and GPR101 Mutation. New England Journal of Medicine, 371(25), pp.2363,