International symposium of the special research program (SFB F70) "HDACs as regulators of T cell-mediated immunity in health and disease"
For our international symposium "Translating T cell immunology: Histone deacetylases - from basic research to clinical application" we have assembled a great line-up of speakers with talks covering chromatin & epigenetics, HDAC biology and function, clinical application of epigenetic inhibitors as well as a special session dedicated on characterizing regulatory mechanisms of T cell-mediated immunity using OMICS approaches.
---
List of Speakers
Wayne Hancock
University of Pennsylvania, Philadelphia, Pennsylvania, PA, USA
Johan Henriksson
Karolinska Institutet, Huddinge, Sweden
Andrew Howden
University of Dundee, Dundee, UK
Ricky W. Johnstone
University of Melbourne, Parkville, Australia
Felix Meissner
University of Bonn, Bonn, Germany
Alexander Rudensky
Memorial Sloan Kettering Cancer Center, New York, NY, USA
John Schwabe
Leicester Institute of Structural and Chemical Biology, Leicester, UK
Christian Seiser
Medical University of Vienna, Austria
Virginia Shapiro
Mayo Clinic, Rochester, Minnesota, MN, USA
Golnaz Vahedi
University of Pennsylvania, Philadelphia, Pennsylvania, PA, USA
Femke van Wijk
University Medical Center Utrecht, Utrecht, The Netherlands
Anton Wutz
Swiss Federal Institute of Technology - ETH, Zurich, Switzerland
---
Programme
09:15 - 10:50 Session I: Chromatin & epigenetics
Chairs: Christian Seiser & Michael Bonelli
09:15 - 09.20 Welcome
09:20 - 10:05 Anton WUTZ: Histone deacetylase and nucleosome assembly complexes contribute to X chromosome inactivation in mouse embryonic stem cells
10:05 - 10:50 Golnaz VAHEDI: A multi-enhancer hub endows competence for T cell differentiation
10:50 - 11:20 coffee break
11:20 - 12:50 Session II: HDAC - function & structure
Chairs: Karl Kuchler & Wolfgang Reiter
11:20 - 12:05 John SCHWABE: Diverse structures, mechanisms and functions of class I HDAC complexes
12:05 - 12:50 Christian SEISER: Set-up of genetic models mimicking isoform-specific class I HDAC inhibitors
12:50 - 14:00 lunch break: lunch provided
14:00 - 15:45 Session III: HDAC-mediated control of T cell immunity
Chairs: Thomas Krausgruber & Valentina Stolz
14:00 - 14:45 Virginia SHAPIRO: HDAC3 represses cholesterol efflux during CD4 T cell activation
15:00 - 15:45 Wanye HANCOCK: Why Do Tregs Express Both HDAC1 and HDAC2, With Opposite Effects on Treg Function, in at Least 3 Multiprotein Coregulatory Complexes?"
15:45 - 16:15 coffee break
16:15 - 17:45 Session IV: Epigenetics and Clinical application
Chairs: Iris Gratz & Ashley Zhu
16:15 - 17:00 Femke VAN WIJK: Human Treg adaptation; location matters, …. or not?
17:00 - 17:45 Ricky W JOHNSTONE: Altered histone acetylation dynamics regulates tumor and immune cell phenotype and functions
09:15 - 12:05 Session IV: OMICS approaches in immunology
Chairs: Nicole Boucheron & Markus Hartl
09:15 - 10:00 Andrew HOWDEN: Mapping T cell environment sensors and signalling pathways using quantitative proteomics
10:00 - 10:45 Felix MEISSNER: Decoding Intercellular Immune Signaling Networks by Quantitative Proteomics
10:45 - 11:15 coffee break
11:15 - 12:05 Johan HENRIKKSON: Interpreting single-cell multiomics: new readouts and machine learning
12:00 - 13:00 CLOSING Session – keynote lecture
Chairs: Wilfried Ellmeier & Teresa Preglej
Alexander RUDENSKY: Peripheral differentiation of Treg cells
---
Registration
We cordially invite all interested colleagues to attend our symposium. Attendance will be free of charge, however is limited to a total number of 150 participants. Please use the registration form below if you plan to attend.
---
Covid Regulations
We recommend wearing an FFP2 mask during the event. Covid positive tested individuals are not allowed to participate in the event.
---
Contact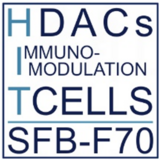 ---