All News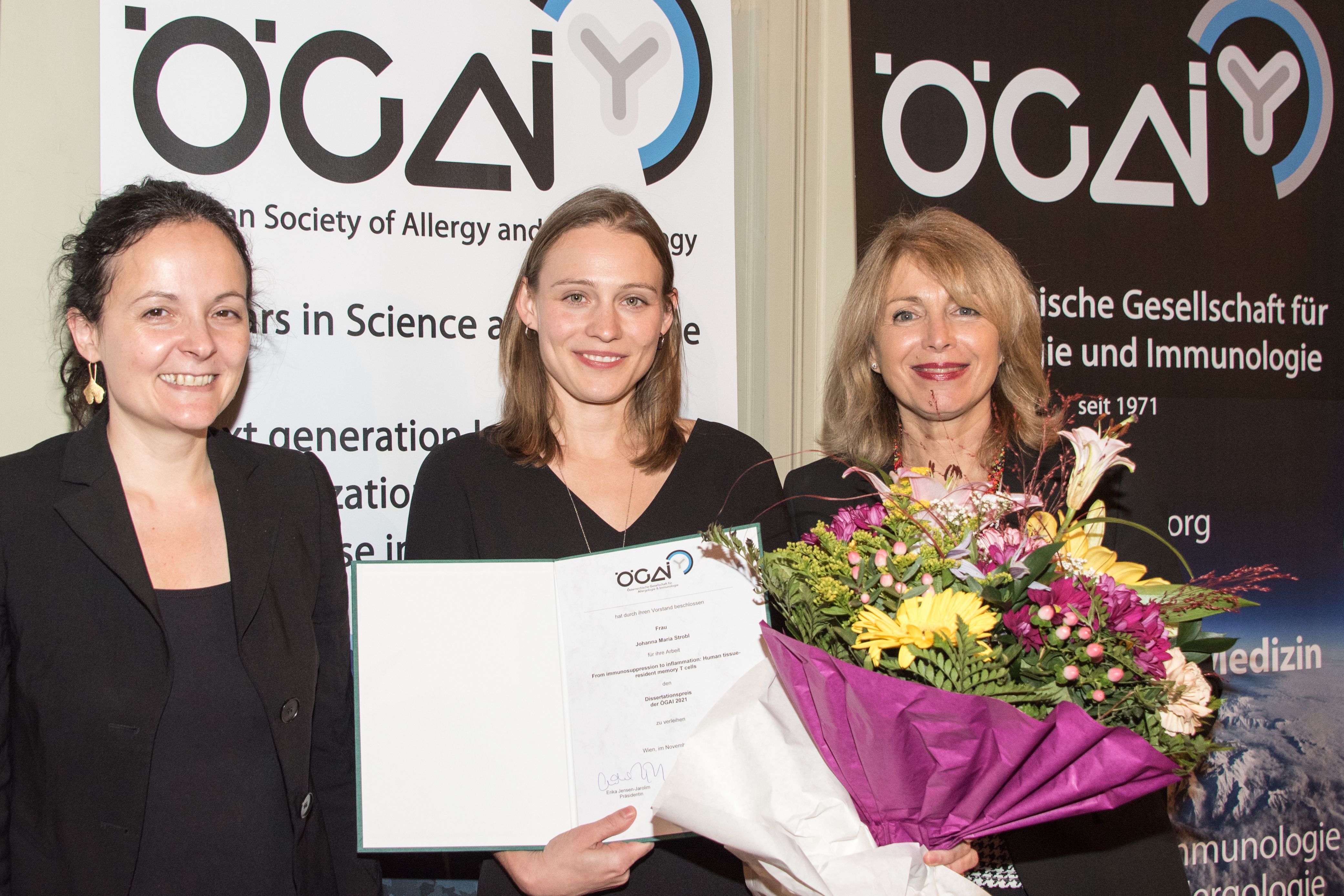 (Vienna, 07 December 2021) Johanna Strobl, a junior doctor at MedUni Vienna's Department of Dermatology, has been awarded a Clinician Scientist Fellowship by the Austrian Society for Dermatology and Venereology and the Dissertation Prize by the Austrian Society for Allergology and Immunology.
Every year, the Clinician Scientist Fellowship of the Austrian Society for Dermatology and Venereology funds a project in the field of dermatology/venereology.
Johanna Strobl's project "Cutaneous Borreliosis and Syphilis - deciphering immune evasion in emerging human spirochetal disease" focuses on the immune response to two diseases of the spirochaetosis family (diseases caused by spirochaetes), global case numbers of which have increased sharply in recent years. In both these diseases – borreliosis (Lyme disease) and syphilis - a natural infection does not induce a protective immune response, i.e. patients are not protected against re-infection. Strobl and her colleagues are planning a multimodal analysis of the immune response in early and late infection stages as well as in the tissue of recovered patients, in order to find possible starting points for the development of vaccines.
The Dissertation Prize of the Austrian Society for Allergology and Immunology is awarded annually to up to two dissertations.
Strobl's dissertation shared the award with that of Alexandra Gülich (Institute of Immunology at MedUni Vienna). The work entitled "From Immunosuppression to Inflammation: Human tissue-resident memory T cells" was produced in Georg Stary's research group at the Department of Dermatology, the CeMM Center for Molecular Medicine and the Ludwig Boltzmann Institute for Rare and Undiagnosed Diseases. Strobl investigated tissue-resident T cells in the steady-state (in healthy tissue), during immunosuppression in the context of allogeneic stem cell transplantation and in inflammatory reactions, in particular the graft-versus-host reaction.
About Johanna Strobl
Johanna Strobl studied human medicine at the Medical University of Vienna from 2008 to 2015, spending international placements at the University of Stellenbosch (Cape Town, South Africa) and the University of Washington (Seattle, WA). She completed her PhD in the research group of Georg Stary in 2020 and joined the Department of Dermatology as a junior doctor in 2019. Johanna Strobl has received several awards for her research work, e.g. the Egon Macher Prize awarded by the Working Group for Dermatological Research and the Young Investigator Award of the Austrian Society for Haematology and Oncology. She is president of the young section of the Austrian Society of Immunology and Allergology (Next Generation Immunologists) and founding member of the Young European Federation of Immunological Societies (yEFIS). She was voted MedUni Vienna's Researcher of the Month in November 2021.
---