Studies & Further Education
Bionic Reconstruction
Since 2009, the method of "bionic reconstruction" developed by Oskar Aszmann at MedUni Vienna has facilitated the use of innovative technical aids for many of these accident victims, e.g. a bionic hand prosthesis. In the new science book entitled "Bionic Reconstruction" produced jointly by MedUni Vienna and MANZ-Verlag, Aszmann and co-author Laura Hruby outline, with reference to real cases, what options are available following traumatic injuries.

Learn more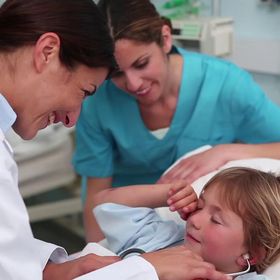 Medical services of the Medical University of Vienna
MedUni Vienna and AKH Wien (Vienna General Hospital) are closely related to one another. Around 1,500 doctors from MedUni Vienna treat several hundred thousand patients a year (over 100,000 inpatients, around 540,000 outpatients) at one of the largest hospitals in the world and are involved in teaching at the Medical University of Vienna alongside top-level medical research.
Learn more