All News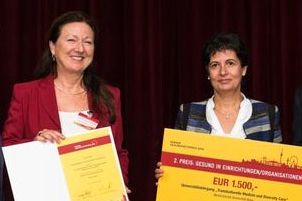 (Vienna, 20 September 2016) The City of Vienna awarded a prize to MedUni Vienna's course entitled "Transcultural Medicine and Diversity Care" in the "Healthy in Institutions" category.

The Vienna Health Prize 2016 is awarded for three categories: "Healthy in Neighbourhoods and Districts", "Healthy in institutions/organisations" and "Nutrition". The two course directors, Christine Binder-Fritz (Center for Public Health) and Türkan Akkaya-Kalayci (Department of Child and Adolescent Psychiatry) accepted the prize at the Vienna Health Promotion Conference in the Vienna town hall.

Transcultural Medicine and Diversity Care
One of the greatest challenges that the healthcare system currently faces is the phenomenon of migration and the need to provide medical care to an increasingly heterogeneous population. Healthcare facilities have to address many different aspects in order to allow for the social and ethnic/cultural diversity of the population. Interactions between staff and patients take place in an increasingly intercultural setting. As far as healthcare professionals are concerned, this raises "the problem of cultural competency and how to fix it" (Kleinman and Benson 2006). Indeed, doctors, nursing staff and other health professionals are constantly facing new challenges in terms of the number of different languages spoken by their patients, their different ethnicities and lifestyles.
The "Transcultural Medicine and Diversity Care" course was developed for doctors and other healthcare staff to furnish them with the knowledge and understanding they require to operate competently and professionally in a clinical and general healthcare setting.

Bearing in mind the diversity of the patient population, the course aims to improve the intercultural communication skills of healthcare professionals and increase the level of reflectivity in professional practice, thereby optimising transcultural competency with regard to prevention, diagnosis and treatment, as well as rehabilitation and palliative medicine. The aim is to give all patients the same access to healthcare facilities and the same high standard of care, regardless of their social or cultural background or their linguistic capability.

The course is extra-occupational and, on completion of their Master's thesis, graduates will receive a Master of Science (MSc). The course provides students with well-founded and practical knowledge from the public health sector, from gender and migration research, transcultural psychiatry and medical anthropology and is delivered in a total of 20 weekend blocks over 5 semesters.
The first course was successfully launched in October 2015 with 19 participants representing different professional groups.

Link: ULG website Transcultural Medicine and Diversity Care

---